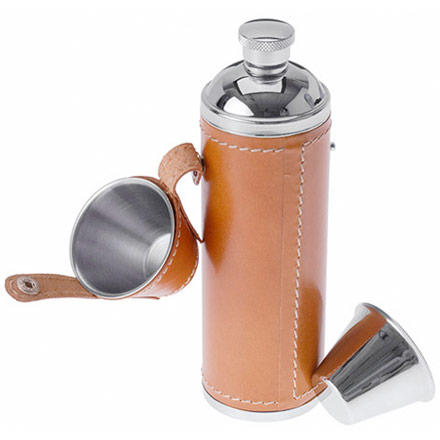 Community Images
A long skin into camp deserves a drink. Carry the compact Glacier Stainless Leather Wrapped Flask and celebrate a hard day's work. Made of durable 18/8 stainless steel the Leather Wrapped Flask also includes two stainless steel shot glasses that lock down above the screw top for easy packing so you and a friend can enjoy a libation and unwind whenever the mood strikes. Just don't sleep in and miss getting your lines the next morning.
Way better looking than my old plastic flask.
Expedition alcohol has some very specific requirements that it needs to fill: It has to be strong so you don't need much to carry you through. It has to be smooth enough to drink straight from the bottle. And it cannot be some cheap crap that's going to give you a nine-hour hangover if you drink too much of it. You have to be able to wake up the next morning, pound some water, and get on a route if the weather calls for such a move.

http://backcountrybeacon.com/2011/08/alaska-gear-reviews-oban-14yr-scotch/
Leather quality could be better...
Looks, dimensions, capacity, and the ability to share are excellent, but the cut and weight of the leather leaves a little to be desired. One strap on my cap is a little too long - not long enough to cause a problem - but enough to let the cups rattle around a lot and look a little odd sitting on a table. Other than that, I dig it.Mine has not leaked yet, though if it does start leaking it would be a pretty simple task to pop out the plastic seal and put in a silicone one. If GSI is watching, this would be a good thing for them to implement on future models.
how many ounces does this thing hold?
how many ounces does this thing hold?
Best Answer
10 fl. oz, 295mL. 6.7 Shots.
The review written by BCO for this flask had a few words of complete truth: a long skin into camp deserves a drink. Alright I haven't taken it skinning, but after a long snow shoe into camp, this flask was just the thing. It also holds enough that you don't mind sharing with all of your camping buddies.
I did run into some problems with the flask though. Maybe this only happens with whiskey (i don't know why it would, but to be fair it is the only thing I've ever filled it with) but if the flask bounces around a bit, it leaks. Not enough to notice the difference in the flask, but enough to put the smell into a vest. It has happened skiing a few times.