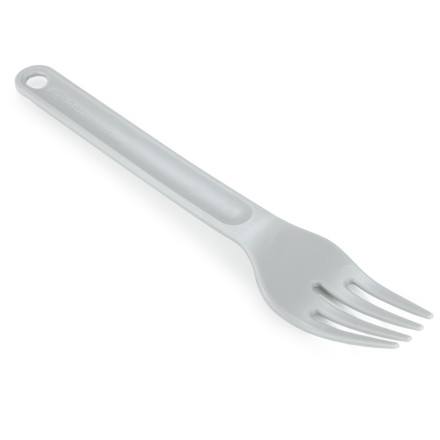 The GSI Outdoor Fork—built for the outdoors, but you can still scramble your indoor eggs with it. GSI used Lexan to make the Outdoor Fork lightweight, durable, and stronger than the plastic utensils your cheapskate uncle stockpiles.
Cheap, light, durable = good fork
I've had this fork along with spoon and knife for over 3 years now. This is my primary utensil set. price can't be beat and they are lightweight. I have found them to be plenty durable.



Positive = these are long enough to reach the bottom of freeze dried meal bags.



Negative = If you let your food dry on, these are not as easy to clean as metal/titanium utensils. This is not a big deal for me. Delayed cleaning being the only negative, the price makes these a clear winner for me.
Works like a fork and does it's job well. A little hard to clean dried oatmeal off of though.
Works well and lightweight, can't beat the price
Also used this to bump my order up to free shipping. Thanks for that...

As far as actual fork goes--the center groove makes it feel awkward in between my fingers. The teeth feel like they may break if not carefully put into my pack. Still keep this on a metal shower ring with my other utensils--light enough to not matter.

I wouldn't suggest making this anyones primary eating utensil but worth every penny as far as a back up in case someone forgets theirs/one gets lost.
Threw this in my "cart" to bump up my order the $.05 I needed to get free shipping -- that alone makes it worth the purchase price.

Fork appears to be decent for a plastic fork. Went through the dishwasher a-okay (had to test it, right?) and seems durable enough for multiple uses, while still being lightweight for packing around.
Much like the spoon... I feel like a kid eating with this fork. It is oversized in the handle and the fork/tines part itself, using it feels clumsy. It gets the job done, but won't be my preferred fork.