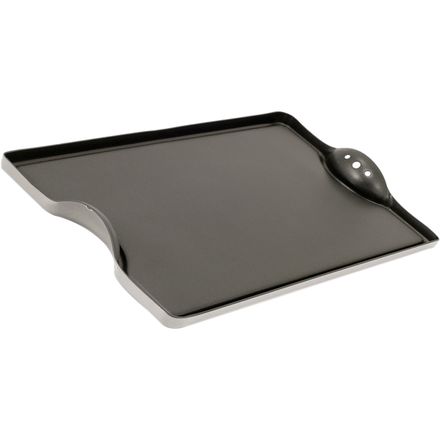 Description
Do flapjacks right with the Bugaboo Griddle.
With a durable aluminum construction and scratch-resistant, non-stick coating the GSI Bugaboo Griddle satisfies the needs of even the most gourmet camp chefs. Whether it's pancakes, grilled cheese, or a slab of bacon, the Bugaboo Griddle's grease collection channel keeps the mess to a minimum. Use it over fire embers, a gas stove, or a charcoal barbecue.
Share your thoughts
What do you think of the
GSI Outdoors
Bugaboo Griddle
? Share a...
Good, but choose carefully
A very good griddle but it doesn't rest stable on a Camp Chef C-Oven stovetop (CampChef's stove-oven combo). The grease gutter around the perimeter contacts the grate at the side handles only, allowing the griddle to rock. I gave it to my sister for her to use on her Coleman 2-burner.
This griddle is great for making pancakes, and though I haven't had a chance to yet, I think it will be good for grilling meats as well. I have tried to cook eggs on it like a flat top, but it's a bit tricky, especially for scrampled. The sloped sides that help the grease drip off make the eggs tricky to control. It's been a nice addition to my car camping setup.
Anyone know the dimensions?
Anyone know the dimensions?
Best Answer
From the Tech Specs above.
Dimensions: 20 x 11in (51 x 28cm)
GSI Outdoor Bugaboo Griddle
We bought this for our next car-camping trip, but decided to use it at home instead of an old beat-up one we had be grilling on. Great for home or camping!
This is a great griddle, perfectly lightweigt and plenty compact. It distributes heat evenly and the non-stick surface seems resilient.

The question of whether to bring this camping or backpacking is moot--you need a large stove (i.e. two burners, a Coleman stove or similar) to make use of a griddle anyway. A griidle isn't much good if you're using a backpacking stove. So, if you're bringing the appropriate stove, the griddle adds relatively little weight and takes up almost no additional space. Great for winter trips, canoe trips, short treks to backcountry basecamps, etc.

One thing I would warn against though, I wouldn't try using this to make soup.
Great griddle for camping
We use this in conjunction with the Coleman PerfectFlow 2-Burner Stove. Perfect griddle for morning pancakes and bacon. Cooks evenly and transfers heat very well. Has a groove around the edge to catch grease and spills. Great non-stick surface cleans quickly and easily. I wouldn't take it backpacking, but it is great for car camping or backyard BBQs.
I've used this while car camping and over bbq standing pits and it's worked swimmingly. Wouldn't take this camping bc of the weight. Grease melts off your meats and filters to the sides nicely. The nonstick surface is durable and feels really quality. This is also great for tailgating. Bon Appetit.