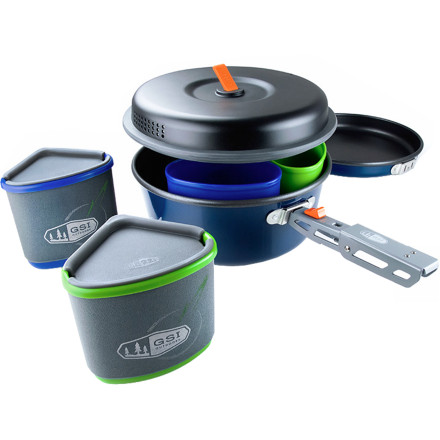 Detail Images
Description
Cook for two, or a really hungry one.
Quit patching together a haphazard, jangling backcountry kitchen with cannibalized utensils from unsuspecting friends' apartments. The GSI Bugaboo Backpacker Cookset provides a compact, fully accessorized set of cook gear that accommodates you and a fellow adventurer. Complete with Teflon-coated aluminum two-liter pot and a frying pan, this kit weighs in at barely over 25 ounces; not bad for a setup that includes mugs with sip-it lids, a pot gripper, and a storage sack.
Fairly Diverse Cook Set
Familiarity:

I've put it through the wringer
Versatile cook set for the backcountry. Pretty light and very compact. I've had mine for a few years and have used it quite a bit. However, it is not my current set up for the trail so I give it 4 stars only because GSI's bowl system is a much better go to for backcountry camping.

Also, might go without say, but you can't really use the cooking device on an open campfire type flame. It will melt. These are designed for stoves.
Great Gourmet Cook Set
Familiarity:

I've used it several times
This is a great overall cook set. It offers great flexibility at a reasonable weight. It have used it on a few backpacking trips with a larger group. The pot is a great overall size. The frying pan is also nice for car camping or even one night backpacking trips where weight is not a concern. The bugaboo finish is a great overall durable finish. The non stick coating works great as well. The mugs/bowls are alright. The bowls are really narrow and deep which makes for a little harder cleaning and eating. I would rather use a different more comfortable bowl if I am car camping. The mugs are a great size and the lids snap on tight. I only wish the sipper was in the middle rather than in the corner since it is a little awkward to drink out of. The case does a great job of packing everything together. It is water tight and does hold water and can be used as a sink. Overall this is a great gourmet camp cook set.
Love it
Familiarity:

I've put it through the wringer
Used this set for both backpacking and just casual camping with friends. Works perfectly in both scenarios. Strainer lid is amazing when cooking pasta. Just pick a spot away from camp and pour out the water without worrying about your noodles going everywhere! The "storage sack" it mentions actually doubles as a washing basin. My favorite feature. Easily holds water that my dog drinks out of until I dump some soap in and clean off the dishes. Cups and mugs are pretty interchangeable if you need cups for 4 people. The difference is that one set has an insulated wrap to protect your hands from burning due to hot liquids. Teflon coating has lasted quite a bit and I have no food sticking complaints. Though I usually have bacon grease or something to help out when I'm cooking something that might be problematic. I would definitely recommend this set to someone not looking for a whole kitchen. Nice, simple, and light weight.
It's a great cookset, has all the essentials. Found it to be a great size when cooking for 2 people, could probably cook for more. It's really lightweight and packs into itself which is great on saving space. Happy with the purchase.
In the Picture it looks like there's 2...
In the Picture it looks like there's 2 pots and some plates, but in the description there's only 1 pot and nothing about plates or bowls. Whats am I actually getting when I buy this?
major dimension

2 Person
Weight

28.8 oz.
dimensions

8.20" x 8.20" x 5.40"
Material

Non-Stick Coated Aluminum, Polypropylene, Nylon 6-
Product Use

Gourmet Backpacking
Includes

2 L Pot, 8" Frypan, Strainer Lid, 2 14 fl. oz. insulated mugs, 2 14 fl. oz. bowls, 2 Sip-It Tops, Folding Pot Gripper, Welded Sink.