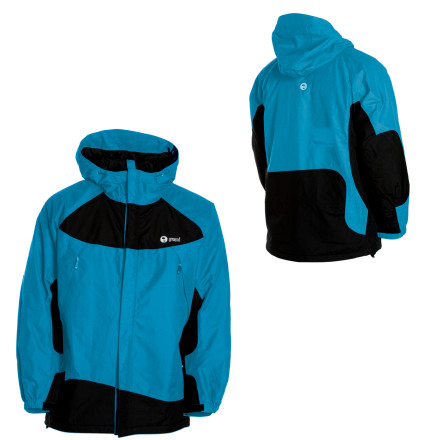 Detail Images
What do you think about this product?
Have questions about this product?
Summary: Great normal use jacket with good warmth and water resistance. IMO on par with sale price and it is a good score if you find it on steepandcheep.

I've had mine about 6 months now and have to disagree a bit with the other reviews here, mine seems on pair quality wise with what I would expect for this price range. The zipper seems to me not "heavy duty" but suitable for what is probably the average use of the jacket. Stitching has held up just fine for me through a family trip of 3 weeks through Germany/Austria which included lots of outside walk/train/bus/tram time with a pack and/or baby wearing my daughter on the front. Also has been just fine for this fun Mid-Atlantic winter including wearing for about half the needed shoveling from our two big storms recently.

It has not been an issue through all snows, rain, and just cold busy days I've been used it for. I've spent a good amount of time in temps below freezing with just a merino wool base layer and over shirt that was never more than mid weight and been just fine. It has all the adjustments to make it fit you as desired. I normally wear XL jackets because of my large shoulders, and find it a touch bulky but not uncomfortable for most things such as day hiking.

Cons: I can't get the hood to roll and stay down in a comfortable fashion, it is always kind of wacky and annoying. The pocket zippers are especially tough with any gloves that are not liner like. Depending on the pack the upper pockets can be useless.
I mostly agree with Larry, the jacket really is pretty cheaply made. The stitching is holding up on mine, although I've barely worn it. The zipper is certainly way cheap. It's barely worth the sale price, definately not a penny more. I posted this before, let's see if it gets on.
The zippers are very cheap and the threading seems to be coming loose throughout the jacket. Also the sizing is completely off. I purchased a large and I am 6'3'' 190 pounds. The large is more for someone who is 300 pounds.

Returning the product.