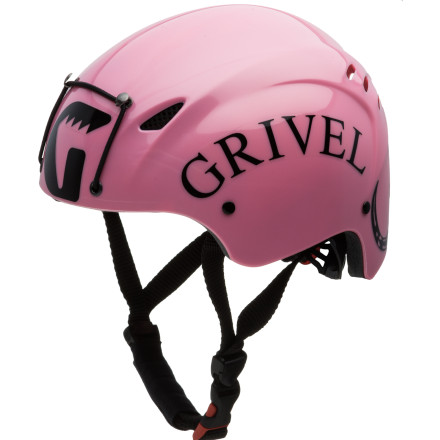 Colors

Detail Images

Videos

Community Images
Description
Light like a helmet should be.
The Grivel Salamander Helmet seamlessly transitions from rock to ice and alpine realms. Unlike traditional helmets, this one features a wrap-around design for a close fit and side protection.
In-mold construction for extremely light weight
Wrap-around design provides more protection than standard ice-climbing helmets
Ratchet-back adjustment for easy fit changes
Headlamp clips for nighttime climbing
This helmet gave me trouble
This helmet gave me trouble, even it was recommended in several reviews. The problem was when I was walking down from Mont Blanc in the Alps, the internal support came apart from the upper part and it was very bothering, for this unnacceptable failure of the product I dont recommed it.
This thing is a killer for climbing - sits deep on the head and will make sure you've got coverage.



Caption - lone peak UT climbing and straight cheesin!
Have Big Cranium buy this.
Familiarity:

I've used it several times
I wear a size 7-3/4 to 8 fitted ball caps, well this one fits my big ass head even with a nice wool blend cap on. Finally a helm for the phat heads! It's got a nice sheen to it like most other new helmets so buff with some steel wool if your sticking gopro mounts to it and of course clean with rubbing alcohol. The head lamp mounting works good too. Make sure when you order you get the one that adjusts to 66cm if your ball cap size is 7-3/4+. They mis marked the web site.
Salamander helmet
Familiarity:

I've used it several times
This is my first helmet for me at least its a great fit, no slippage, easy to adjust and comfortable to wear and the head lamp holds are perfect.
Is XL coming in anytime soon? I am interested in purchasing it for mountaineering and climbing trip at the end of June
It looks like there is an XL in the selection menu now.
Can anyone compare the fit of this with...
Can anyone compare the fit of this with say Smith, Giro helmets? I wear large in those, and can't find a climbing helmet that even gets close.
Best Answer
Could you measure your head in cm? Do that and let me know what you come up with and we can go from there. What helmet do you have now from those brands that fit?
Hey Skylar, Sorry for the delayed response!

So the helmet I use now is a Petzl ecrin roc, I've had BD half dome, mammut skywalker, petzl meteor III. Recently tried on BD Vector and Vapor, the M/L fit ok but still very high.



My had is 61cm circumference and 11cm from brow to crown.

I've been using a Giro Feature and Smith Variant for mountaineering this year.
Disappointed
Familiarity:

I've used it once or twice and have initial impressions
The XL here is the 56-62 adjustable, not the 58-66 currently listed on the manufacturer's website. So if you need an XL it might not go as XL as you expect. Grivel says this should fit from s to xl. As a result this helmet suffers from the limitations of many one size fits all helmets - its not comfortable at the extremes. It has a wedge shaped platform of foam inside as its method of keeping the rim of the helmet off your forehead this takes some getting used to. Adjust it before you go out. Hard, but not impossible to adjust straps. the buckles that adjust the tension around the ears can actually come apart on mine and you can lose part of the clip. That being said its the only helmet i can find on the market for climbing that fits my big head. And it does the job.
Keep that brain in your dome piece!
Familiarity:

I've put it through the wringer
Not only does this come in more colors than a pack of lifesavers, it fits more true like a helmet, think ski helmet, than most climbing helmets. There seems to be a bit more coverage than the competitors but also feels light and compact on the head.



I wear mine with a thin baseball cap underneath which provides a nice sun visor.



It features a small bungee strap in the front to keep your headlamp from sliding off the conical shape.



I had a buddy slide off the end of a rope and take a 50 foot cartwheel ground fall down a slab and live to tell about it because of this helmet. He still crushes as well!
My favorite helmet
Familiarity:

I've used it several times
This helmet is both comfortable and functional. I tried on several and also watched/read other people's reviews. I'm so glad I decided on the Grivel. Absolutely love everything about it.
It'll get the job done
Familiarity:

I've used it several times
Solid helmet, the head lamp straps are nice (mine haven't stretched out yet like the review below). The chin straps take a lot of fiddling with to get the fit just right and comfy, but once you do the helmet is quite comfortable. The wheel fit adjustment is a nice feature. It's also pretty cool looking as far as helmets go, so definitely gets added style points there.
Meh...
Familiarity:

I've put it through the wringer
Got this helmet about a year ago and when i first had it I was stoked! it fit way better and was way lighter than my old helmet. I used it for rock and ice climbing and even skiing and bicycling. in the year of use it has started to fall apart. the elastic headlamp holders have stretched out and don't work anymore. and the adhesive that holds the velcro that holds the padding around the brim is coming off. It was a great helmet, It just hasn't stood up to a year of abuse very well.
This is a picture of my cousin descending from Montana's highest peak, Granite Peak. We were caught in an afternoon snow storm. These helmets are comfortable and photogenic.
Stands up to abuse
Familiarity:

I've put it through the wringer
After 4 or so years of use, I'm pretty pleased with this helmet. It's been robust enough to handle my abuse and still be comfortable.

The elastic on the rear fell out last year, but I was able to re glue it back in pretty easily. The fabric layer covering the foam pads has begun to come off, but it's not super noticeable. I'm sure this is from a bit of use with a beanie underneath, so it's something to keep in mind.

I don't really have any issue with sizing. The time I lent it to my buddy with a big head, he said it was comfy and adjusted super quickly.
So comfortable I almost drove home in it
Familiarity:

I've used it several times
The helmet is extremely easy to make fine adjustments for a customized fit. It is so comfortable that I forget its on. I was ice climbing the other night and almost wore it for the drive home. I only remembered the helmet was still on because my head was sitting weird against the headrest. Yes, its really that comfortable.



The only negative I have found so far is that it doesn't secure a headlamp strap as precisely as I would like, but it does the job well enough that a lamp won't fall off.



As far as sizing, I followed Grivel's sizing chart. I have only worn it in the cold with a beanie for warmth, so I can't give any info on long term comfort in warm weather.
Best Answer
This helmet is made in Italy!
Don't Like It
Gender:

Male

Familiarity:

I've used it several times
This helmet is poorly designed. I wonder if they even field tested it. The chin strap is very hard to adjust. When you put on or take off your knit hat you need to adjust the fit and you have to really yard on the buckle to change it. And when you do it changes the front to rear adjustment so it then sits crooked on your head. Then the rear dial for the headband adjustment keeps loosening by itself. At one point the knob even pulled off when trying to adjust it. I can imagine it getting knocked off or coming off and dropping it with a gloved hand. Helmet fit is critical for safety. It should be easy and quick to get properly adjusted and should stay where you set it, it fails in these respects. Had it out for about 4 climbs and already want my money back.