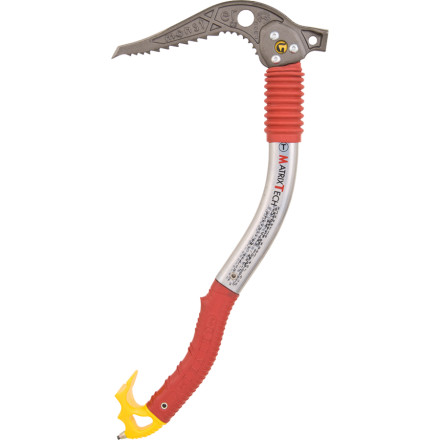 Colors

Community Images
Description
Go leashless in the mountains with the Grivel Matrix Tech Ice Tool.
Grivel's Matrix Tech Ice Tool tackles steep, technical ice and mixed alpine climbs with a highly curved shaft and leashless design. A large hole in the pommel provides a place to clip tethers, so you can get the full advantage of leashless climbing without risking a dropped tool from high on the face. Grivel's X Monster hot-forged pick withstands all the abuse that the mountains dish out on a set of tools. Best of all, the Matrix Tech Ice Tool puts smiles on the faces of all you ounce-counting alpinists out there with its low 20oz weight.
everything they say about them is tru
Familiarity:

I've used it several times
before i bought these i read tons of review.

the mayority said that they where really light with great grip and penetration on vertical ice, not so good on overhanging drytooling, and that if you where not really precise swinging it would be hard at first.

checked out all of these and they where all true, axcept for the overhangs that i have not done any.

i am not really good at swinging but dont do so much hard climbs, mostly on technical alpine aproches (which they come really in handy as they weight arround 500 grams each)

to sum up, i would say they are really good tools for the price and excellent if you like lightweight. for sure they are not the most technical or the best out there, but they get the job done just fine
Matrix Tech is surprisingly solid
Familiarity:

I've used it several times
The matrix tech is a really solid pair of ice tools. It's composition of aluminum shafts and forged pics are nice in both new and traveled ice. With the matrix tech strikes are very accurate and the axis of rotation seems to be spot on after two seasons. These light tools are well balanced too. I had a chance to try out the Quantum Techs and they feel minimally lighter with the carbon wrapping but just as solid as the matrix techs. I'm happy with them!
Anybody know how strong the pommel is on...
Anybody know how strong the pommel is on this tool? I've emailed Grivel directly through their website and never heard back. No evidence of the pommel being anything more than plastic attached to the T rated shaft. Seems like a major weak point and while I love climbing on this tool I'm more than a bit dubious about clipping it while setting a screw or using it as part of an anchor set up (why make a hammer that doubles as a chock if the pommel doesn't carry a rating?). Anybody got thoughts or experience here?
Best Answer
I don't have experience with this particular tool. As far as thoughts, I'm old school. If it's plastic, I wouldn't trust my life to it. It looks sturdy enough to back up your hand while going leashless, but that's about as far as I'd be willing to take it.