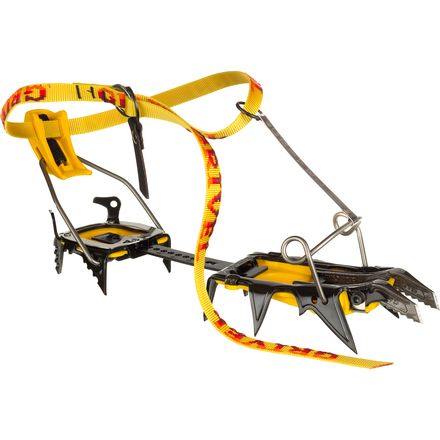 Community Images
Description
Steep ice and burly mixed routes are a walk in the park for the Grivel G14.
The incredible versatility and supreme technical performance of the Grivel G14 Crampon make it a favorite for steep ice climbing and burly alpine ascents. Its two vertical front points have excellent ice penetration, and hot-forging makes them strong enough to stand up to repeated bashings on too-thin ice. The G14 Crampon can also be configured with a mono point for mixed and highly technical ice climbing—no extra parts required.
Can be set up with single or dual front points
Anti-balling plates included
Hooded front point increases shear resistance in steep snow
My first piece of ice climbing equipment
Familiarity:

I've put it through the wringer
I got these about a year ago. Been climbing here in Alaska. These crampons are amazing. Great for glacier travel as well as climbing up to WI6 so far. I went from the double points to a single point and that makes dry tooling so much better also. Ive never had a malfunction with these and love that the front points are replaceable. The anti-bot system also works great: my first pair of borrowed cramps didnt have that and they definately got packed with snow.
Will these fit Salewa Pro Guide boots? Also, can they work for walking on glaciers as well?
Hello!

Thanks for your question and giving us a chance to work with you!

These will defintiely fit the Pro Guides and you can use them for walking on Glaciers as well but they're a little bit overkill for glacier walking. These are designed for Mixed and Ice climbing at a reasonably high level of difficulty. That being said though you could really use these for any kind of snow or ice climbing.

Need more info/beta? Want help getting geared up for your next adventure? Feel free to reach out to me directly @ nreed@backcountry.com
Will these attach to Atomic Waymaker 110's (Mono: 26.5)? I'll be hiking a ravine with variable ice and snow conditions.
Hey,

These should fit on those boots with no problem. If you have any other questions or would like to get an order set up contact me at the info below:



Dan Gates

Expert Gearhead

Office: 800-409-4502 ext. 4491

dgates@backcountry.com




No, those will not work on this boot. You need something like the Grivel Air Tech Crampons - New Classic or the Petzl Irvis 10-Point Crampon - Flexlock.
Will the new matic bindings fit the la...
Will the new matic bindings fit the la sportiva batuara 2.0's?
You would probably be better off going with a full step-in with the Sportiva Batura's since you have both the tow and the heel welt on those boots. That doesn't mean that this hybrid version wouldn't also work, its just you will not have the extra security of a full step in with the hybrid.
What size boots will these crampons...
What size boots will these crampons fit?


These crampons will fit a size 36-47 boot or s US 4.5 - 13. If you need additional length for larger boots you can always get a set of Grivel Long Bars.
They will fit a bout 2 up to size 11 with the supplied bars.
Hello, How would these fit on a Lowa...
Hello,

How would these fit on a Lowa Mountain expert GTX boot? In addition to vertical climbs, do they perform well for more general mountaineering?
Best Answer
These crampons will fit fine on the Lowa Mountain Expert boots because the boots are a stiff mountain boot with both toe and heel welts to accommodate for a step-in crampon, such as the G14 Cramp-o-matic. These crampons have reinforced vertical front points, so they can climb vertical ice with solid bite, but are versatile enough for general mountaineering as well. They may be a bit heavy for general glacier travel but would perform well as an alpine climbing crampon that can be used in a variety of terrain.
Hi! You can send the items by express...
Hi!

You can send the items by express mail in Russia?

Thanks!

Dennis.
Best Answer
Hey Dennis, no offense but Russia makes it really hard to ship to since they put a lot of restrictions on what they will accept across their boarders. What can be shipped is based on where it was manufactured. Since about 98% of the stuff we sell is manufactured in a country that Russia will now allow, we are forced to not risk it and we just do not ship to Russia. Sorry.
Solid Crampons
Familiarity:

I've put it through the wringer
I've been ice climbing for 3 years now and have only once had a problem with these crampons. They fit nice and tight on the boots (if you size them correctly). Although another reviewer has mentioned that they have had trouble on vertical ice with the front points not being long enough, I have never had that impression. I love that the front points can be changed from mono to dual point or replaced when needed. The only time I ever had a problem with these is during a multi-pitch waterfall climb where the front bracket popped out and my right crampon came off halfway up the second pitch. Back on the ground though, it was super easy to put the crampon back together (had "broken" into 4 pieces upon hitting the ground) even with my frozen stubby fingers. Would I buy these again a second time? Absolutely.
Have used these for 4 seasons of east coast ice, they are easy to adjust, solid on the feet, and durable. Sharpen the front points once a season and they have been good to go. Not sure about other reviews stating these aren't for vertical ice, I mean, I don't get crazy out there, climb up to WI4, and these things do great. You can get a little more exposure of the front points if you move the toe bail back a hole. Bail is a little selective in the boots it fits, they are much more solid on the Nepal Evos than they my old Mad Rock ice boots. If they fit your boots, nothing better.
Well balanced crampon's
Gender:

Male

Familiarity:

I've used it once or twice and have initial impressions
A friend of mine who knows much more about these things recommended these to me as a pair of crampons good for ice climbing as well as mountaineering.

I've only had the opportunity to use them once so far and they've certainly worked great in my opinion.



I used them to do some winter canyoneering down in southern Utah in a little canyon called Hidden Haven. I've been through this canyon in the winter before without crampons and so I do have that experience to compare them to.

The hike in to the top of the waterfall is semi-arduous and can take anywhere from 1-2 hours depending on your confidence in the sketchy climb up. There was about 2-2 1/2 feet of fresh powder on the flatter parts of the hike/climb in and in other parts we were on completely exposed vertical rock faces and they kept me planted securely the whole time.

There are four rappels on your way out of the canyon, the first being about 90 feet of frozen waterfall with the others varying in length around 20-30 feet or so. All three rappels the crampons did precisely what they're designed to do.



I have yet to give them a try on actual ice climbing but my experience with them so far has been fantastic.
Great durable crampons, not for vertical ice.
Used them for alpine mixed climbing and ice climbing. They are great for mixed technical climbing, very durable.
The only disadvantage are too short front points. These become obvious in vertical ice, where the step is not secure enough.
Otherwise great all-around crampons, but not for serious ice climbing.

Wonder if Grivel offers longer front points?
Will the G-14 new-matics fit on the La...
Will the G-14 new-matics fit on the La Sportiva Nepal Evo boot? One reviewer (Mountain Gear)says that they do not fit many boots (Sportiva Trango S Evo, Scarpa Triolet light mtn. boots, plastic Koflachs or Sportiva Makalus). Another opinion I heard is: "The new matic would work, but since the Nepal boots have front and rear welts, the cramp-o-matic is a much more secure connection, and is going to be faster to put on and take off... Better system overall for that sort of thing". Everyone agrees on this?
The heel welts mean that either crampon would work for your boots. The front welt means that cramp-o-matic would work very well, with the new-matic would also work just fine. Because it has the heel welt, both crampons would be secure. If you have multiple pairs of boots you might use it on, get the new-matic, otherwise, get the cramp version.
I use Nepals with Grivel new-matic binding and never had a problem. I concur with James Jenden though that if Nepals are your only climbing boots then the automatic binding is a better combination.
Just wondering if anyone has used the...
Just wondering if anyone has used the Grivel G14 with alpine or ski touring boots and could comment on the fit with respect to these boots? Do they work well for this application?
There are such a wide variety of boots that it is hard to comment - they can fit some boots, need extender bars for others, and some are just out of the question (which is why they sell the set specifically designed for ski boots).

I would ask the question more along the lines though is why are you looking at crampons that are geared more towards vertical ice as opposed to something that is geared more towards ski or general mountaineering? If you are using on approaches to ski - you want something with front points that are more broad and may want to consider an aluminum crampon depending on your needs (if only using to cross where there is little rock) as they are much lighter. If you are looking for a do everything crampon, check out the new Petzl line as they have a system now with straps and bails.
http://www.backcountry.com/dynafit-tlt-5-mountain-tf-x-alpine-touring-boot?CMP_SKU=DNF0048&MER=0406&CMP_ID=GAN_GPLA&mr:trackingCode=3AC46EBE-5E1A-E011-AD27-0019B9C043EB&mr:referralID=NA&origin=pla&mr:adType=pla
I have climbed WI grade 6 and up to TD Alpine mixed grounds on these crampons: they never failed to perform. Climbing now for over 30 years I never had a pair more versatile. Even on glacier strolls they are useful, since the anti bot system does its job. If you are a serious climber wanting only one pair of crampons, these are the ones to get, period.