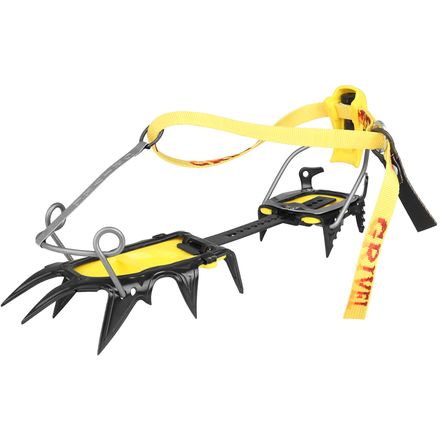 Community Images
Description
From glacier strolls to grade 4 alpine ice, the Grivel G12 is ready.
Alpine climbers and mountaineers count on the versatile Grivel G12 Crampons to take on any terrain they encounter in the mountains. The G12's time-proven design is an excellent choice for everything but the steepest pitches of ice.
Horizontal front points on the G12 reduce sheer in less-than-solid ice and other types of alpine funk
Three available attachment systems let you pick the perfect 'poons for your boots
Anti-balling plates keep snow from sticking to the bottom
Tool-free length adjustment
What brand of crampons seems to be the best? I've always thought of black diamond or petzl but I've never heard of Grivel so I'm not sure if they are quality?
Phoebe,



For crampons the top companies are going to be CAMP USA, Grivel, Black Diamond and Petzl.



What type of terrain are you looking to be on?



Shoot me an email anytime you have questions!



Jared D.

Expert Gearhead

801.736.4336

jdowns@backcountry.com
Work great
Familiarity:

I've used it once or twice and have initial impressions
These are perfect so far. Easy to get on and size. Hold in the ice well.
what size would recommend for size 9 snowboard boot?


They're one size and with a size 9 boot you will not need the longer center bar. The wide version will fit better!
Which attachment system would be best with AT boots? I am guessing the cramp-o-matic.
You have guessed correctly! The Cramp-O-Matic is the most secure fit to your AT Boots.



You can call or email me directly. 801-736-6398, or bporreca@backcountry.com
Easy and solid.
Familiarity:

I've used it once or twice and have initial impressions
These were simple to pair with my La Sportiva Nepal boots. Snug, perfect match, easy to put on and super stable footing. Haven't tested them on super advanced terrain yet but can't wait. So far so good.
Is it possible to use new-matic crampons...
Is it possible to use new-matic crampons with lighter hiking boots (i.e. ones without a heel 'welt'), or are you forced to use a strap style??
Toe and heel welts are what really keep the crampon in place for a New-Matic style crampon. If you are planning on using boots without welts you are going to have to get a pair of strap on crampons.
awesome all-rounder
Familiarity:

I've put it through the wringer
I still love lighter crampons for skiing and approaches, but when rock and ice mix or long sections of ice appear on alpine routes, these are a good choice. Very durable, strong attachment, and decent price. I don't love frontpointing in them but they do the job just fine, and if you keep a pair of extended bars around they make a good no-fuss loaner pon. Plus the G12s hold their value better than most other crampons, so you can always upgrade with not too much loss.
Resistant
Familiarity:

I've used it several times
I've used those crampons with my koflach degree boots and they stay solidly in place. I've used them mainly on Rainier and Baker, and they've done the job. They are pretty solid, walking on rocks and ice. My only dissapointment is the top lever part in front will break, it seems pretty flimsy.
Unanswered Question
Do the XL Cramp-O-Matic's already have the...
Do the XL Cramp-O-Matic's already have the extended bar and are they wider than the non-XL version?
Not Long enough for Scarpa Inverno 13
Awesome crampons! Only problem - and it is a real problem - when I used my Scarpa Charmox Size 46 with it, no problem, it'll fit. when I used my Scarpa Inverno double boots size 13 with it, it will not fit. I was at Mt. Rainier (Ashford, WA) and I had to run to Whittaker Mountaineering Store to buy the long extended bar, and even with the long bar, it barely fits. Size 13 double boots is not extremely large, so becareful guys.



The crampons work no problem.
These are awesome! I got them with the new matic binding system, and they work flawlessly! Easily adjustable!
Will these fit an AT ski boot such as the...
Will these fit an AT ski boot such as the Salomon Quest 12?


Yes. I have the BD Factor 130s (27.5), and my G12s with new matic bindings fit them.
depends on the boot size; mondo 30 will likely not fit.
...although they will if you get the longbar.
Is the New Matic photo ok? I think it is...
Is the New Matic photo ok? I think it is a G10 new matic crampon, it not have 12 points.
The Newmatic pic is a G10, but I've never seen that front binding before.
Thanks Pat, hope Backcountry fix the problem.
These were my first pair of crampons, got them many years ago in the "new classic" style, strapped them to a pair of leather hiking boots and they were good to go. Did some winter mountaineering, climbed Shasta in them, and eventually had them out on WI2-3 ice. Great for all of these. Mine came with the anti-balling plates, and I never had any issues with snow building up. Easy to adjust, minimal maintenance. Perfect for what they are designed for.
Hi, Just looking at the Grivel G12 with...
Hi,

Just looking at the Grivel G12 with the Cramp-O-Matic front bail. Question: What size range boots is the XL version designed for?



Thanks!


These crampons only come in one size with the standard center bar. You can purchase the Grivel long bar separately which adds 30mm more ( long bar is 190mm) space to accommodate larger boots. Grivel advertises that the standard center bar should fit up to a size EU 47, which is US 14, though this would be unlikely in a pair of double mountaineering boots. From personal experience, I've fitted climbers with US 15 Scarpa Inverno plastic boot with the long bar and it fits well.



Check out the Grivel Long Flex Bar: http://www.backcountry.com/grivel-flex-long-bar
This is not the best vertical crampon on the market but it is a pretty solid universal crampon. With 12 points you are guaranteed some traction at almost any angle. I use these when i am doing a lot of mixed mountaineering, never anything vertical, for that I use BD Cyborg's, Grivel Rambo's or Grivel 14. I like these a lot and usually bring these on gen mt. trips.
In looking into the cramp-o-matic G-12's...
In looking into the cramp-o-matic G-12's I noticed that they offer the XL cramp-o-matic. I wear a size 12 boot. Will I need the XL? Thanks for the info.
Hey Chris,

I did some checking on your question and the one-size version of the Grivel G12 Crampon will fit Euro size 36-47 shoes which converts to a US size range of size 3 to 14 so you should be all set with the one-size version. I hope this answer helps.
I believe that will actually be more like 6-13 in US sizes, European sizes have smaller increments to allow for more sizes.

Hope this helps.
So far I've only had them on some gradual/easy routes in the sierras, but so far i really like them...

definitely the easiest 12 point crampon ive used for simple snow/glacier travel, but also worked well for more vertical mixed routes....so far a nice compromise
Im a big fan of Grivel products. Their crampons are next to none as far as I am concerned. The G12 is no exception. The points are well angled well designed to last for a long time. I have ascended everything from vertical to gradual icy slopes with these and they haven't let me down, the cramp o matic design is great and very secure. These are a must have in just about every winter alpenists gear bag.