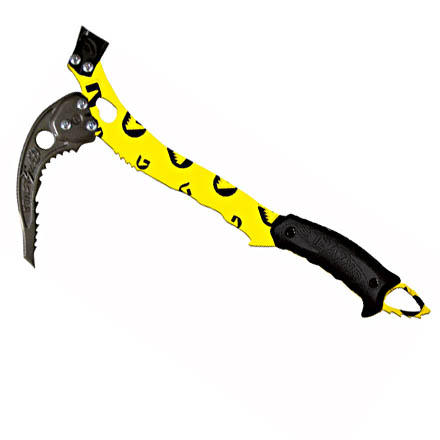 Building on the immense popularity of the Monster ice tools, Grivel took its design to the mountains with the Alp Monster Ice Tool. Using the same combination of a Cro-Moly steel shaft and permanently attached hot-forged pick as the other Monster tools, this Grivel creation is incredibly strong, weighs only 19.4 ounces, and is available in both 38cm and 44cm lengths. Use it with a leash or leashless to meet your needs, whether you're using it as a third tool, a beginning ice climber tool, or as a hammer to accompany your piolet up a Cascade volcano. There are no rules for the Alp Monster, so make up your own.
Solid steel construction for unmatched durability
Ideal as a third tool on ice or as a second tool on mountaineering routes
Can be used with or without a leash
What do you think about this product?
Have questions about this product?
Totally happy with it!!!
Familiarity:

I've used it several times
I got mine from Amazon cause I needed the shorter version. You gotta filter reviews through your own reality. Somebody wrote here that it is "heavy". Yo man ... how is that thing heavy? Compared to what ... an iPhone? As being not comfortable ... what's the job? Meaning if you go vertical - no it is not that comfortable, but there you need a different type of grip and shape anyway. So here is my reality for which that tool is like made in heaven. Originally I was looking for a hammer. With over 20 years doing that stuff I used a hammer VERY rarely. I was so reluctant to spend money on such a rarely needed thing. But - I did not want to buy one from Home Depot either ? Then I am looking at this thing. About the same length, price and weight as a hammer. Can it hammer a piton in? Yes. Is it comfortable to hammer with it? Yes. Can I use a hammer to stretch out for a rare moment of dry-tooling in desperate moments when I am way over my head? No. Can I use a hammer while going up a had-pack couloir where you need a tiny bit of better iron in your hands as compared to your shortened ski-poles? No. Can I take a half-moon ice tool with a contoured grip for vertical ice and use it as a hammer in the summer? Yes but it will be very uncomfortable, out of place and way more expensive. Does it look great? It looks great to me and that is what matters. Will I be taking it everywhere with me ? summer and winter? Hell yes!!!

Mine did come with the rubber snake - yeah, it does make a difference. In the shorter version though it would matter less as you would virtually never have to grip it above the handle for a duration and intensity that would cause pain and suffering ... due to your winter gloves for example.

Also not clear how is the flat body going to cause a tendency of the tool to flip sideways. Grivel ... after 200 years of expertise in building ice axes designed it so that the tool does NOT flip sideways. The flat shaft is exactly what makes it impossible to flip sideways even when holding it with a wet glove. Try that with a round body ... The rubber snake is actually very lose and does nothing to prevent twisting in your hand. It is to merely increase the comfort a bit when holding it with a bare hand. If you expect to be having torsional forces so great that a flipping might occur the loose rubber protector is going to slip out. In cases like this you are better off without the rubber so that your glove can use any sharp edge you can get ... cause brother you are with the wrong tool in a wrong place doing the wrong thing.

Speaking of Grivel ... we are rating there the tool, no ... cause when I read a review I expect feedback on the thing that I am gonna use. Not on how well it was packaged.


Did not come with snake grip
Familiarity:

I've used it once or twice and have initial impressions
Bought the Alp Monster to use as a third tool, or as a thin light "just in case" tool when when encountering surprise ice bulges on BC ski trips. The plastic handle at the lower hand position is comfortable for normal swinging. But the thin metal shaft is not comfortable for gripping at the upper hand position, and the instability of the grip means a tendancy for the tool to flop/twist sideways. I believe Grivel realized this, and that is why they include the Snake Grip with the Alp Monster tool... At least they are supposed to. Even the spec sheet that comes with the product explicitly states, "With the Alp Monster comes the Snake, which can be cut and placed on the shaft to make the handle more comfortable." However, Backcountry never included the Snake grips with my tool. Always have loved backcountry service, but this time they lose two stars for not including the grips that are supposed to come with the product, and for failing to mention that. Sorry guys, but I was expecting those grips, and they would make a big difference in the functionality of this tool.
I bought one intended to use as a third tool. The grip was uncomfortable. It is heavy. I sold mine without using even once. The older version, Black 3 works much better. So I keep on using the Black 3.