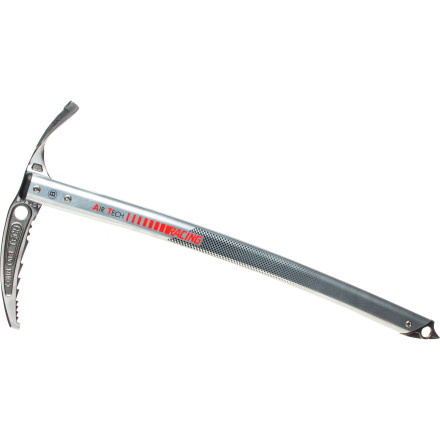 Description
Lighter, faster, stronger.
The Grivel Air Tech Racing SA Ice Axe is ideal for mountaineers searching for the lightest possible tool that doesn't sacrifice the strength and durability of a genuine, hot-forged steel head. The Air Tech Racing Ice Axe weighs only 14.1 ounces and is still durable enough to take the abuse that alpine climbing and mountaineering dishes out.
Hot-forged pick and adze take the beating that would reduce most lightweight ice axes to scrap metal
Aluminum shaft keeps the weight down to only 14.1 ounces
Bottom plug keeps the shaft from filling with snow when you plunge
Aggressive pick penetrates hard neve snow and even ice if necessary
perfect for snow travel
Familiarity:

I've used it several times
great light ice axe, i like the slight curve. luckily, havent had to self arrest with it but used it for a short unexpected ice climb on mt. hood. bites in well and feels very secure.
So for a versatile size, measure the distance between the tip of your middle finger while at your side and the malleolus of your ankle. This will provide the most versatile size for you.



If you intend to be on steeper terrain mostly, then you can use a shorter axe, if you are going to be on more moderate flatter terrain then a longer axe will suit you better.



You can call or email me directly. 801-736-6398, or bporreca@backcountry.com
Perfection
Familiarity:

I've used it several times
Very light, perfect shape, comfortable in hand. Highly recommended.
I was on Grivel's website, where I read...
I was on Grivel's website, where I read the following: "Although the steel used is very similar to stainless steel (which is not suitable for ice axe heads)..." in their general ice axe instructions. Yet I've noticed that BD uses stainless steel in ice axe heads. Why does Grivel consider stainless steel to be not suitable for ice axe heads?
Best Answer
I suppose that I am impatient. I did some research online and I came across this educated discussion re chromoly vs. stainless steel use in crampons. While not ice axes, the concepts obviously carry over to ice axes and ice tools, not to mention if you are looking into ice axes, you may be looking into crampons as well. I believe this is information that anyone who is shopping for any of these items should be in possession of.

http://coldthistle.blogspot.com/2011/08/crampon-durability-stainless-or.html
Badass is all I can say!
Familiarity:

I've put it through the wringer
Purchased this last winter for winter trail running and winter ascents. This is the lightest tool I tried out from our friends at bentgate mountaineering in Golden. The weight alone was killer but the addition of the forged steel pick is a huge bonus because it is so much stronger than some other materials out there. The steel is forged in a vertical shape instead of a horizontal which focalizes the torque along the entire pick instead of just the tip like many others. Need less to say I am 100% confident this is not going to fail me when I need it the most. In the end this is one of the best items I have used this year and am pretty stoked about using it again this winter! Just snowed tonight up on Mt. Evans, pumped for the season.
Does this have a steel spike or an aluminum...
Does this have a steel spike or an aluminum 'plug'? The picture shows a plug, but other web sites show a steel spike.
Best Answer
there are two versions, this one has a plug
This picture is outdated. I ordered my ice axe off Backcountry and received the newer version that has a slight curve to the shaft and a steel spike on the bottom. It looks like the picture on Grivel's website:

http://www.grivel.com/products/ice/ice_axes/8-air_tech_racing_sa

I would click on the "Live Chat" and confirm with a Backcountry rep, but I'm pretty sure that they are selling the current version and that they have just not updated the picture.
Good point Mads, the picture isn't even the SA version with the curved shaft. Well, I ordered it so here's hoping for the steel spike.
Confirmed: its in my hands now and it has the steel spike, so its the new version. Its a beautiful tool, 15.4 oz on my scale in size 58cm, and the nicest hot forged head you could ever ask for on a mountaineering axe.
Been with me on 6 summits plus doing some technical Ice climbing when I lost my technical tool. Its very durable and absolutely amazing given it's weight. Head rusts a bit but other than that I am very pleased.
Grivel Air Tech Racing Ice Axe
Great Axe.
I once did a hike without an axe, thinking the weather was too nice, and te trail not too steep. Well the nice weather meant molten snow that re-froze into hard ice!Hairy!
I decided to buy this axe so I will never have an excuse to leave it behind. Worked! Works great.
Function aside, I love the classic lines of Grivel, unlike the funky shapes on other axes.
This is a decent all purpose axe, which is high praise considering its ridiculous lightness. Sometimes ultralight gear isn't worth the price, this is!