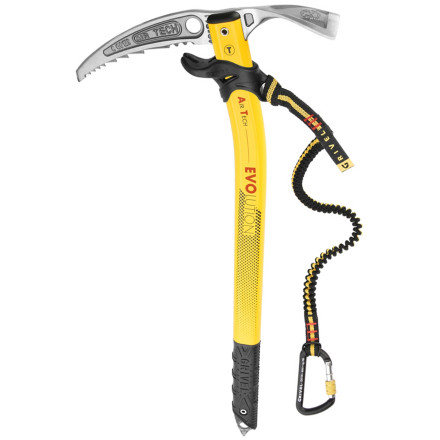 Colors
Description
Super light, super tough.
The Grivel Air Tech Evolution ice axe answers professional demands for a light, full-strength axe with technical features. The hot-forged chromoly steel head has T-rated strength and a thin (4mm) pick to easily penetrate hard ice. The clearance curve adapts to odd terrain features and protects your knuckles from the ice when your hand is choked up on the shaft. The T-rated extruded aluminum shaft is finished with a hot-forged steel spike that slices into hard snow. The Evo has a classical positive blade and a shovel, and comes with a long leash.—Vendor
Unanswered Question
I live in Korea,
Does the product shipped? [Grivel Air Tech Evo Ice Axe w/ Easy Slider]
So for a versatile size, measure the distance between the tip of your middle finger while at your side and the malleolus of your ankle. This will provide the most versatile size for you.



If you intend to be on steeper terrain mostly, then you can use a shorter axe, if you are going to be on more moderate flatter terrain then a longer axe will suit you better.



You can call or email me directly. 801-736-6398, or bporreca@backcountry.com
My mountain friend.
Familiarity:

I've put it through the wringer
I don't go in the mountains without this. Reasonably light and the 66 cm size is very versatile. I'm 6'3" and have rarely wished for a longer shaft. For the real steep stuff the shorter shaft works really well. I highly recommend.
Brilliant versatility.



This tool performs flawlessly in anything from moderate snow to easy ice.



I often double it up with a whippet when I'm climbing to a ski objective and this combo is very confidence inspiring.
Real Self Arrest With Air Tech
Bomber ice axe



Self Arrest Go Pro Vid



https://www.youtube.com/watch?v=CNmRqwsggws
This is a great mtn axe. I often carry a short one along with a pair of Nomics on alpine climbs. What a Nomic won't do this axe will.
Does this come with the easy slider and...
Does this come with the easy slider and stretch leash like on Grivel's website or does it come with a long leash as in this picture?

Also, I've been using a 70cm Raven but plan to do some steeper routes. I see this axe comes in shorter sizes than the Raven. What are people's recommendations on length for the bent shaft axes?
Length of shaft depends on your height - the steeper terrain you go, generally, the shorter the axe you use.

An easy way to measure for an axe is to hold it while standing relaxed. The spike at the bottom should barely touch the ground when you stand fully upright with your arms at your sides.

Positive clearance picks offer a bit better performance for ice - ie: your bent shaft and pick affect this. The pic is the older generation of Grivel's axe - this axe should come with the current slider.
I really like the bent shaft. I've used this axe for 3 years and it only has a few nicks in the yellow paint to show. Highly recommend. I like the 66 cm size.
This axe has every feature I wanted: T Rated shaft for confident stomper belays, hot forged head for strength (and sexiness!), and a shaft profile that works well for everything from flat-land walking to steep, hard ice. Bonuses: Stupid light weight, typical excellent Grivel quality (and swanky trademark yellow), feels good in the hand, and a very functional long style leash included. What's not to like?
I have used it over two dozen times and it shows only minimal signs of wear. Plunges and swings nicely and the shaft bend is handy on ice. Works well on steep alpine ice. (I have used a pair of them on a 70 degree ice slope and had no funny feelings about it.) The pick comes already sharpened, unlike some other axes.
my first axe, so not much to compare to other than what i've seen in the stores. Bombproof and lightweight compared to others. Solid forged head is visually stronger than others. I bought this for its weight and full "T" rating and so far has been great.
I have used this confidently on steep ice pitches or chutes and it gets a good grip in most condition. The slightly bent shaft is a great feature and makes this tool super versatile. My favorite tool for most uses.