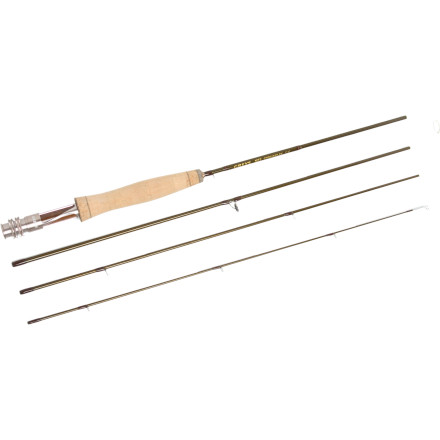 Detail Images

Community Images
Delivering the perfect blend of speed and finesse, the Greys XF2 Streamflex 4-Piece Fly Rod can handle everything from nymphing to precision dry-fly casting. Thanks to the stiff carbon blanks, balanced feel, and sturdy aluminum reel seat, heavy rigs won't throw off your form and lighter dry flies will sail with greater speed and present like the real McCoy.
High modulus carbon construction delivers a feather-light rod and just the right amount of flex and lightning-fast action
High-grade cork and composite handle deliver a precise feel
Anodized aluminum reel seat with maple burl spacers keeps things classy without sacrificing performance
Twin reel seat locking nuts keep your reel firmly in place
Section line-up marks let you assemble and sight your rod in seconds
Triangular-shaped, color-coded Cordura rod tube allows for easy transport and storage
Available with the RHW (Reverse Half Wells) and RHW + EH (Reverse Half Wells with Extension Handle)
A Reverse Half Wells handle has a larger front end that provides better grip for larger hands
Share your thoughts
What do you think of the
Greys
XF2 Streamflex Fly Rod - 4 Piece
? Share a...
10 ft 4 wt
Familiarity:

I've put it through the wringer
I purchased the Greys Streamflex 4 weight 10 foot rod for nymphing. I'm quite impressed overall. The tip is very sensitive, I can feel subtle takes. Still there's enough backbone to throw dries as well. I matched the rod with an old Medalist 1495DA and the balance is perfect. The rod needs a slightly heavier reel which I've lined with a DT 4wt. The ensemble casts beautifully. Greys has made several refinements to cut the overall weight of the rod including single foot guideswhich cut the number of wrappings in half. The rod seat is very fine and includes a locking washer. It's a handsome rod and a pleasure to use, but it's taking my shoulder a bit of getting used to. The only change I'd make is mostly cosmetic and that's to leave the blank unfinished and matt. That would also shave off a little weight. The only negative that I can say it is that I understand that Greys is no longer offering this rod. Go figure.
11' 3-weight--Very, Very Excellent
After working with several of the nation's top youth who were all fishing these rods, I determined I had to get one. LOVE IT. I primarily got it for tossing tiny dry flies out of my drift boat. But I got out this week and the 11' 3-weight was a machine. It had absolutely NO trouble pitching a triple egg rig with six BB lead shots and a big Thingamabober. A blast to fish. An extraordinary rod for the money. Well worth $650+.
Versatile. Presented #20 BWOs with finesse and weighted, double nymph combinations with ease.
Now my go-to fly rod!
Familiarity:

I've put it through the wringer
I purchased this rod (11ft 4wt) for tight-line nymphing and swingin' flies. This rod excels at both and keeps tons of fly line off the surface for those nice drag-free drifts. It casts better than many $600+ fly rods in it's class!

Well worth the $!
This rod has been a great rod for me. This was my first rod that I have owned, however I have used several other rods since I first got this and before I got this. I use the 9' 5wt for pretty much everything, even the small creeks and some streamers.
Premium fly rod at half the price!
I fish this rod a lot in the 10' 4 wt and the 9' 5 wt models. This rod outperforms most $700+ fly rods! It is soft and tippy enough to land a dry fly delicately or Czech nymph but has a lot of power too. The flex on this rod throws a great roll cast! The 10' 4 wt has the power of a 6 wt but the finesse of the 4 wt. I don't fish the 10' 4 wt for dries much on the smaller Utah rivers near me but I hear on bigger rivers it's great for dries. It is the best nymph and streamer rod I have fished though. It has an amazing amount of power, great for light or heavy nymph and streamer rigs. The 9' 5wt is the perfect all around rod. It's plenty powerful enough for nymphing and streamers, but can cast a dry beautifully as well.
Greys XF2 Streamflex Fly Rod - 4 Piece
I am just getting into fly fishing and picked this up the other week. So far I have been super please with this rod. It was highly recommended by fellow fisherman at Backcountry.com. Look forward to putting it to the test in weeks and months to come. You can go wrong with a Greys XF2 Streamflex.