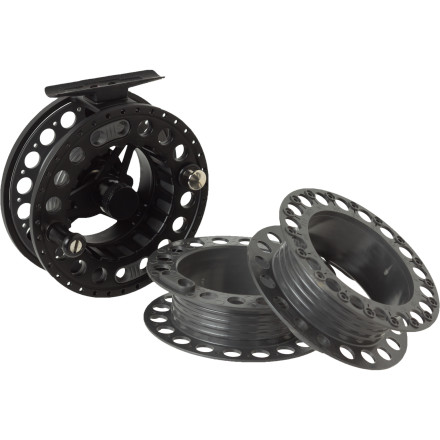 Detail Images

Community Images
The Greys GX500 Fly Reel lets you round out your kit without breaking the bank. Two additional spools come in handy when you want to switch between sinking and floating rigs or when your go-to line suffers an inopportune break.
Narrow-width, large-arbor aluminum frame delivers years of worry-free performance
Glass-reinforced nylon spools keep weight to an absolute minimum without sacrificing durability
Tool-less right- and left-hand conversion system and push-button spool release makes swapping a cinch
Modern disc drag system delivers easy-to-use stopping power
Included spools include Greys unique fly-line ID system so you can quickly identify what line your spool is carrying
Spools are also interchangeable with Greys GX700 Fly Reel
Included nylon carry case houses your reel and spools during travel and storage
If you're buying a reel or spool and fly line, we'll be happy to rig it up for you, please give us a call at (855)-712-0513 for details.
Is the greys GX500 fly reel ok to use in...
Is the greys GX500 fly reel ok to use in saltwater?
It?s not really recommended for salt water use. For one, salt water usually means you are fighting larger species. A machined aluminum reel will be much more reliable in the salt and while fighting large fish. Having an enclosed/sealed drag is also nice for salt water so your drag components don't get dirty or corroded by the salt. Might want to look into some of Hardy?s reels: http://www.backcountry.com/hardy-fly-reels
Besides a reel and a rod, are there many...
Besides a reel and a rod, are there many more things I would need to get into fly fishing? Thanks.
To get started, you won't need much more. You'll need fly line (different than standard fishing line that is weighted - this is actually gives you the ability to cast), leaders or leader material (this is a standard monofilament fishing line material that attaches the fly line to the fly) and a few flies that will work for the area and type of fish you are going for.



There are a lot of other things you can have, but these are the critical components. Rio and Scientific Angler make really good fly lines and tapered leaders, but there are a lot of others that are less expensive and will do the same thing.



If you have a fly shop near home that you can visit, they are generally more than happy to provide you with all the information you need to get set up fly fishing. It takes some work to get started and get good at casting, but once you have it, it's a lot of fun!
Best Answer
Besides the basics that Matt laid out, it's all a matter of practice and patience. If you do have a fly shop near you, you probably have some local fly fishing club as well. Hook up with them. We learned that way, and without exception, we found everyone we met to be more than willing to share what they knew, some of it from a lifetime of experience. I hope this adds something useful for you.
a great review for the gx500
design is perfect as well as weight and smoothe drag....
Great reel with a great drag system. The drag system has handled numerous 20'+ carp without any problems at all.
Got this one for my Wife, and she loves it.
I just recently upgraded my fly set up with this in conjunction with a greys rod, and couldn't be happier! This reel is built really well, and the fact that I can quick change spools, and that it comes with 2 spares (3 total), makes me glad I waited so long to upgrade.