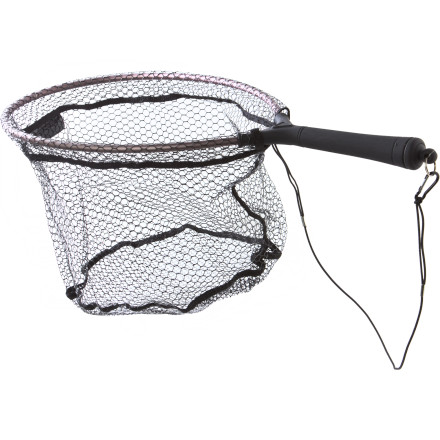 Make landing your trophy easy with the Greys GS Scoop Net.
Super-tough, rubberized mesh prevents harm to the fish during landing as compared to older nylon mesh nets
Non-flashing metal frame keeps your future catch oblivious while you land your fish
Integrated magnet in the handle allows for safe storage when not in use
A safety cord attached between the magnet and the net frame ensures that if you drop your net while wading, it won't flow away downstream
Available in three sizes to suit your fishing needs
What do you think about this product?
Have questions about this product?
I'm just starting out and wanted an inexpensive net, and this one fit the bill. It ended up being much nicer than I expected - the net is pretty large, even in a medium, and very lightweight. The fish friendly coating on the net is the closest thing Backcountry has to a rubber net right now, and I think a few of my fish have already appreciated it. Overall I think this will last for quite a while and I like it.
this net is great. it's small enough that it can easily be lugged around without becoming any sort of a hindrance. the rubber mesh is nice since it won't damage the fish nearly as much as a nylon mesh. wish i could say that it's not durable enough to handle my fish but so far that has not been the case.
Does anyone know the measurements of the...
Does anyone know the measurements of the different sizes? S, M, L are a bit vague.
Small: 15.5" x 11" Diameter

Medium: 18" x 13" Diameter

Large: 19.5 x 15" Diameter