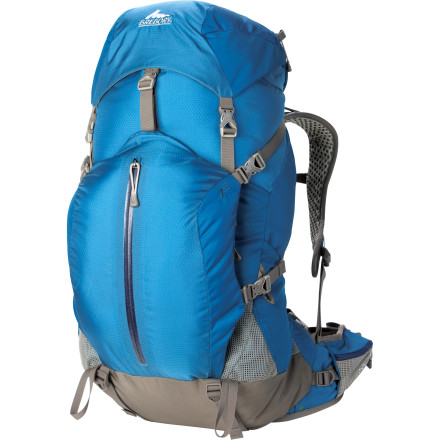 Community Images
Description
No hawk-shaped back sweat stains with this pack.
Lightweight durability and a breathable suspension system give the Gregory Z 55 Backpack the edge over other packs that claim to perform great in warmer climates. But with a removable top lid and multiple compression options, the Z 55 works well any time of year, for alpine climbing as well as weekend trips to the local state park.
JetStream LTS suspension eliminates unnecessary points of contact and lets air flow between you and the back panel
Lightweight thermo-formed and die-cut HDPE framesheet with 7001-T6 hollow aluminum stay keep the pack's shape regardless of the load
Dual-density foam lumbar cushions the weight as it is transferred to the hip-belt
Three-size adjustable hip-belt dials in the fit
Perforated foam hip-belt and shoulder harness feature moisture-wicking mesh to keep you cool and dry on your hike
Full-length side zipper lets you reach anything you need while on the trail
Water-resistant zippers keep the rain showers out
Share your thoughts
What do you think of the
Gregory
Z 55 Backpack - 3112-3722cu in
? Share a...
Gregory shows an "integrated rain cover" in the product specifications for the Z55 but the description here says "no rain cover".
What is the real story?
Hey rmi3960262,

I checked this out in the warehouse and this item does not have a rain cover.
Gregory Z55
Familiarity:

I've put it through the wringer
This has been my main weekend/week long pack for a while. This is a well built pack with few things that I wish were different. The main thing I wish was on my model are dedicated water bottle pockets. Mine does not, but I believe the new one have these. This is just a minor inconvenience. Another small complaint is the lack of added rain cover. I picked up a Gregory cover for the pack that fits well, but as it seems....most packs now include a rain cover. This pack is way big if you lean more on the minimalist side of hiking. I can easily use this pack for a week long trip in the summer, and even a longer than a weekend trip in winter. The large front slash pocket is awesome as well as the huge space in between the slash pocket and the main compartment. I am also a huge fan of the side access to the main compartment. This is a well thought out and well built pack. I would not hesitate in buying this again over what other pack companies have out on the market. I have this pack in a large and it fits me great and is super comfy. I would totally add this to your list of weekend/week long adventure packs if you are in the market!
Great Pack!
Familiarity:

I've used it several times
Solid pack for weekend hikes to thru hikes. Has just enough organization and the side access to the main pocket is very useful. The back stash pocket is also very useful for storing rain jackets ond other items quickly. The one downside is that it doesn't have attachment points for technical items such as skis. Also the water bottle side pockets are way too small! They barely hold a 1L nalgene but might work better with new soft bottles.
This would be a great pack for 3 season weekend trips, I had to go up a size because it didn't fit my winter gear. Felt really good on my back, however with backpacks it's always subjective to the user. I like Gregory Z series more than others because they balance weight and performance very well in my opinion.
Measuring your Torso Length at Home
Easy and helpful guide to measuring yourself for the right size backpack...
These packs provide True Ventilation across your back without sacrificing the positive load transfer of weight to your hips. The two critical points that make the suspension work, at the scapula pads and lower lumbar pad, are the only points of contact with your back. The proprietary waistbelt system is adjustable to 3 different sizes and ensures a custom fit and comfortable carry out on the trail.
Very good pack!
Gender:

Male

Familiarity:

I've used it several times
Solid pack for hiking with multiple people. Might be a little small if you're looking to hike solo. A bit hard to get a water bottle into the side pouch on the trail. Loads easily with three nalgene bottles across the back. The top cover/pouch is a little annoying the way it is attached by straps to the bottom portion of the pack and falls backward when opening. Just took it on a 2 day 23 mile loop in the Ouachita National Forest and it performed very well. I would recommend it without hesitation.
I am sorry but I must reply to another review. I read a lot of reviews for a lot of products with a recurrent theme. This entails the critical review and analysis of a product when utilizing that said product outside of the realm of its (real) intended use. Obviously we are human and like to explore creatively in many different facets, but by using my years of experience mountaineering and powers of observation I can easily note that this is not a mountaineering and or technical pack and more simply a backpacking pack. Looking at the tool attachments and and overall design of the pack, it is not engineered for a lot of technical ice tools, crampons and heavy loads at that. The pack has a wide storage capacity meaning that it is much wider in the center of the pack, making a vertical ascension and descension difficult to maintain balance. Mountaineering packs act to distribute the weight from the top to the bottom to aid in vertical ascension and maintain counterbalance with the bodies alignment. Further more this pack has no gear slings built into it and does not have the heavy duty webbing noted in most mountaineering packs built today. Why I like the Z55? Well, the big kicker for me is I love dual access in all of my packs. If I don't have it I will literally tailor one myself. Why is that important to me? Well, I really love being able to find what I need when I want it, especially when there is a more emergent situation on the horizon. Aside from the dual access I like gregory webbing straps and hip belt, they just work for me. Anatomically, I am 5'10" about 165, and this pack in a size Large fits pretty good. I tried a medium and it was slightly to small, but the large is almost too big so I am in between. Do yourself a favor though if your serious, measure using gregory's measurement guide and you should at least have a good idea where you should be, keeping in mind all torsos were not created equal. Now what I don't like about this pack is I really don't like is the front pocket and its design. Another review disliked the capacity of this pack, but I think that you have to calculate this front pouch into the 55 liters. Unfortunately when loading the front pouch and placing some unsaid items compressed between this pouch and the body of the pack it can become quite bulky and creating and unbalanced load. For this I find this pack below my standard, but this might work well for someone of a different build than myself, or of course personal preference. As for Gregory, I really like their packs and the access points which are becoming more popular with many other manufacturers.
It's a good pack. My father cannot like it any more. The color is beautiful and the belt is nice.
I bought a Gregory Z 55 Backpack two year...
I bought a Gregory Z 55 Backpack two year ago. It has served me well.
But on this last trip from Carver Gap to Watauga Dam the zipper in the lid came ungluded spilling out the contents...Is there a replacement for the lid? My pack is a medium (M). Can it be repaired, and if so what do you suggest? Thanks.
That sounds like a defect, I would contact Gregory and have them fix it. They have a lifetime warranty against defects. If they say it was wear and tear, then you may have to pay for it, but I would imagine not.
This is a good pack, but I did find some things that I didn't like about it. I know several other people put this in their reviews as well, but the first thing I found was don't put too much weight in it or the suspension becomes uncomfortable. The second thing was also what James Jenden mentioned in his review, when you have a lot of gear in your pack you can't fit a camelback bladder. At least not without it breaking and getting your stuff wet. Other than those two things though, I do like the pack. I use it just for overnight camping trips when I don't have to carry too much stuff.
This pack does what its suppose to. What more can I say. Some friends and I went for a weekend hike and after 15 miles the only thing sore was my legs. It kept the weight off my shoulders which is what I wanted. Im 6' 2" and this pack was a little short for my torso. But it still worked well. I overpacked just to see how it would do. In the end it weighed 33.6 lbs including water, and i could carry it without discomfort. I would say it's not the best pack in its price range but it's definitely one to consider.
Ok so anything you wear on your body is objective in review I believe... I got the large size Z-55. With that said this thing fits me like a glove, I'm 6' 180lbs. The lumbar is in a perfect place for my back. its not the lightest pack I've ever owned but it fits me better, and is a well thought out design. No rain cover but I already had one so it didn't matter to me.
I have been using the slightly smaller 45 pack for the past 6 months and so far really like how it performs. It is built very well... strong for a pack of it's size and full of features that usually come on larger packs. To see a full video review of this pack go to:

http://backpackersreview.com/gear-review/backpacks
The Z series are great all-around packs. Here is a review of the slightly smaller Z45.
A pack is the most important piece of gear on a backpacking trip, and I thru-hiked the Appalachian Trail with the Gregory Z55 (2010 model). This pack worked wonderfully for me.

The L-size is actually 61 liters, which fit all my gear perfectly -- sleeping bag/pillow in a compression sack went into the bottom, and it slipped right in with no problems, despite the curved frame.

The adjustable hipbelt was helpful since I, of course, lost weight on the AT. The entire hipbelt and harness system was quite comfortable on me once properly adjusted. And the suspension easily handled loads up to 40 pounds. Beyond that, there was a nice creaking with every step I took.

Most thru-hikers wear out their packs on the AT. Not so with this one. It's ready to go again.