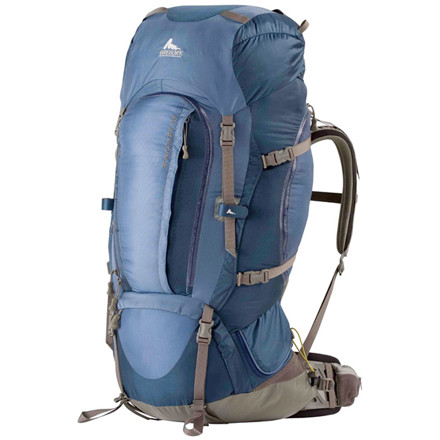 Community Images
The massive Gregory Whitney 95 Backpack carries as much gear as you'd ever want to heft for a weeklong (or longer) expedition. Gregory's Response CFS suspension system has five points of adjustment for a precise fit and moves with your body as you walk to eliminate rub points and provide a stable carry.
Ultra-durable materials and construction stand up to the rigors of expeditions
Water-resistant bottom panel protects gear that you store toward to bottom of your pack
Pre-curved waist-belt provides optimal weight distribution and features five-points of adjustment
Auto-Cant shoulder and back-panel system help take the bite out of heavy loads
Two aluminum stays and a cross stay provide extra rigidity and flex to efficiently transfer weight to your hips
Top and bottom ports let you access all of your gear quickly and easily
The top lid converts into a lumbar pack for bluebird summit bids and spur trails
Full compression system lets you reduce the pack's volume to fit loads of varying sizes
Excellent backpack
Familiarity:

I've used it once or twice and have initial impressions
The suspension system is great.I use the mammut heron pro 85 before.The Whitney 95 is more comfortable with heavy load.
Only one thing need to improve, the waist belt cannot removed.
Unanswered Question
Was the hipbelt issue resolved by Gregory...
Was the hipbelt issue resolved by Gregory or are these packs still breaking?
Measuring Your Torso Length at Home
Easy and helpful guide to measuring yourself for the right size backpack...
Still Together After All These Years...
I first got my Gregory Whitney for a Trans-Sierra trek, over a decade later, I'm still loving it, more and more each trip. Unlike some of the other reviewers, I've never had an issue with the pack (save for 1 clip) or Gregory's customer service (clip was promptly replaced and sent to me for free).

This pack is MASSIVE, it is by no means a lightweight, super fast pack. This thing eats up gear and shows no signs of EVER being full. I've packed in a good 65+ lbs. of food, gear, and way too many luxuries into the backcountry, just because it would fit in the pack.

The compression straps on the side and bottom of the pack help to keep it snug and close to your body while still providing adequate breaking for your back.

My main critique is that the waistband took a little breaking in before it was comfortable, but if you read my other reviews, a good break in period is something I value. After a decade, and countless miles, this pack is showing no sign of stopping. Apart from a few scratches (but not tears) on the rubberized bottom, some sun and food stains, this pack is just as pretty as the day I got it.

Once you get this pack, load it up with as much gear/weight/bulk as you can and then have a friend dial in the adjustments. After that, you can start your own love story. <3
Tested
Gender:

Male

Familiarity:

I've put it through the wringer
After using this pack, I wouldn't buy any other brand. Abused it on the last winter hike I went on. We dragged it down a steep hill and it shows no sign of wear. It carries like a dream, I had 60lbs in it. feels like it is part of your body, rather than something you are carrying. loved it.


Like many other reviewers have said, if you're not careful, the hipbelt might break. I've had two hipbelts fail on me so far, one after 50+ miles with only about a 40 pound load. I also am not a fan of Gregory's attempt at ice axe loops as they're weak, but this pack wasn't really made for mountaineering purposes. Besides those things, this pack is pretty burly and monstrous in its size. I've beaten this pack around and it still looks new. But for now, I'm going to stick with Opsrey.
For what its worth, my wife and I have a few Gregory packs and found their quality and customer service to be excellent.

I've put 300+ miles on my Whitney carrying loads varying from 45- 70lbs. The weight transfer and organization this pack offers are absolutely the best on the market.

However, this pack has been widely vilified for its Achilles heel - the plastic inserts used in the hipbelt.

(My wife has an older version of the deva which uses the same design, but uses more robust plastic and composite materials. If Gregory only used these on this pack, this would be a non-issue.)

Anyway, My Whitney also had a partial failure on one side during a heavy 9 day Isle Royale trek, but I suspect it was broken by the porters on the ferry, not during regular use.

When buckled around the waist, the belt is at its strongest and is subject to stresses it was designed for. When unbuckled, as when lying on the ground, its at its weakest, and may be vulnerable to hyper-extension and the kind of shear-forces that cause the plastic to tear. In other words, be careful with handling your loaded Whitney when its not on your back and you may never have this issue.
I'm looking for a pack that will sustain...
I'm looking for a pack that will sustain a 75 to 100 day hike through arid and dusty conditions (i.e. the Sahara). I've been reading mixed reviews about Gregory packs, differing from complaints about the plastic part of the waitband cracking or snapping to others saying gregory packs are the best thing to sliced bread. I've been subjecting myself to a Mystery Ranch pack, which despite all sorts of adjustments, just doesn't seem to fit me well. Yet the pack was able to sustain 110 lbs for 2 weeks without any issues through fairly rugged terrain. Is there a pack which could sustain similar weight (around 85 to 100 lbs) while remaining comfortable and durable? I'm not overly concerned about the weight of the pack, but would not be willing to exceed 9.5 lbs.
I personally had the waistbelt of the Whitney break on me with a 65-70lb load within two days of backpacking on a 20 day trip - making the pack incredibly uncomfortable. I wouldn't recommend this pack to anyone.

I personally have a very high opinion of Osprey packs. I've only used the Exos (their ultralight offering) and have been ASTOUNDED by it's durability and fit - not appropriate for what you're looking for, but an explanation of my faith in the company. A friend on the same trip had an Argon and really liked it. If I were to buy a pack of this size, the Argon 110 is surely the one I would get.

Another pack that a friend had on my course was the Arc'teryx Bora 95 - he had used it previously for another course as well and it still looked brand new. Incredibly durable and burly, and quite comfortable.
How do I rig the Whitney for water resevoir?...
How do I rig the Whitney for water resevoir? Where is the resevoir suspended and where are the 2 hydration ports?
Best Answer
The sleeve inside the pack (it's probably made of lighter grey fabric and rests close up against your back while you wear) it is designed to hold a reservoir.

Unfortunately, the Whitney does not have a suspension system, you just have to drop it in. If you're handy, a simple suspension system can be MacGuyvered with 14" of twine, a metal clip from a ballpoint pen, needlenose pliers and some knot skills.

To make it, tie the twine in between the two suspension webbings at the inside shoulders of the pack (I used a bowline on either end). Remove the metal clip from the pen (i used a sanford uni-ball) and bend it into a fishook shape, with an eye on the top and a hook on the bottom. Put the eye over the strung cord then clamp it closed with the pliers. You should now be able to clip your reservoir into this sliding clip. (See Photo)

There are two hydration ports so that right or left handed people can route the tube over their preferred shoulder.

Hope that was helpful.
I freaking love this pack. Let's be clear; it is bigger than anything that 90% of people who go backpacking will ever need. For those 10% of us who live for long gear intensive expeditions and deep winter travel, however, this is the pack of dreams. I personally hate tying anything other than my Z Rest to the outside of my pack (meaning I like to keep the tent on the inside, where its weight can stay close to my body), so this extra big backpack is perfect. I've used it a great deal in all kinds of conditions and not had any issues with anything breaking; this pack is solid! I can fit enough gear for a week of backcountry camping, plus rock climbing gear, my rope, and food, and carry it more comfortably than any other pack I've ever tried on would allow me to. This pack is very heavy, but that weight translates into LOADS of support, which is crucial for carrying heavy loads. My favorite part about it is how easy it is to access everything. There are a whopping FIVE points of entry to the main compartment; one from the bottom, one on each side, one from the front of the pack, and one from the top. Most packs offer only top and bottom entry, making it much harder to organize your gear effectively or find crucial items quickly.
Does the Gregory Whitney come with a rain...
Does the Gregory Whitney come with a rain cover and if not can you get one to fit.
The Whitney does not come with a rain cover, and although the fabric is PU coated, rain will certainly soak through the seams, so you will need some sort of weatherproofing.

One option is a rain cover, I've provided a link to Gregory's, but there are a bunch of different brands and models with different stats. You're going to want the Large for the Whitney.
http://www.backcountry.com/gregory-rain-cover

Another option is a pack liner, which is lighter, 360º weatherproof, and more durable because its protected by your pack. The downside is it you have to set it up before the rain, and it limits how accessible your gear is. This one will fit most of the Whitney.
http://www.backcountry.com/integral-designs-silcoat-pack-liner

The third option is to use a trash bag as a pack liner. This is light, cheap and versatile (could be for solar stills and emergency shelters), but isn't as environmentally friendly or slick. You'll want a heavy duty yard bag or, even better, a 3 Mil Contractor bag like this one
http://www.amazon.com/Contractor-Trash-Bag-Gal-Black/dp/B001ZXK3R6

Hope that was helpful
-Simon
I had the same problem as sch3082605 on a NOLS course, critical design failure in the hipbelt. Cracking in the main load bearing plastic support which shifted the load to flimsy support straps. Note that this occurred with a good condition pack borrowed from a friend on the 2nd day hiking with a 68lb load. The fact that Gregory will replace the pack doesn't help me very much when I'm already miles into the wilderness. Also, field repairs are impossible without a hex key, which is idiocy. I'll stick with Osprey.

Photo is of the break and my attempted repair, very difficult to access broken area so little could be done.
I had this pack loaded with 70+ lbs. for every step of the AT in 2009. I loved it. It was incredibly comfortable and easy to carry. I did have trouble with the side pocket zippers blowing-out early on, but that was an easy fix. That season, just about everyone with a Gregory pack had hip belt failures and I was no different. I replaced my hip belt at Damascus with an older model which took me almost all of the rest of the way to Katahdin. After 1800 miles, a couple of the seams near the top of the pack began to fail, but then again I was hauling 70 lbs. everyday. All in all, a great pack with some easy/cheap fixes. I just can't bring myself to have mine replaced yet.
My son likes the look and feel of the...
My son likes the look and feel of the Gregory Whitney 95. Before we make the purchase, are there any other packs that are similar that we should consider? Also, EMS has it on sale for $287, would you meet their pricet? Thanks.
Best Answer
I personally like Osprey packs, but Gregory has been around virtually since backpacking was invented.. so your choice is understanable. Secondly, you would have to jump on the live chat to answer the price matching question.
nothing beats this pack i guide in the mackenzie mountains NWT Canada and have tried gregory and osprey they do not take the beating that this one does
I bought this pack online. When I got it, I was VERY disappointed. It looked like it was going to fall apart with me just holding it. There is no way I could trust it to hold up to any lengthy trip. I returned it.
I never actually used this pack, but my friend did on 20 trip to the Wind Rivers. The hipbelt on his back broke in each side where some plastic attaches it to the frame. Major gear failure. Luckily enough was still attached for us to finish the trip, but we could have easily been SOL.