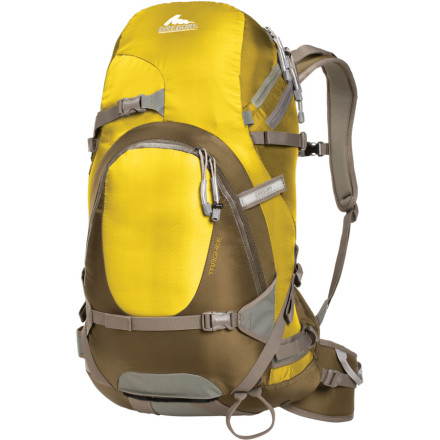 Community Images
The Gregory Targhee Backpack holds everything you need for a day in the snowy backcountry, from your skis to your avalanche probe to your lunch. The Targhee carries your skis vertically, diagonally, or A-frame style. Gregory integrated its ski carry system into the pack's suspension, so the weight sits comfortably on your back. With abrasion- and puncture-resistant fabric, this backpack stands up to your ski tips and edges. A top zipper gives you access to Targhee's main compartment, and a front pocket fits your shovel blade and skins easily. Put your shovel handle and probe in the side pocket. Your drinking water won't freeze because this pack comes with an insulated tube sleeve. This pack holds up to 45 pounds comfortably.
Share your thoughts
What do you think of the
Gregory
Targhee Backpack - 1900-2200cu in
? Share a...
This or a Osprey Code 30? I plan on doing...
This or a Osprey Code 30? I plan on doing some day trip tours, with possible overnight potential, so I may need to stuff a sleeping bag in here. Would I be able to fit my avy gear, quick eats, layers, and if needed a sleeping bag in here?
Best Answer
a 30Liter-ish pack should be sufficient for that depending on how small your bag compresses. i am an osprey guy myself. but i have never owned a gregory. bought my 1st osprey and loved it, so i just stuck with them. so...yes, this size will work, but I have a personal bias toward osprey...
Go with what fits you better. I had an Osprey overnight hiking bag that I loved but the straps cut into my neck. I switched to a Gregory because they space their straps out farther. Fits my neck/shoulders much better.
Second day top zipper separated from the pack. There was very little load on the zipper when it failed. I am not very impressed.

Separation is about 2 inches long and it will seal at this time.
I'm looking for a ski pack for day trips...
I'm looking for a ski pack for day trips that can hold my ski boots - I can't afford a full AT setup right now, so at first I'm just looking to take my powder setup into the back country. Does anyone know if this pack would be able to fit a pair of 305mm boots? Or, does anyone have any good suggestions for a pack that would fit my needs?

Thanks!!!
I have 305 mm boots as well. They. Its cumbersome and don't plan on putting much else in there. I also have a BD covert 32 that my dog ate a huge hole in (hence the new Targhee) and it fit the boots easily because it opens up with a clamshell zipper. I am overall happier with the Tarnished but for resort side country and just quick diagonal carries the Covert is better.
Will this pack hold a snowboard?
Will this pack hold a snowboard?
First Dedicate Ski Bag - Pretty Good
Love the color. Love the huge amount of stuff I can stuff into this and have it all sealed up with waterproof zips. There are a lot of options for attaching things, but I'm not sure I'll ever use anything but A-Frame. However, I've seen a couple times that after I put the A-Frame carry together, the tails hit my legs while I'm walking. Any tips for making this work better? I suspect I just need to get better at cinching it all down properly. Once the skis are tight, they carry very nicely with little unnecessary wiggle.

It has a pretty sturdy frame, so it's a little heavy.

Overall, very satisfied.
I needed a pack to help lug my skis and my 3.5 year old daughter's skis from the car to the slopes. While this pack is overkill for the job, it still does the job perfectly. I can fit her ski boots, helmet and a change I'd clothed in here, and then strap my skis and hers on the outside. The pack carries impressively well. I don't think my wife understood why I bought
this pack off SAC at the time, but it just makes our life so
much easier. In another year or two we'll be taking our son out too - might just have to get another one of these!
Nice pack, small capacity...
I like this pack, but it fills up so fast - a daytrip in the winter requires carrying extra layers, some extra food, some repair equipment, a sil-nylon poncho/tarp... By the time i get my gear in this, there's hardly room for my skins on the descent or shedding layers on the climb. I think the multiple pockets this divides the space sub-optimally.

Also, there's no gear loops or external lash points on the pack.

Otherwise, well-constructed, comfortable with great ski-carry options.
Great pack with plenty of room and excellent riding characteristics. I have had Dakine packs and a BD Covert, neither came close in terms of fit, capacity and weight distribution. The accessory pocket on the belt is a huge asset, and the probe pocket on the side is a killer feature. My only issue is that the ice axe loop is too large to function as a shovel handle loop; the ends slip around the T. Thus i carry my shovel handle and probe in the probe pocket. Otherwise, awesome pack.
Will the Voile Telepro Avalanche T6 shovel...
Will the Voile Telepro Avalanche T6 shovel fit in this pack?
Yes if you take it apart...
Someone below mentioned that their skis...
Someone below mentioned that their skis at 115 at the tip wouldn't fit through the A frame loops, has anyone else found this to be a problem?

My skis are 125 and 130 at the tip, so this would definitely make this pack a problem...
Nope, I have carried Rossignol S7's with this pack, no problem. Twin tips are an issue, but that's a factor with all packs.
More then just a winter pack.
This pack is in one word AWESOME. It gives you so many oiptions to attach, skis, snowshoes, snowboard, Telescopic Poles etc. This pack can definitely be used for all four seasons. The construction and materials are very tough and durable. Shoulder harness is very comfortable and fit is true to size. Be sure to measure yourself for this pack because if you're back length is 18" and you get the large it will not fit (too big). My only draw backs of this pack are how it packs. Its a top loader and can be difficult to sift through to find what you want at times...Another draw back is the fact that the end knobs on the zipper strings keep coming off (they can easily be put back on) just annoying though.
Great pack, I highly recommend!
My skis are 115mm at the tail, and they BARELY fit through the A-frame straps. Any larger, and you'd have to hold them diagonal style, which is a bummer. The outer pocket holds both my shovel and skins, which is nice. Separate pocket for the handle, so it's not hanging on the outside. I upgraded from a Da Kine Heli Pro, which is nice for snowboarding. This is bigger, and perfect for a full day of touring.
I've been using the Targhee for a couple years playing and guiding in the Northern Cascades -- over a hundred winter day trips. It fits, carries enough and has proven durable. The shovel and probe compartments are handy for keeping safety gear organized and accessible. The Targhee is a solid choice.
how does this carry a snowboard?
how does this carry a snowboard?
Best Answer
It might not, But it looks like the bottom strap could be used for it, and sewing a strap up higher is no big deal, i did it on my 32 L Avalung.It's hard to see in this image, but...if you look on the mid-top right of the image, there is a "female" side of a buckle tucked into the pack that you can pull out and use with the "male" buckle directly opposite...there's plenty of webbing to go around a board. So you have two attachment points to the pack: top and bottomthat is correct and the lower strap has a wider rubberized part that contacts the board, the upper strap also has rubber at that point. Backcountry magazine reviewed this pack last year and doing an image search will result in some pictures where they have snowshoes attached
According to the website, "The Targhee is the first winter backcountry-specific pack that integrated the board and ski carrying system directly into the pack suspension through a dual stay weight distribution design." So Gregory thinks it will carry a board, but I don't see how.
The straps tuck away when not in use, it's tough to see from the photos but there is another buckle that will allow you to carry a snowboard vertically. And there is always horizontally for snowmobiling, the new version has reinforcements for this too. Check out their blog post:

http://www.gregorygoesthere.com/backpack-tech/how-to-using-the-skiboard-attachment-points-on-the-targhee-and-drift-packs/
It carries a board fine vertically. I do not know how you would do it horizontally.
getting this pack concluded a long quest I was on for the best snowboard touring pack I could find. I know folks love their Ospreys and Dakines but I preferred an external shovel pocket that the Switch didn't have, and then I had been hearing Dakine's quality had gone downhill although their designs are hard to beat. This pack has it all; insulated drinking tube sleeve, the side pocket is surprisingly roomy for the shovel handle and probe (even my curved DB deploy) nice top pocket for mitts or whatever and then it's accessible in 2 ways with the board or snowshoes strapped on. pretty fricken' sweet. The lifetime warranty makes it a safe purchase but it seems unlikely I will have to deal with that seeing as Gregory folk aren't snoozing on the quality control.
This pack has put an end to a year long search for a pack that will fit a female frame, yet still hold enough stuff for a long, cold day. I am an average sized woman and found that the small size fit me well. I can stuff all of my ski gear in comfortably with plenty of pockets for organizing but not too many to lose things. It sits close against my back and moves well when I ski. The zippers are waterproof and there are two convenient points of access from the top and the back/side. The waist pocket is easy to reach and the insulated sleeve will also serve as a second pocket if you don't use a camel back. It has a variety of ski carry systems and attachment points that work well. My ski partners asked to try it on because they liked it so much. Overall, great pack.
I use this pack for short camping, backpacking, and even road trips and love it. Very sturdy and comfortable. Lots of pockets. The waterproof level of this pack seems excellent. I only have 2 complaints about this pack. 1) The largest compartment is only accessible through the small top opening. 2) I always want to carry more stuff, so I find myself wishing it was bigger. Maybe I just need to pack lighter...