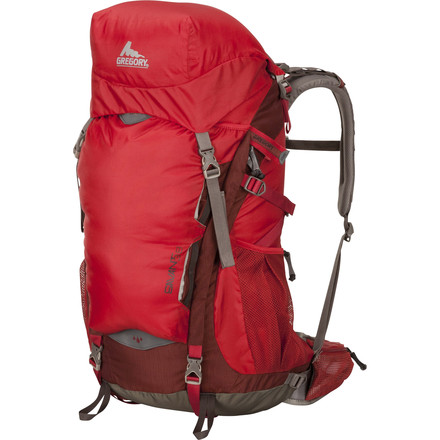 Community Images
The Gregory Savant 38 Backpack is an ideal solution for overnight out-and-backs or minimalist weekend trips. The Savant 38 comfortably carries 20-30 pounds of gear with its Intuition 3D suspension system, and offers a full array of features you'd expect to find on bigger packs.
Intuition 3D Suspension uses a lightweight wishbone frame for stability and efficient load transfer
Breathable molded foam back panel and well-padded shoulder straps and hip-belt offer all-day comfort
Comes in three sizes for best fit; size S fits torso 16-18in, size M 18-20in, size L 20-22in
Roll-top design is water-resistant and allows quick access to your gear; main compartment also accessed through vertical zip in front panel
External hydration access lets you refill your bladder without digging through the rest of your provisions
Integrated rain cover protects your supplies from sudden showers
Unanswered Question
Is the bladder pouch internal or external? In otherwords, does it slide in from the outside of the main compartment or does it slide in down from the inside of the main compartment? I've found that most packs with the external space where the bladder slides down firectly behind the shoulder straps allow the full bladder to push into the center of ones back which is really uncomfortable.
Measuring Your Torso Length at Home
Easy and helpful guide to measuring yourself for the right size backpack...
A series perfect for overnight trips, trekking, and general mountain use, offering a full, traditional feature set without a lot of clutter. Easy access to gear makes these packs versatile enough for use in the backcountry or traveling across the globe. Molded foam back panel, harnesses and waist belt means you'll get maximum durability and stability in this do-everything, high-value pack line.
Functional and very comfy
With my gf using a multi-day gregory pack and me with this, I find that their bags tend to have many zippers and pockets. Maybe I'm tainted by how comfortable it is, but the sheer number of pockets doesn't detract from the overall functionality. A great pocket on the "front" to stuff a light rainproof jacket. An unzipped pouch along your back for water bladders or another layer of soft warm clothing, some mesh pockets on your hips and sides for water and/or snacks. The pocket on top has a water-proof seal on the zip with key clip, and an internal pocket for one extra layer of water-resistance for your phone or matches.
Side access to the main section is good, though I don't use it much.
What I would say is a down side is that the mesh all seems "wirey", really tough and not very stretchy, i worry that hard pokey bits might rip it easily (though haven't yet). The tops/openings of the two side pockets, also, aren't stretchy so you need a hole in your gear packing inside the pack to be able to fit a nalgene or similar wide-body bottle into the pocket.
The back padding/support can just be bent into a comfortable S shape to suit you with the help of your knee and the multitude of straps here and there (and around your waist) help keeps everything in check and the bag comfortably sitting on your hips even with a larger load.
A great bag, if this is how all gregory bags are made I'll be making more of them mine.