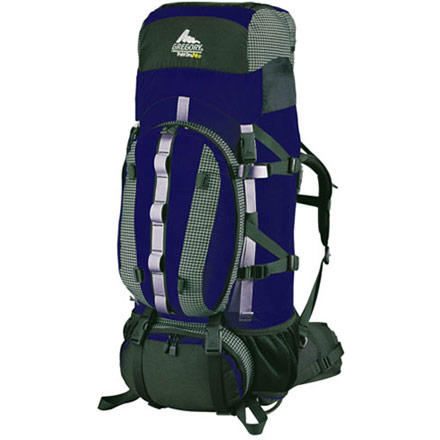 Community Images
For women with big goals for big mountains, the Gregory Packs Petit Dru Pro backpack is an able companion. Extraordinarily tough and laden with useful features, the Petit Dru Pro will exceed your expectations. Professional mountaineers are tough on their gear, which is why this pack is with this elite group of athletes. The Petit Dru Pro's narrow profile and female-specific fit and components, combined with our beefiest suspension system, and top-of-the-line materials, make it the logical choice for expeditions, guiding, and daily use in serious backcountry. The pass-through pocket provides easy access to every corner of the pack. This low profile design also improves the Petit Dru Pro's performance on technical climbing or ski trips. -Vendor
What do you think about this product?
Have questions about this product?
Measuring Your Torso Length at Home
Easy and helpful guide to measuring yourself for the right size backpack...
When I went on my first backpacking trip with a friend, I had a cheap unisex backpack. My back hurt, a had a vertebrae push out to the side due to the weight and my experience was miserable. I'm 5'8" and 120 pounds. I've had my Petit Dru Pro for four years now. I can carry up to 65 pounds in this pack, which is over half of my body weight! The pack distributes the weight correctly and comfortably over my body. Depending if I am going uphill or downhill, I can quickly and easily adjust the two straps at the top of the pack to make the weight easier to carry (moving the top of the pack a little closer or further from my body). I like the simplicity of the pack. The main compartment can be accessed by flipping the top lid open and then opening the drawstring. I put my clothing and gear I don't need during the day in here. I'll often put my sleeping bag in the bottom of the main compartment. The detachable top compartment holds my stove, gas and food. When you stop, it's really easy to access, so sometimes I'll put my map and snacks near the zipper of the top compartment. The outer zipper compartment offers a lot of room for nick nacks like: GPS, toilet paper/shovel, lip balm, first aid, gloves, hat, headlamp, sunscreen, water filter, etc. You can stick a lot of small things in this compartment because it is tall and wide (but not deep). In the bottom compartment, I'll put my pillow/inflatable mat and other lightweight items in the bottom compartment. For weight distribution, I like to have the heavier items (like food) toward the top of my pack. The two side pockets are useful for water bottles. I also stick my poles in the pockets and then secure them with straps near the top of the pack.

I am little and not strong. I have a short torso and long legs. Because I have a short torso, many packs are uncomfortable for me or really hurt my back and neck. This pack is my dream come true. I always like to check out packs when I visit camping stores and I have yet to find one that I like better. I use the size small. I've had it for four years and I've taken it around the world, using it for days or weeks at a time. It has no rips or tears. The straps are still tight and secure. A few times I've put it directly through the airport check in. Since it has loose straps flying around, I recommend putting it in a duffel bag for airport check in. I do believe it is too large to pass as a carry on item. It is the perfect pack for the female frame. This pack is worth the investment.