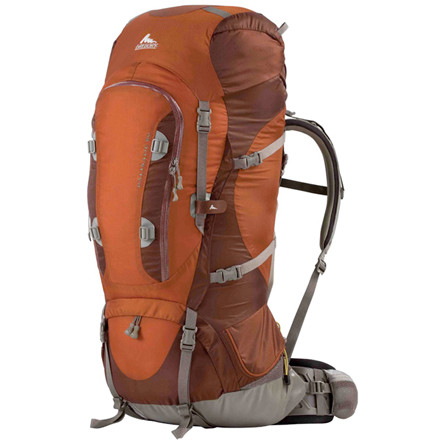 Community Images
When you carry gear for a week, you want a pack that's good to your back, shoulders, and waist. Gregory made the Palisade 80 Backpack with a pre-curved harness, a waist-belt with five adjustable angles, and an auto-cant shoulder harness system. Rotating auto-cant attachment points move to mirror the slope of your shoulders and width of your neck so you get less rubbing and fewer hot spots while you hike.

Response Custom Fit Suspension hipbelt pivots to accommodate your hip angle; system also pivots as your body moves
Quick-Adjust hip-belt adjusts to five different angles with a simple pull of a quick-release tab
HDPE framesheet with twin 7075-T6 aluminum stays and a cross-stay won't cave under heavy loads
3-D precurved hipbelt and harness use dual-density foams laminated to the surface fabric for cushioning without pinching or binding
Ventilated dual-density molded foam backpanel moves lets your back breathe
Three access points to the main compartment: top, front panel and bottom access
Side compression straps adjust to the size of your load for optimal stability
Hydration-compatible design features a reservoir sleeve and drink-tube port for on-the-go hydration (reservoir sold separately)
Dual hip-belt pockets, side stretch pocket, hide-away water bottle pocket and stash pocket give you plenty of storage and organization options
Large front zip pocket keeps bulky gear easily accessible
Top lid pocket is removable and converts to a lumbar pack
Rubberlike thermoplastic elastomer on the bottom of the pack provides long-lasting wear and waterproof protection
worst purchase ever
Familiarity:

I've used it several times
i bought this new in feb. took off for big solo wilderness trip in honduras. split at the seams in two places. massive splits 12-14 inches long. gregory said they will repair it if i mail it to them. just went to ups and fedex and due to the large size they both want $50 to ship it. literally fell apart before i walked one mile with it on. how will i ever have any confidence in it? I am calling it a total loss and buying an osprey. wasn't such a great deal after all. worst pack ever.
Gregory Stands Behind Their Gear
Familiarity:

I've used it once or twice and have initial impressions
I bought the Palasade 80 as an all around pack, for extended summer trips and winter mountaineering. It is very well constructed, a little heavier than many of todays ultra light weight packs, but the solid construction is worth it. I ended up pulling apart the stitching on the sleeping bag compartment when using all of my body weight to stuff my NF Bigfoot into it. I contacted Gregory and they replaced it, no questions asked. I used it hauling a fairly load up Shasta and the pack is very comfortable packing heavy loads. The cant adjustments on the waist belt gives the user the ability to custom fit the pack to their body shape. The access through the back panel is very convenient. The straps on the sleeping bag compartment are long enough to strap a tent or pad to the bottom. We used the rear attachment points to carry snowshoes and they seem sturdy. The side pocket was perfect for tent poles and the water bottle pocket is very handy. The foam on the shoulder straps and the lumbar pad are outstanding. They felt stiff at firsy, but I found them to be very comfortable. I wish it had a gear loop on the waist belt for ice screws etc, but that's not a big deal.
Looks like a nice pack, but it doesn't...
Looks like a nice pack, but it doesn't seem well-designed for strapping extras onto the outside. For instance, I often strap the tent onto the bottom of the pack in front (right below the zippers), but it doesn't look like these straps are long enough. Can anyone comment on that? Also, straps across the mid-front are good for holding on ice axes, sleeping pads, etc., but I don't see these here. Although, I do see brackets - are there other straps included?
Dude, if you're strapping your tent and pad to the outside of this pack, then what the heck are you putting inside of it?

It's 80L, that's a lot of space right there... I don't mean to tell you how to pack your bag, but unless you're line backer sized it seems like strapping stuff to the outside of an 80L pack is going to be way heavier then most people want or need to carry.



There are ice axe/tool/trekking pole loops at the bottom of the pack with velcro straps above them, which look like the should adequately hold any of those items though.
Well, when you're thinking about an expedition that requires winter gear, climbing gear, and 2 weeks of food, any pack will get pretty dang full. And sometimes it's just nice to keep the tent on the outside so you don't have to take it out every time you want a Snickers bar.
I own this backpack. Totally get what both of you are saying, and thanks for the laugh along the way haha.

Anyways to clear the air - the backpack does not have many straps on the outside, however there are iceaxe loops, side buckles on both sides, and the lid is capable of extending up over large items that you may choose to place on the top of the pack. It is a very large backpack. If you are carrying wintergear, climbing gear AND 2 weeks of food you may want to upgrade to a larger pack, or think about hauling a sled behind you (at least for the approach).

Jacob
Right on. Thanks, Jacob. Glad to see I'm not the only one who either doesn't know how to pack or is built like a 140-lb linebacker.
Carry it All
Familiarity:

I've used it several times
This pack is huge, comfortable, durable and efficiently constructed. With pockets and a space for seemingly everything, this is the bag you're looking for when it comes to longer distance/length trips where you need to bring everything, including the kitchen sink. Super comfortable, just make sure you're doing some research into the size you purchase. I'm 6' 160 lbs and the Medium fits great but certainly couldn't be any larger. Someone below said that they were 6'3" and the Med fit them great so just make sure you're sizing yourself properly.
Great pack for the big hauls
I used this for 5 days on Mt. Rainier. I went with a size large, but after buying other Gregory packs in a size medium I found them to fit better. I'm 6'3", make sure you measure your torso correctly. My pack was stuffed to the top, super tall when the chimney is full up too. Weighed in around 55 lbs with water and food. After a half day of getting the straps adjusted just right it carried the load quite comfortably, though my legs took a beating the first couple of days getting used to the extra weight. Super durable, but not very water proof, except the bottom rubberized panel. The rain on the last day worked it's way through and got everything wet, glad it happened on the way home. It's a great pack for bigger 45lb loads and up.
Measuring Your Torso Length at Home
Easy and helpful guide to measuring yourself for the right size backpack...
This is a great pack to use on longer trips, I have even used it for a 3 day trip, but it's harder to distribute the weight where you need to. I like this pack when it is loaded to 50-55 lbs and with all the strap adjustments, I can get it to where I almost don't recognize it's there. I have loaded it to near its' max (70 lbs), but wouldn't recommend it as you will feel every ounce and your shoulders will take a beating.

My two favorite features are the quick-adjust hip-belt and the pockets on the hip belt. Can store a cliff bar or small pocket camera in the hip belt pockets to free up your pant pockets for ease of hiking and the quick-adjust hip belt makes it easy to reposition if you get uncomfortable.

I recommend getting the rain-cover as well, it's around $30 and only weighs ~5 oz. Takes two seconds to throw it on if the rain comes and it stays on, even in the wind. Dry equipment is better then wet!
The Palisades features a multitude of adjustments to dial in the fit, but one thing I've learned about back packs ... it's all about the fit and just like boots, they don't all fit the same. I've read the reviews where they loaded this up with 50 pounds and couldn't even feel the weight. Sadly ... I could. I've had 40 in it and after 10 miles I was hurting. I'm 6'1 187 pounds, slim waisted with no ass (32 or 33 inch waist) Heavy loads have a tendency to slide down my hips. Currently, I have a large but I may try the medium set up and see how it works. It's definitely NOT a weekender. The Palisades is more or less an expedition pack. Like I said at the top, this is an awesome pack if it fits you. When it comes to trail / expedition packs, Gregory and Osprey set the mark for all others to shoot at.
Amazing pack I'm on my third year with it. My first year was six months tramping in New Zealand and the rest backpacking around the world. It holds huge heavy loads at least 50lbs and is so comfortable. The design is perfect and I don't know what I would change.
A follow up about this pack. It's going into it's 4th year, and still holding up great! I try to get out once a month although that doesn't always happen, but this pack gets used a lot! All the zippers, straps, and pads are in fantastic condition. I just returned from a 6 day solo hike of the STS in North-Central Pa. And like an old friend, this pack was a joy to bring along. I can't imagine finding a better backpack.
what is the best ultra light weight warm...
what is the best ultra light weight warm (-20 degrees c) sleeping bag back packing?
Best Answer
It's not cheap but I think this is the best: http://www.backcountry.com/western-mountaineering-puma-super-mf-sleeping-bag-25-degree-down-wes0037
When it come to high quality sleeping bags, Marmot seems to always be rated at the top.
Check out the new Cal DriDown series from Sierra Designs. Super light and super warm.
Is this overkill for 3 days on Rainier?
Is this overkill for 3 days on Rainier?
Best Answer
Nah, especially with alpine mountaineering gear in your load. Just don't feel like you have to load it all the way up if you don't need to.

A couple other packs to look at would be the Osprey Aether 65 and 70, or an Arcteryx Bora 80.
Do yourself a favor and find a way to get by with a 60 or 65 liter pack. It will force you to pack light and trust me you'll be VERY happy you did. if this is a one off trip, the Osprey Atmos is a great choice at a great price. If you see yourself doing this often, then pop for a higher end back pack..
Update. I bought and used this on Mt. Rainier. It was a 5 day trip so the 80 liter was totally needed. Pack weight came at around 50lbs with water and food. It took about half a day to get the adjustments dialed in, after that it was totally comfortable. I was the only one in my club that went with the 80 liter and everyone else had tons of stuff hanging onto the outside of their packs. I only had my rope and snow picket on the outside.
Does this pack fit ladies?
Does this pack fit ladies?
It would work for females, but I would recommend a pack designed for women. Check out this link from Gregory touting their women specific packs. http://www.gregorypacks.com/blog/?p=848
Great for multi day trips as it has tons of room. What I find myself using it for most is when my son and I go. I have all the room I need for his gear and mine. So far no problem with the hip belts. Suspension is great as it has a lot of adjustability and rides exactly how I want it without shifting weight.

Edit...just found out on my last trip that it does pretty good at holding lightsabers too :)
Carries Monstous Loads Comfortably
I'm typically a lightweight backpacker, but when I decided to take my 10-year old daughter on the week-long Daisetsuzan Traverse, I decided lightweight had to go out the window. I was between this pack and an Osprey when I found this one on sale. Overall, I have nothing negative to say about this pack. I can haul all my stuff, a 2-man tent,a week's food for 2, and a bear canister with more room to spare. I was hauling 55-60 lbs and the pack felt comfortable with the waist contraption doing most of the work. I had read bad reviews about the plastic waist contraption breaking on these packs, but I believe Gregory fixed any issues with this. In fact, I took a nice 50 yard tumble down a 45-degree ice field and the pack made out better than expected. I broke a load adjuster on one of the shoulder harnesses and trashed the rain cover. Everything else came out unscathed and I was able to get the load adjuster fixed for $10 at my local cobbler.

I've recently gotten more serious about photography which again doesn't mesh very well with my old lightweight hiking habits. So, I intend to get more mileage out of this pack.
Big fan of the Gregory lines, this is no exception. Wanted to downsize to Baltoro, but ended up going with Osprey. Gregory's are still burlier though, IMO. Figured that 80 liters is too much for most trips in Colorado, can fit up to 10-15 days worth of stuff in a 70 liter, and favorted the Aether 70 when compared to Baltoro, plus got a screamin deal. If I ever pony up for Denali, this will be my pack and its on clearance now. This outdoor gear is like electronics, you blink and cutting edge stuff will be in outlets within a couple months.

(This pic is from Cimarron Valley, San Juans Colorado 3-day, fully stocked pack, we feasted well that weekend).