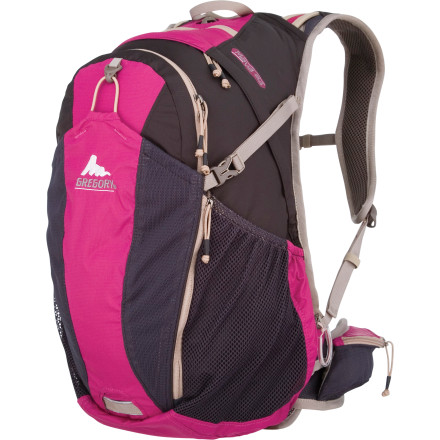 Why leave hiking essentials behind or torture your back with an inadequate day pack. Once you pack up the women-specific Gregory Maya 22 Daypack, you'll feel the difference its flexible suspension makes. And with roughly 22 liters of internal space, feel free to pack this large daypack to the brim with your your favorite layers, food, and other what-ifs.
The women-specific, moisture-wicking Aero-mesh back panel, shoulder straps, and waist belt encourage ventilation for a cool and dry hike
BioSync ATS suspension uses flexible connections to attach the shoulder harness and waist belt to the pack for a flexible fit
On-the-go internal compression lets you adjust how the pack fits on your back
Two zippered waist belt pockets hold snacks or a camera within reach
The front mesh pocket features three-point compression to reduce open space inside the back
An internal, removable discreet pocket holds small items
The bottom-front loop serves as an attachment point for a bike light or reflector for night rides or hikes
Pack fits torso lengths of 14-20in
Designed specifically for use during high aerobic activities such as fitness, hiking and cycling, the Active Trail line uses tendon-like attachments to connect the harness and waistbelt to the pack body. These points stretch and retract as that area of your body moves.
is the waist belt stowable?
is the waist belt stowable?
Best Answer
Yes, you can stuff them inside.
I purchased this pack as a replacement for a small rucksack/backpack I bought in 1993, which is now coming apart at the seams. I needed a pack that would allow me to do 3 things: 1) Hold a weekend's worth of clothes and stuff for quick overnight trips; 2) Hold my clothes and shower stuff for commutes to work on my bike; and 3) Serve as a daypack for occasional hikes.

I first started out with the Maya 18, but that was too small for my three objectives. So I sold the Maya 18 to a friend, and got the larger Maya 22. This works perfectly! I like the way the front pocket expands, and it is comfortable to carry both walking and riding the bike.
this is a great pack....lightweight ...well made..lots of compartments...great holders for waterbottles..plenty of adjutments for a good fit......love it!!!
Wow, I love to hike but my back gets sore very easy. This pack is amazing. I went on a short four mile hike today and I hardly even knew I had a back pack on. No sore back at all.It felt like it was a part of me once I put it on and adjusted it to fit me. Stayed in place while I hiked and was very comfortable. Lots of functional pockets. Perfect for a day hike. Holds rain gear, lunch, at least two water bottles,(or you can use the hydration system) and all the other stuff you think you might need for your hike. First impression when I took it out of the box- super durable looking