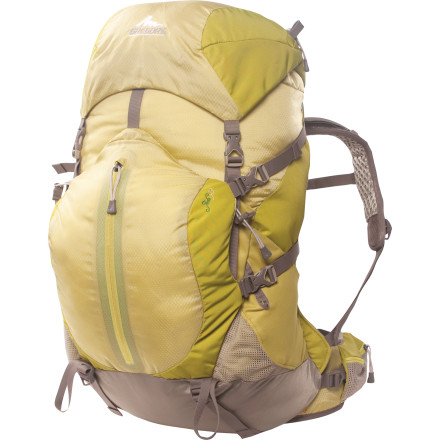 Community Images
Description
The lightweight, rugged Jade 50 Backpack is your choice for weekend backcountry adventures.
The lightweight Gregory Women's Jade 50 Backpack carries everything you need for a weekend backpacking trip, a day at the climbing crags, or a longer ultralight backpacking journey. You can comfortably carry up to 35 pounds of gear in this backpack, which weighs substantially less than four pounds. Gregory gave this women-specific backpack its Jet Stream suspension system, which features a perforated frame sheet and mesh back panel that allows for air flow between you and your pack. With padding in the lumbar region and at the shoulder blades, this pack feels comfortable on your back. Aluminum stays provide lightweight vertical load support, and the padded harness and waist-belt feature perspiration-wicking mesh. Get into your Jade from the top or the side, and stash snacks, camera, a light jacket, and other items that you want to easily reach in the various external pockets. Gregory made the Jade with high-quality ripstop nylon for an ideal combination of strength and low weight.
Share your thoughts
What do you think of the
Gregory
Jade 50 Backpack - Women's - 2807-3417cu in
? Share a...
Unanswered Question
Hello,
How big storage box to put the pack in?
( WxLxH)
do you have it in xs? or when it will be available? Thanks!
Hi,
Unfortunately we don't have it in the XS and as of right now we don't have any more ordered to come in. Feel free to shoot me an email if you would like for me to pull up some other options that might work for you! kweiser@backcountry.com
Does this come with a rain cover?
Does this come with a rain cover?
Thanks Jesse for the quick response!!
GREAT PACK!
Familiarity:

I've used it once or twice and have initial impressions
I purchased this for my first real hiking trip - three days in Wasatch National Park in Utah. Not only was this my first hiking trip, it was with my boyfriend and his friend's "very cool, very outdoorsy" girlfriend. She is, in fact, those things, so we like her, but it was intimidating to "learn" hiking and camping with the ideal girl right there for easy comparison! Obviously the other two had the same REI pack, because it's awesome. Well, mine is awesomer. Theirs were bigger (at least 65s, can't remember), but I was able to hold as much stuff (I had awesomer other stuff too). Weight was my biggest concern - I knew a heavy pack would kill me, and I couldn't be the whiny one. This pack is light and holds plenty of stuff for three days/two nights. I didn't carry the tent, but I could have - I put my muddy fivefingers in the straps at the bottom, since I could, but that's clearly a luxury. The mesh back and waist belt are awesome. The top compartment was really handy, and, along with the vertical zipper on the main compartment, allowed almost everything to be easily accessed. I put a 3l Camelbak in it, which fit easily. I'm 5'8", 120lbs with narrow hips. I got the small and it was comfortable, but I had to tighten the waist belt ALL the way to make sure I was carrying the weight low. If you can try it on, you should. If not, I recommend paying close attention to the sizing video below. At any rate, I was the fastest hiker of our threesome and my companions seemed pretty grateful for the extra snacks I was able to squeeze in. I owe a lot of that to this awesome pack!!
Amazing pack!
Familiarity:

I've used it several times
It was impossible to hard to get this pack inso I bought online, knowing the Gregory packs fit me well. I hope they are not discontinuing this specific model because I highly recommend it for up to 5 days out. I've been loading this up with 22 pounds or so and I am unaware of it being on my back! A perfect fit. Each time I go out it feels more comfortable. The outer pocket is a bit of a waste if the pack is full but dotes provide a useful storage area for jacket and wet stuff.
I haven't gotten the pleasure of hiking with this bag yet but it's really comfy and seems to fit a lot so far. I'm 5'2" about 120. I like it a lot.
MEASURING YOUR TORSO LENGTH AT HOME
Easy and helpful guide to measuring yourself for the right size backpack...
Jade Ventilated Backpacking
These packs provide True Ventilation across your back without sacrificing the positive load transfer of weight to your hips. The two critical points that make the suspension work, at the scapula pads and lower lumbar pad, are the only points of contact with your back. The proprietary waistbelt system is adjustable to 3 different sizes and ensures a custom fit and comfortable carry out on the trail.
My Gregory Jade 50 BackPack Review
Here's my review of the Gregory Jade 50 BackPack.

Mostly good points, but a couple of low points too. First, overall the backpack performed very well for my wife on her first backpacking trip. There were numerous pockets to sort your belongings and one thing's for sure -- my wife loves bags with lots of little compartments here and there. Handy hip pockets up front, quick access pockets in back and side. The greatest high for her was the water resistance aspect. She fell backwards into a stream, couldn't get up, and was certain that she would unpack in the cabin and find all her clothes sop'n wet. Being that this was Alaska and still quite cold, this was a big deal. But no worries; everything was completely dry inside. And most importantly, she never complained about being uncomfortable during our hikes. This was a HUGE bonus as I was expecting her shoulders and back to be sore from lack of experience.

Of the negatives, I ordered the small based on other reviews. My wife is short but has wider hips so I thought this would be the best size based on what I read. But the bag actually seemed too small. Just a little less room than I would've hoped for. The sleeping bag was cinched on the outside to allow for more room. I think a medium would've worked better for her 5'4" height. Also, the chest strap linking the two main shoulders straps seemed way high up. It actually was just below her neck. To correct, I really had to tighten the shoulder straps tight for it to lessen the tug on her neck. Seems just too high. Perhaps a medium would've solved this problem. Lastly, the quick-access slot in the back perhaps should have a zipper instead of remaining open. Any rain or drizzle would go right in without a poncho or cover.

Still, it's a nice first pack. Not enough for long backcountry trips but one or two day weekend trips.
Especially for this sale price! My girlfriend used it for a 20 mile trip over a couple days and there were no complaints. I'd say she only had 20 or 25 pounds in it, but for her first longer trip, she was stoked on it. The side access is awesome, hydration compatibility was super easy and the adjustable harness is a nice touch.
If I could add one feature, it'd be a detachable lid/day pack.
I thru-hiked the PCT with this pack in 2011, and I was super happy with its performance. I used a size small, and was able to adjust the waist to accommodate losing mass along the way. Big enough to fit the gear I needed over the 5 months, plus when I needed to cram a bear canister, ice axe, and crampons in there, it stretched to fit it all. I was also able to pull off the lid and use the rest of the pack partially filled as a day pack for slackpacking. It handled a lot of wear and tear, and stayed together even sliding over ice and snow. It survived the trail much better than the pack that I used on the AT. The side pockets are a little difficult to access, though after 1500 miles I figured it out, and the lower back has an odd shape that took a little getting used to from my Osprey. Overall, it is a really great pack, and with a good washing, I plan on using this for future trips.
Comfortable, High-Quality Pack
I bought this pack off SAC at a price I couldn't pass up over a year ago and finally got the chance to use it for an overnight excursion. I am 5'2" and 100lbs and the XS fits me like a glove. This trip I only carried probably 15-20lbs through 4-5 miles of moderate terrain, but I hardly even noticed I had the pack on! It seemed to have the right amount of pockets/straps to stay organized, which I really liked! I would definitely recommend this pack and Gregory as a brand. This pack in particular seems to be constructed of high-quality materials and is well designed. It will be perfect for more short backpacking trips in the future!
TORSO MEASUREMEN T FRAME SIZE
14 " – 16"/35-40 CM XS
16 " – 18"/40-46 CM S
18 " – 20"/46-51 CM M
20" – 22"/51-56 CM L
Measure from your iliac crest to your C7 vertebra
I bought this for my wife to go backpacking with me. She loves the fit and it has all of the features of top quality packs. Its tough to buy a pack online and I would highly recommend finding a local retailer to get a true pack fitting. Packs are like shoes and they fit everyone a little differently.
Great pack for smaller women!
I have always had trouble finding a pack that fit my small frame and would allow me to carry a lot of weight. The Jade 50 is it! I use my pack for weekend backpacking, day hikes, carrying all my gear for rock climbing and travel, too. I find it a bit small for backpacking, but otherwise superb. The pack is not squirrel proof though - mine was just chewed to bits by a hungry squirrel in the Sierras. I'm going to replace it with another Jade 50. :)
I have a short torso but large hips. I...
I have a short torso but large hips. I need an extra small or small size for the torso measurement, but an XL size for the belt. Product info indicates "3 waistbelt size adjustment options," but doesn't say how far it can be adjusted. Does anyone know? I like the Gregory but may have to go with a Granite Gear to be able to get a pack that fits 15.5" torso and 40'+ hips.
Hi! I'm buying this pack as soon as I have the funds and I too have discovered that every Medium women's pack out there (I just visited 3 stores yesterday for this purpose) sits WAAAY too high on me and just isn't comfortable. I measured at about 18.5, so after abandoning the Medium torso lengths I started focusing on short torso lengths.

I tried on the Gregory Jade 50 and it was the most comfortable thing I've had on my back, ever (and I have an new Osprey Aura 50 at home - must sell as it's a Medium). I need to lose some weight before our A.T. hike next spring, but currently my waist is 34-35 and my hips are easily 42", perhaps wider, but the Medium setting on the hipbelt felt just plain great. I know your torso is shorter but I would advise you to get to a store where you can try this, because I'm guessing you won't be disappointed.
hi there! well i did extensive research to find just the right back pack as i can not afford to make any mistakes. I am only 5'3 and have 40+ hips and I ended up with this Gregory Jade 50 and while i havnt had the opportunity to get field use out of it yet, ive tried wearing it around the house and it feels great! Definitely recommend~
5 stars because this pack really does it all. I got it for my gf last month and she loves it. Personally, I am an Osprey guy because Osprey tends to make more slender packs. I'm 5"10" 160 so Gregory packs are a little big on my waist and shoulders. So I tried to get my gf to like the Aura (girls version of the Atmos) pack. But she has wider hips and hated the Osprey and loved the Gregory. We packed this with 30lbs of weight in an REI and she walked around for 20 min and said she barely felt anything on her back. Note that's more than she usually carries on the trail, I usually make her only carry some clothes, her pad, and the food, so at most she's looking at around 15 to 20 pounds, 20lbs being the max. She is 5"5 with what I would consider a smaller sized torso, we got her a size S and it fits her perfectly. Hope that helps on the sizing.

Regarding features of the pack, it's made of durable, thick Cordura fabric that will be somewhat waterproof (have not used in the rain yet). The side access pocket is a nice feature so you don't have to dig through the entire top tube to get something. The front pockets are nice as well- 1 expandable stretch pocket for quickly needed items, and 1 zipper pocket for wallet, camera, snack bars, etc. Waist belt pockets are really cool also. Note, this pack does not have a sleeping bag pocket, so you'll have to use a compression sack and put a bag in your backpack, or use the gear loops at the bottom of the pack. The compression straps are great at cinching the pack down, as I said above, she doesn't carry too much weight on the trail so we can really cinch her pack down. Hydration port is pretty standard. Back ventilation is also a nice feature, and I would add that while it is not as ventilated as the Opsrey Atmos or Exos, you do not have to contend with a curved back shape when packing.

We could have probably gotten away with a 30L pack, but for the extra few ounce (I think it's only an 10 oz difference between the 30 and the 50) it was worth getting the 50. This will also serve as a traveling backpack (i.e. through Europe) and is probably going to Peru or Argentina shortly. This looks like it will be the perfect pack for travel backpacking.

I would note the reviewer's pic below with the A framed ski's- very easy to do if you were going to hike Tucks or Tecumseh as the reviewer did. You could use the side straps to hold a pad, camp chair, and poles as well.

All in all, for 3lbs 10oz, if you manage how much weight you're carrying, you can't beat this pack.