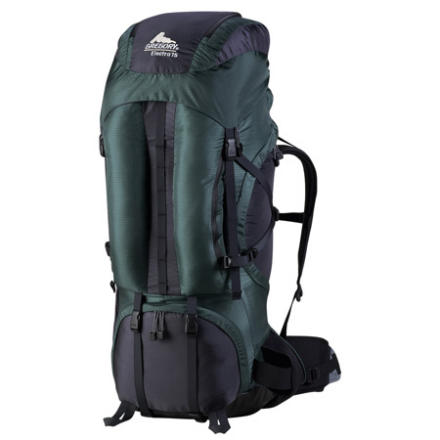 Hips 96cm torso 46 seems a medium is my...
Hips 96cm torso 46 seems a medium is my size, right? Has anyone used this on the camino de santiago or other lengthy walks. I will be walking in june 2012 with my ultra-marathoning husband so we are both quite fit but several years since we bought new packs and require ultralite for self! I am 163cm tall, approx 60 kg, aged 57 and compete in short course events 10-15klms.
You could go with either a small or a medium, although both are out of stock. If I read you right, it sounds like you want to run in this pack? 5125cu means it's 85 Liters, which is huge, and waaay too much to run with. I would look at some 15 to 20L packs if you want to run in them. I would look at the Osprey Exos series packs if you're looking for an ultralight backpack that will carry weight well. They're crazy light, and still have suspension so they'll be quite comfortable.

http://www.backcountry.com/osprey-packs-exos-34-backpack-1900-2200cu-in

The Osprey Talon is nice too if you want a pack to run in, and the sizes are a bit smaller.
This is a very nice seeming backpack, but be careful, the backpack is NOT 5125 cubic inches, this is a mistake on Backcountry's part. Read the specs on the side of the page- the xs is only 4050 cubic inches (and the bigger sizes, even though not available are still much smaller than 5125). I bought this pack only to have to return it because I needed something larger.
My girlfriend is looking for a pack about...
My girlfriend is looking for a pack about this size. She is 5'4" and 120 lbs. What size would she take?
Measure the length of her torso, it can vary quite a bit among people of the same height. Then use the size chart, just below the drop-down menu, to find the correct size.
I am a 16 inch torso and a 37 in hip, what...
I am a 16 inch torso and a 37 in hip, what size would I need?
Based on your torso, you should probably get a small. Hip measurements are less important as the belt has more adjustability (and can often be swapped out). Make sure your hip measurement is accurate. Here's a guide from REI: "While not as crucial as your torso length, your hip measurement is useful to know. It's especially helpful if you are considering a pack that offers interchangeable hipbelts.

Take your tape measure and wrap it around the top of your hips, the "latitude line" where you can feel your iliac crest — those two pointy bones just above the front pockets on your pants. A properly positioned hipbelt will straddle your iliac crest, about an inch above and below that line."
We bought this pack after trying several similar size packs at a local outdoor store. Being small framed & 120 lbs, we were limited to the smaller size packs. All tested packs were loaded with 35lbs, the Gregory Electra felt like it carried the load better. The local store had the pack for $299.99 ($315 with tax). We bought this pack from Backcountry for $235 with free shipping. We had a 14-mile backpacking trip in Colorado and the load carried very well. This pack as well as other Gregory packs would be highly recommended.