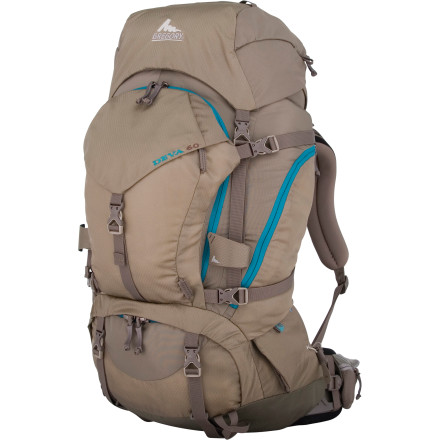 Community Images
Description
Take your backpacking to a more comfortable level.
The Gregory Deva 60 is a comfortable backpack that was designed just for women. The responsive AFS suspension system is easily adjustable and features a narrower back panel to fit your frame.
Response AFS system allows hip-belt to pivot independently for better balance and flexibility
3D pre-curved harness and waist-belt for ergonomic comfort
Thermo-molded EVA back panel and a grippy lumbar pad increase load transfer to your hips
Removable top lid doubles as a lumbar pack or sling bag and features a stash pocket for quick spurs off the main trail
Top lid, side zipper, and sleeping bag access to get to your gear quickly
Top, bottom, and side compression straps shrink the Deva into a stable package when not fully loaded
Share your thoughts
What do you think of the
Gregory
Deva 60 Backpack - Women's - 3539-3844cu in
? Share a...
So happy with my Deva!
Familiarity:

I've used it once or twice and have initial impressions
I just got off the AT. Although I purchased it 2 years ago after my first backpacking experience I just got around to using it. My pack was heavier than other but I didn't feel the weight. I had no soreness in my back, shoulders, or hips. I'm already making plans for next years hike.
Great pack!
Familiarity:

I've put it through the wringer
I bought this for my wife, she loves it. She's 5'4" and weights 120 lbs with an average size torso. The pack fits well on her hips and shoulders. We've used it many times and she likes the quality and design. I think her only wish was more pockets, a lot of the zippers access the main pocket, while useful, it would be nice to have separated storage. Otherwise, it absolutely meets/beats her needs.
Unanswered Question
Hi, is this the 2014 model? If so, can you described the changes for 2015?
Thx
El Camino, Adirondacks, Cascades.
Familiarity:

I've put it through the wringer
I'm 5'9' and 140 and love my size Small pack (I'm mostly legs). If cinched down it can fit in over head on a plane otherwise it has enormous room for expansion. The back support and straps are very comfortable but do add a decent amount of weight alone. The waist clip has easy adjustable straps that an be tucked away and little pockets for like chap-stick. Wearing a belt makes things uncomfortable so make sure your pants fit so the pack doesn't slide them down.
I didn't find the side water bottle holder useful as even with a clip it had a tendency of slipping out. Some of the top stitching on the side pocket has started to separate but that might be due to having to check it a few times. Thankfully none of my straps were broken when I had to check it (I tied them up short to the sack).
The center zipper, top zipper and bottom zipper offering full access to everything in the bag has been the envy of any other packer! I can get to anything quickly and hide things if needed.
Is this bag waterproof at all?
Is this bag waterproof at all?
Best Answer
Hey Kelly,

This pack will only be slightly water resistant but will only give you enough time to fine cover if it starts to rain. If you plan on being in potential downfalls then a rain cover might be a good idea.
Until when this 40% off remains? Can I buy...
Until when this 40% off remains? Can I buy it Monday?
Best Answer
Hey Marina,

There are only a select few of us who know when sales are beginning and ending and those few typically sit gold thrones. What you might want to do if you are planning on purchasing this on Monday is give one of our Gearheads a call so that they can maybe work something out for you to protect you against the deal ending.
Deva Backpack
Familiarity:

I've used it once or twice and have initial impressions
Love this backpack!! Comfortable for my height and weight, perfect size for two to three day hikes, loved the price as well!!! I tried this pack on at REI a few months ago and love the fact that it has so many adjustments. Also,
Deva
Familiarity:

I've used it once or twice and have initial impressions
I love this back pack.
My husband and I went to Yosemite in June for a few days. It was my first time backpacking. Deva has extremely comfortable straps. However, I am small (5'2") so I got fitted into Small backpack, but with XS straps. Unfortunately, Backcountry doesn't sell straps separately, so I got backpack from Backcountry and had to order straps from different website =( Inconvenient, but worth it. After you have the straps and backpack adjusted for your back, you don't feel the weight that you carry. I started with about 40lb and went down to 30lb at the end of the trip.
doing the high sierra tent cabin loop at...
doing the high sierra tent cabin loop at yosemite
so no tent needed or cooking gear...i really like the jade 60
but after reading reviews i'm thinking deva
do you think it is way too much pack for this trip
i think i will be carrying 20-25 pounds...new to backpacking
Best Answer
Either pack would obviously work fine for this. I would personally suggest going for the for the jade 60, or even the jade 50 if you think you can give up the space. My girlfriend has the jade 50 and has used it for some multi day backpacking trips we have done with no issue, but we also try to pack as light as possible. With the amount of weight you are carrying the jade 60 would be more then adequate, and will also work well for other future trip where you might be doing camping and cooking of your own, plus it's more then a pound lighter then the Deva, but should still offer plenty of support. The Deva is definitely "more" bag in that it has lots of pockets and extra bells and whistles, though that is not to say the jade is skimping on stuff. Overall it really comes down to personal preference, and I would highly suggest trying both bags on in a store if you can, that way you can be sure you have the correct size, and maybe one of them will feel much more comfortable to you, which is something no amount of reviews can tell you.

Best of luck, and enjoy Yosemite!
What a huge difference this pack made!!!
Familiarity:

I've used it once or twice and have initial impressions
After 6 years in the Jade and a few really uncomfortable trips, I decided to upgrade to the Deva. I have a small and bony build so my Jade was putting a lot of pressure on my hip and collar bones and leaving tender spots that lasted for days after the trip. I've done one trip in the Deva (12 miles in the high peaks region of the ADKs) and I'm seriously impressed with this pack! We had the threat of sketchy weather, so being able to stash my gaiters and rain shell in the side compartments was awesome. They were easy to get to and I didn't risk getting everything else in my pack rained on. The extra compartments and pockets were really helpful with organization so smaller bits of gear didn't get lost in bottom.

I can't say enough how in LOVE with the water bottle pocket I am. It seems like a minor thing, but I like to keep my bottle filled with something with flavor and electrolytes and use my bladder for water so I do use it during the trip. In the Jade, I couldn't get my bottle or put it back on my own without having to drop pack. It also would fall out if I needed to bend over so I needed to either tie or clip it in. The Deva's pocket is easily accessible and I can put it back on my own. There's a cinch on the top of the pocket so the bottle stays put when you bend over. With the help of a compression stuff sack, I easily carried our 30 degree double sleeping bag in the sleeping bag compartment at the bottom.

The only minor improvement I could make on this pack is to add a whistle on the chest strap clip. I needed clip on my own and while it wasn't a huge issue, it was a little annoying.

The hip belt and shoulder straps were very comfortable and made a huge difference in my trip experience! I was able to concentrate on the views instead of on my sore spots on my hip and collar bones, and since my hips weren't super sore, I was able to sleep better. The Deva made my trip a lot more comfortable and I'm looking forward to the next trip with it.
hi, which year the size:s seneca rock...
hi, which year the size:s seneca rock was?
Hey Yi Shin Chang! The Seneca Rock size SM is a 2012 model.
Is the Gregory "Diva-60" backpack essentially...
Is the Gregory "Diva-60" backpack essentially the women's version of the "Baltoro" backpacks?
The differences are so subtle that I'd say yes. The suspension is different, which may simply be gender specificity. Also, the Baltoro lists a detetchable summit pack.
I have the Deva 60 and my boyfriend has the Baltoro 65. They are pretty much identical with the exception of the front pocket. The Deva has a clip pocket, the Baltoro has a zipper. Other than that, they look identical (including the suspension). The Deva 60 does has a detachable lid that converts into a small day bag.
Measuring Your Torso Length at Home
Easy and helpful guide to measuring yourself for the right size backpack...
What is the difference between the Deva...
What is the difference between the Deva 60 and the Jade 60? I'm trying to decide between the two - I understand the Deva weighs more. What are you getting for the weight? TIA
Best Answer
The Deva provides you with more entry points into the pack, more pockets, and a better suspension and shoulder strap system.

The Jade has two entry points into the back, from the top and from the side (kind of like a pocket along the side of the pack, but goes directly into it). I just got this pack for my friend but am not too happy with this side entry. When the pack is packed pretty tight it makes it hard to get things in and out, plus you can only access one side. The Deva has three entry points, the top, the bottom/sleeping bag area (which you can see in the picture)), and front (or back however you want to look at it). The zippers you see right under the hood that zip around the big outside pocket actually give you full access into the inside of your pack without having to go from the top or bottom. This saves alot of time with having to load and unload to find that one item you really need. I have the mens version of this pack and am in love with this feature. Very ingenious and is overlooked by many different pack companies (possibly for weight) but worth it in my opinion. So as far as access points, the Deva has it in my opinion.

As far as pockets go, the both kind of have that big back pocket, but the Deva has two side pockets, as well as a much better water bottle pocket on the hip. The Jade is hard to get a water bottle into when it is packed full. Deva has it here as well.

And lastly, the suspension and strap system. Not going to go into all the technical aspects, but the Deva is more supportive and more comfortable than the Jade. And if you are considering a 60L, sounds like you may be carrying a decent amount of gear, maybe up to 40lbs? A better support system would definitely be better.

I'd recommend going into a store and checking them out so you can see what I'm talking about, or even just youtube them. There are some okay reviews.

Happy packing!


Is a model-specific rainfly available? ...
Is a model-specific rainfly available? Is a larger size hip belt that is Deva-specific available and interchangeable? (say, a medium or large)
Best Answer
Model Specific, no. Gregory makes a general pack cover though, which can be found here: http://www.backcountry.com/gregory-rain-cover
I would suggest a small size, or a medium if you think you might be attaching things to the outside of your pack.

Any other general pack cover from another company, like sea-to-summit, should also work just as well: http://www.backcountry.com/sea-to-summit-ultra-light-siliconized-pack-cover
I would suggest a medium for that brand.

The hip belt should be sized appropriately with the pack size that you buy, but if you find that it is not you can buy a differently sized hip belt. Backcountry does not seem to have any in stock, but REI sometimes does, though I do not believe they are model specific. If you contact Gregory directly you may also be able to purchase one from them, though the don't have them listed on their website.
I have only used it for one short trip so far but it was great. I am 5'6 and I got the small backpack. The pack was comfortable. The only thing I didn't like was that the straps come in a little too far into my chest. It was a minor issue though.