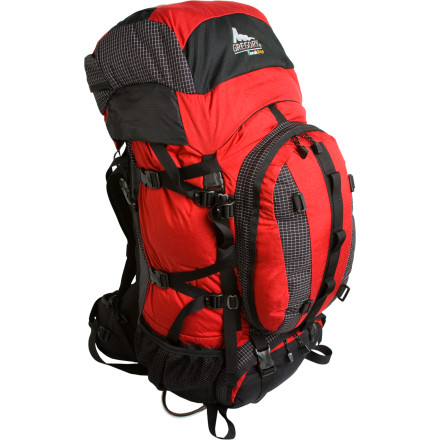 Detail Images

Community Images
With a reputation for durability, quality, and unparalleled load support, it's obvious why the Denali Pro is a favorite for extended expeditions worldwide. Featuring the best of Gregory's cutting-edge technology, the Denali Pro comes with an Auto-Cant shoulder harness system that automatically rotates to mirror your shoulder slope and neck width.
Ultra-durable materials and construction stand up to the rigors of multi-week expeditions
Adjust-A-Cant waistbelt adjusts to three different angles to mirror your hip-to-waist angle and provide optimum weight distribution
Flo-Form II shoulder and back-panel system help take the bite out of heavy loads
Aluminum stays and Foam-X flex framesheet provide the necessary rigidity to transfer extra weight to your hips
Top, front, and bottom ports let you access all of your gear quickly and easily
The top lid converts into a lumbar pack for bluebird summit bids and spur trails
Full compression system lets you reduce the packs volume to fit loads of varying sizes
Side pockets have ski tail pass-through ports for ski-mountaineering
Vinyl-reinforced gear loops provide additional attachment points
Anyone have experience with this pack as...
Anyone have experience with this pack as well as the Osprey Xenith 105? I'm certainly drawn to the Xenith because of the lightweight & price, but the reviews of this pack are all fantastic. I'd be using the pack for mostly backpacking, but hopefully mountaineering at some point. Any tips are fine! Thanks
Best Answer
Ive tried them both on. I love Osprey's bike packs, their bigger packs do not hold weight as comfortable as Gregory did. Could just be Gregory is a better fit for me, I just felt like it was easier to move with the Gregory pack.
What's the best rain cover for this...
What's the best rain cover for this pack?
Best Answer
Hey Michael L,



I would check out item # GRE0096 in the XL size. You can follow the link I have pasted below.



http://www.backcountry.com/gregory-rain-cover?ti=U2VhcmNoIFJlc3VsdHM6cmFpbmNvdmVyOjE6MTpyYWluY292ZXI&skid=GRE0096-ROBL-XS
I recently bought this pack for a trip to Denali and so far have used it for a one week trip on Rainier and during training sessions for Denali. I got the small size. The pack fits reasonably well and has not had any problems handling 60-75 pound loads. I like the way access is provided to the top compartment and I like the compartment on the back which also gives you complete access to the pack interior. However, there are a couple of things I'm not really crazy about. (1) The sleeping bag compartment opening at the bottom of the pack is too small to accommodate an expedition weight sleeping bag, so that has to be stowed from the top. (2) The cinch straps on the side take some time to get used to, and are a bit difficult to adjust, particularly when you have gloves on. Along these lines, the cinch straps for the top compartment sit right on top of the ice axe straps. (3) One of the zipper pulls came off during the first week of use, so I'm a bit worried about the durability of the other ones on the remaining zippers.
Endless
Familiarity:

I've put it through the wringer
This pack is a indestructible machine; think terminator. Great pack for multi-week expeditions. It's extra weight is worth the security of mind knowing you don't have to perform a fix in the backcountry with two weeks left in the trip.
best so far
Familiarity:

I've used it once or twice and have initial impressions
The price of this pack put me off for a really long time.... I mean, its just a pack right? After putting up with failures from other packs i finally had enough beers and enough credit to order this thing. I plan on sending a thank you note to Budweiser and PayPal. I loaded it up and I am serious, this thing is unbelievable. It truly is the best pack I have ever worn. The load is perfectly distributed. It took me 5 beers to order this pack and it is one of the only times when waking up with what I spent money on after having a few beers there were no regrets.
What is the best backpack for expeditions...
What is the best backpack for expeditions (80-120 L)?

perfect in your opinion, comfortable, thoughtful, strong, reliable, functional, technological




Best Answer
This one's easy. Follow these simple steps to determine which is the perfect expedition pack:

1) Break the list into 2 columns.

2) Print the list on standard white copy paper.

3) Affix your printed list to a wall or tree with scotch tape.

4) Throw a dart at the sheet of paper from a distance of 15 feet.



Opinions such as comfort, fit, design and function vary all over the board depending on individual preference, body type and needs. I'd recommend hitting up your local outfitter to get your hands on some packs. Then come back here and thoroughly read through user reviews that reflect some of the questions you seek. Good Luck!
Unanswered Question
Does this backpack carry skis well? Looking...
Does this backpack carry skis well? Looking for a multi-day ski capable pack and this seems like it would be perfect if it is ski carry capable


The ONLY back pack I will ever buy!
Familiarity:

I've put it through the wringer
I have tried SEVERAL of the well known brands of back packs as well as the "cheapos". I currently own three Gregory back packs, the Denali, Whitney, and the G Pack.

To make a long story short, I will NEVER buy any other brand of back pack again. I have had the Denali since March 3, 2003 (This is accurate because I just now looked at the receipt to be sure.)

I have used it and used it and used it. I have carried loads as light as 20 pounds up to as much as 75 pounds in the Denali. I no longer use the G Pack even for day hikes because the Denali carries more comfortably at 30 pounds than the G pack at 20 pounds.

There isn't a better back brace on the market ( my back isn't that good) than a Gregory Denali Pro back pack cinched up tight.

HINT: Don't feed a bear with it and you will NEVER need to buy another back pack.
MEASURING YOUR TORSO LENGTH AT HOME
Easy and helpful guide to measuring yourself for the right size backpack...
Best Pack For Truly Hard Use
As an Alaskan guide and outdoor enthusiast I have spent many months over the last 30 years with a heavy pack on my back. In my profession I'm definitely in the minority on the use of internal frame packs for extremely heavy bulky loads. I've walked thousands of mile, sometimes with up to 150+ pound load with this pack and can say with 100% certainty that no other pack I've worn can compare. I would recommend this pack to anyone who has a need for a tough pack that is used hard. I'm 6'5" and only about 215, so I had to get an extra large pack with a large waist belt. The combination works awesome. I have used this pack very hard since 2006 and will replace it with the same style when it wears out.


I want this backpack. But I want to make...
I want this backpack. But I want to make an informed decision. Would this be good for women as well? Appreciate any advice. Pretty much sold on this based on the reviews ... Thanks !
There is a women's version called the Petit Dru Por 85. Check Gregorys web site for specs. Hope that helped alittle.
Loaded for Great Smokie Mountains Trip
I've owned this pack for over 10 years and will never even consider buying another pack. This is my third Gregory pack. I also have a Whitney and a g pack by Gregory. The Denali Pro will stand up to anything but a hungry bear. (Hint: Don't feed the bears from it and you'll never need another pack.)

Photo was taken on Jan. 11, 2011.
What's the country of origin? For $550 why...
What's the country of origin? For $550 why wouldn't a person go with a Kifaru or Mystery Ranch pack?
Guess you have not looked at this pack, McHale for $1400 is the only real comparison.
Best Answer
The Denali is made in the USofA!
Hi Wondering if anyone knows it it is...
Hi

Wondering if anyone knows it it is also a good fit for women as well? The equivalent women's pack is 85 l compared to the Denali's 105 l and I could probably do with the extra space.
Women's packs are designed with differently shaped hip belts and shoulder straps. If you really can't live with 85L, you may want to call Gregory to see if the men's and women's belts and straps are interchangeable; I'm guessing they are. You may be able to get a men's pack with lady-parts.
Anyone have a solid comparison between the...
Anyone have a solid comparison between the Gregory Denali Pro and the Arc teryx Bora 95 (besides the obvious 10 L's and slight weight difference), especially on mountain expeditions like Denali, Aconcagua, etc.? I am looking for an expedition pack in the area of 95 L for Denali in May and would love to hear how these two packs compare (pack-ability, comfort, suspension, durability. . .anything pertinent). Thanks!
Best Answer
Owned a Bora 95 since 2001 and the denail pro since 2009. Both packs are very big and durable. The denail is better for carying skis and is taller and skinnier in shape. The bora is short and stout. Both are comfortable and cavernous. arcteryx has good customer service (replaced shoulder strap and received extra fabrics). I can fit my stuff in the bora slightly better probably because i've had it longer. The front entry on the gregory is nicer than the side entry on the bora.
In response to dirtnerd's answer to cli3097292 I can't compare the two packs since I have never used the Arc teryx Bora95, BUT I can testify to Gregory's customer service. I own three Gregory packs and lost the sternum strap from the g pack. I called Gregory fully expecting to pay for another sternum strap because it wasn't a Gregory malfunction. It was a ME malfunction. Gregory sent me another sternum strap FREE of charge and also FREE shipping. That is tough to beat.