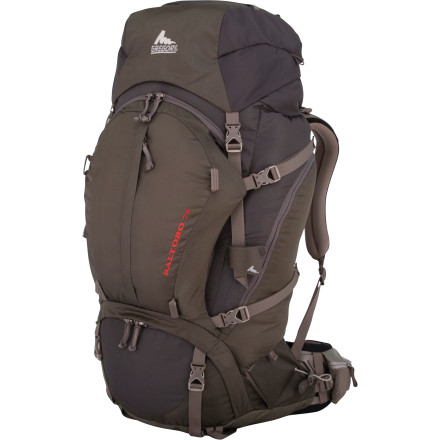 Videos

Community Images
Description
Big capacity and big comfort meet head-on with this versatile week-worthy pack.
Your week-long trail ambitions may be misunderstood by co-workers and family, but once you put on the Baltoro 75 Backpack and feel how great its Response AFS suspension responds to a heavy load, you realize that Gregory has your back.This updated award-winning top-loader incorporates a larger load capacity with beefed-up suspension to carry all you need for a head-clearing getaway.
Thermo-molded EVA back panel and a grippy lumbar pad increase load transfer to your hips
Soft, adjustable, and load-stabilizing waist-belt rotates independently from the pack to provide functional support as you move through the mountains
LifeSpan EVA foam in the 3D precurved shoulder straps and waist-belt prevent hot spots on high-contact areas and retain their cushioning throughout years of use
Auto-cant harness technology with Auto-fit waist-belt system enable maximum fit with minimal adjustment
Single 7075-T6 aluminum stay and molded composite load-lifting panel prohibit barreling under heavy loads as well as enhance energy transfer
Front zipper access to the main compartment makes lunch breaks quick and easy, and the top quick-draw drawstring allows super-quick access to gear
Big pack space and cushy suspension allows you to comfortably carry up to 50lbs of gear, clothing, foot, and water through your chosen wilderness arena
Removable top lid doubles as a lumbar pack or sling bag and features a zip pocket and underside stash pocket for quick spurs off the main trail
Durable nylon fabric withstand lots of tough bushwhacking and a double-layered, water-resistant bottom panel prevents wear and a wet sleeping bag
DWR-coated, water-resistant zips prevent rain drops from invading your extra dry layers
Hydration sleeve and ports let you pipe your hydration reservoir (sold separately) directly to your lips during long treks
Bottom-accessed sleeping bag compartment separates your bag from other gear for easy access
Front zip, two top lid zip, two side zip, two waist-belt zip, and two side water bottle pockets keep your knife, camera, snacks, map, and water bottles accessible
Two trekking pole loops secure your sticks when your not cruising along the open trail
Top lid, bottom, and side compression straps shrink the Baltoro into a stable package when not fully loaded and also help to attach gear
Top and front loops let you attach extra gear during the longest treks
Share your thoughts
What do you think of the
Gregory
Baltoro 75 Backpack - 4455-4760cu in
? Share a...
Unanswered Question
is this a 2015 model?
Baltoro 75
Familiarity:

I've put it through the wringer
Its a great pack for long backpacking adventures. I love the water bottle holder angled towards the person. The biggest con I have for the bag is its weight. Its heavy. I switched to a Osprey Exos58 and saved 3.5 pounds of weight. That's a lot of food I can take with a 3.5 pounds savings. Also, with the padded backing of the pack your back will be wet after hiking all day long...Its a comfortable pack no doubt, but there are better and lighter packs that will get the job done. Also, with these bigger packs it makes you take more gear than you actually need to take...
Great Pack for Backpacking the Narrows
Reliable pack? Of course, it's a Gregory
My boyfriend has taken this pack all over the place and it's never let us down. It's been everywhere from Europe to hiking the Narrows in Zion National Park (pictured here). It holds a ton of stuff and is very durable. A great thing about it is the pocket to get into the pack from half way in; a must in a pack.
Best pack I own
Familiarity:

I've put it through the wringer
Love everything about this pack. Before writing this I racked my brain to come up with something that I don't like about this pack, and couldn't come up with anything except I don't need slots to hold my ice axe or trekking poles externally because I don't use them. If you do though, they are perfectly placed!

Everything about this pack is very well thought out, and thoroughly tested time and again. All the way from the removable fabric bottom, to the zipper handles having an ergonomic contour that allows them to last longer and easier to hold. The lower back support is spot on with stiff lumbar support with allowed mobility to adjust for your personal torso size to dial in the fit.

This pack is all about the details, and they make it amazing. Know that chest strap that is fantasticly horribly placed on all packs? Well, good thing this one is adjustable. Always hate how you have to have a zipper slightly opened to have your hydration hose running out? Well, good thing there is a special slot that doesn't compromise the waterproofing or stability of the pack. Sick and tired of having a closing top that always slips and opens after 2 hours hiking? Yea, this one will never, ever let that happen to you.

Its the best pack I have ever put on, and for this size range the only one I would personally recommend. Gregory is a great company that gets better and better every evolution, and the Baltoro has been around a while. Its become a really, really great pack.

If you have any questions for me, give me a ring:
1.800.550.2639 ext: 4686

I'm looking at the Gregory Baltoro 65 and...
I'm looking at the Gregory Baltoro 65 and have a question about sizing. I have a 18.5 inch torso (47cm). Should I get the small or medium? Thanks
Hey Jason,

I would suggest you purchase a medium size. The torso range that will accommodate the best is 18-20 inches. I hope this helps.
Unanswered Question
I'm looking for a large 75+ liter pack to...
I'm looking for a large 75+ liter pack to handle larger, heavy loads than I normally take. I think its between this and the North Face Conness 82. I have, use and love my North Face Crestone 60, it fits me almost perfectly, but can be to small. I like a pack that sits close to my back (not into the major air flow types). I'm pretty much stream line and can have trouble getting a waist belt to sit well on my hips (or lack of hips). Any suggestions/opinions between these two?
How to fit a pack by Wayne Gregory!
Review of the Gregory and Deva Backpacks
Good review of the Baltoro 75
This is a review of the previous model, however still applies to the new one.
Very Nice...
Familiarity:

I've used it once or twice and have initial impressions
I've only had the opportunity to use it once so far. That being said, it met all of my expectations and surpassed a few more. I've got a couple friends that have the same pack and another that has the Palisade 80, so my expectations were fairly high. This is the largest pack I've owned/ used. I was glad to see that it can accommodate both large and small loads quite nicely.
When I hiked with it I was surprised at how comfortable the pack stayed... even with a somewhat hefty load. It really felt like an extension of my own body. I've still got a couple more adjustments to make, but it was a pleasure to use.
My only issue with the pack so far is that the sleeping bag compartment cannot be entirely separated from the upper compartment. Mostly that just means that you can have items in the upper section fall down into either side of the lower section. I didn't know this upon purchase, but it is certainly not a deal breaker. I'd happily recommend it to anyone that is looking for a quality pack. It has a very well thought out design that makes for a convenient piece of equipment.
Perfect...
Familiarity:

I've put it through the wringer
This pack is IMO the best pack on the market. well, there could be a better one out now but I'm not looking for a new one. This pack has enough room for more than you could possible use. The zips allow easy access to the main compartment and the strap system keeps everything stable. The "Brain" is removable and converts into a fanny pack for quick bonus hikes. It is not waterproof at all and I have found that placing a 30L Sea to Summit roll top bag in the main compartment helps keep everything dry. Access to the water bottle pocket is easy and a nalgene bottle slides in or out effortlessly. My only dig is it can get a little warm on hot days when compared to the Z series or packs with trampoline backs.
is it waterproof ? if not please suggest...
is it waterproof ? if not please suggest a 70-75L waterproof pack
The Arc'teryx Naos 85 Backpack represents the obvious choice for carrying big loads in extremely wet environments. This heavy-duty hauler features durable, weather-resistant fabric, fully taped seams, and a roll-top closure to ensure you gear stays as dry as possible no matter the weather. With more than 5,000 cubic inches of cargo capacity, the Naos 85 Backpack easily holds enough gear to keep you going for a week or more. BUT IT'S $700. Get a 30L dry bag to line the interior.
Sturdy, great backpack
Gender:

Male

Familiarity:

I've used it once or twice and have initial impressions
I just got back from three days out carrying my gear and half my girlfriend's gear and I am very pleased with this pack. I am not an ultra-lighter, and I want a backpack that will handle heavier loads easily and sturdily, and the Baltoro is certainly that. It's so comfortable it does not feel that heavy.

My former pack was a Gregory Shasta, and I loved that thing. I'm tempted to choose "put it through the ringer" for this review because I used the Shasta for about 12 years and never had single problem until it disappeared during a recent move. So I took the opportunity to try on a few more packs and found that the Gregory still fit me best. From inspection, I'm confident that the Baltoro will hold up as well as the Shasta. And it's just as comfortable on me.

Two things I always wished for from the Shasta were pockets and front access to the main compartment. The Baltoro has these and I love them. I don't know about the articulated hipbelts yet. I can feel them swiveling, but I'm not sure this makes it any more comfortable.

One worry I had was I can feel the aluminum stay jutting in the back a little just above the lumbar support when the pack is fully loaded. The padding on back and lumbar support here isn't as generous as was on the Shasta, but though I could feel the stay there it never became uncomfortable. Maybe I can adjust it (haven't tried yet) and if not maybe after many more days of use it will bother me, but fine for now.

I am 6'2" and I like the fit of the large. I don't know my torso size, but I have longer legs. I wanted a medium hipbelt so I exchanged the large belt for a medium with Gregory, which they turned around in less than a week. Great customer service.

Bottom line: this is seriously a fine pack, and I'm happy that Gregorys fit me well.
which baltoro would be better suited for...
which baltoro would be better suited for section hiking(50-100miles) at the AT, the 65 or 75?
Best Answer
I personally use a Baltoro 75L for that distance. The downside to this pack would be the weight. If you are counting ounces, then you could look at the Gregory Z 75L. The Z is a little lighter, but you are sacrificing some features like front loading access and sleeping bag compartment . In my opinion, front load access is a must. Also, I personal like the suspension system on the Baltoro compared to the Z series. Lastly, the Baltoro 65L and 75L both weigh the same, so why not choose the larger pack? I hope this helped. If you have anymore questions please ask.
I would go with the 75 because it sounds like you might be out for a while on some of the hikes. For the shorter hikes if you can get them done in a few days you can just pack less and use the compression straps to keep the load snug. I generally go for a backpack that will be great for my longest trip then just snug down a load for shorter trips.
Great pack for many different uses.
This pack is pretty good for multi-day hikes or even a quick hike that requires a lot of gear like running to a climbing crag. It carries heavy loads very well and makes it feel like a small backpack. This pack also has some nice features like the holster styled water bottle holder and gear loops. Many different zippers for easy access to all of the different compartments. The lid is huge and contains many different items that need to be accessed easily. Overall great larger sized pack that I would recommend to anyone that it fits.
Measuring Your Torso Length at Home
Easy and helpful guide to measuring yourself for the right size backpack...