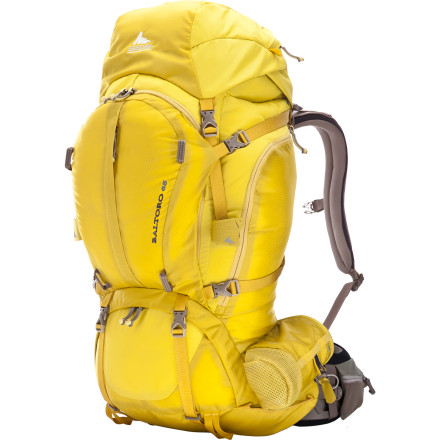 Community Images
Description
A sturdy pack that accommodates your body, your movements, and your hiking plans.
Gregory gave the Baltoro 65 a hefty helping of cargo capacity and a supremely comfortable suspension system so that even when the pack is fully loaded on a one-, two-, or three-day trip, it will offer stable support for mile after mile.
Response AFS Suspension system incorporates a pivoting shoulder harness and pivoting hip-belt that move with your body throughout your stride (rather than resisting against your body's movements)
Pre-curved foam harness and thermo-molded backpanel conform to your shape without chafing against it
Single aluminum stay prevents barreling and transfers the load to your hips
Detachable top lid makes a waistbelt pack when you go on side-hikes or quick summit attempts from camp
Hydration sleeve (reservoir sold separately) and water bottle pocket keep H2O close at hand
Includes removable divider for sleeping bag compartment
Plenty of pockets keep small items organized
Highly durable fabric and DWR-coated water-resistant zippers stand up to abrasion and the elements
Share your thoughts
What do you think of the
Gregory
Baltoro 65 Backpack - 3844-4150cu in
? Share a...
Unanswered Question
What's is the shipping size(LxWxH) and weight of this backpack when delivered from Backcountry.com?
Good (so far)
Familiarity:

I've used it once or twice and have initial impressions
Purchased this backpack based on review from Outdoor Gear Lab. Plan on using for 6 weeks hiking the Camino De Santiago in Spain. I've tested it on some day hikes and like the feel. It seems to provide good space, and I like the organization of compartments. And I like the yellow color. I'll update after the hike.
If this pack is full will it qualify as a carry on?
Butter on the Back
Familiarity:

I've used it several times
This pack is like butter on the back, meaning it feels like nothing is there. I've been out with it a few times and sometimes I forget it's even there. As long as you stuff the pack correctly, you won't feel a think.
Full time life use.
Familiarity:

I've put it through the wringer
I bought this backpack 2 yrs ago or about when it first came out. I liked it, since then we have seen thousands of miles together. I've been living out of it since then, It has strong materials that will take whatever the send its way. I've done AT section hikes, Hitchhiking around the US (getting thrown into beds of trucks and used as a bench, it held up great) even throwing it off a train. The straps are good, can get irritating after a few hours, they tend to sit at an angle and not flat, but the hip belt is great. plenty of padding all the way around. I found that it had too much space and i over packed even when trying not too but i have carried a 75lb load comfortably for a weekend. (not recommending you do that, but it can be done). I would suggest this to those getting into backpacking, but im heading down the ultralight path now so my pack is retiring.
The only thing that annoyed me is that no matter what the weight was (25lbs - 75lbs) the straps and back supports would squeak non stop . and i had an expert at an rei look at how i was set up and he couldn't figure out why it squeaked. so thats my one major issue with it.
I shall post a photo of it when i get one. but it served well.
Great backpack!
Familiarity:

I've used it several times
I bought this pack after trying Osprey and Arcteryx comparable bags. Despite slightly added weight, this one felt by far the most comfortable and carried loads the best.

I took this on a 4 day backpacking trip with about 40 pounds and found it to be great. Lots of pockets, good load balance, GREAT lumbar support and stylish and durable.

I would highly recommend.
Squeek squeek.
Familiarity:

I've put it through the wringer
I love this pack, the only disadvantage I noticed is the squeeking sound it starts making, especially near the hipbelt.
The Cadillac Pack
Familiarity:

I've used it several times
Great size, incredibly comfortable, durable. Gregory is a great company. They back their products like no other. For non-ultralight backpackers, this is an amazing pack. It weighs ~5lbs, but doesn't have gimmicks or unnecessary features. Super thick and padded waistbelt, comfy shoulder straps. Would definitely buy it again.
Extremely comfortable
Familiarity:

I've put it through the wringer
Used on AT with great success. Multiple access points make for easy access to top, middle and bottom items in pack!
The Gregory Baltoro 65 backpack is a great pack, with a decent amount of room, and a very thought out design. The Gregory Baltoro 65 backpack is made of 210D DDR and 210D x 420D HD flat weave fabrics, and are extremely durable and weatherproof to a degree. Using this pack the last year, I have some up's and down's for this pack, mostly positive things. FOR FULL DETAIL REVIEW OF THE GREGORY BALTORO 65 BACKPACK, CLICK THE LINK BELOW AND GO OVER TO CAPTAINBERZ.COM:

http://www.captainberz.com/2013/09/30/gregory-baltoro-65-backpack/
Not bad...
Gender:

Male

Familiarity:

I've used it several times
This pack is honestly comfortable with a considerable amount of weight, once you get it adjusted correctly. I'm honestly not used to packs that you can't adjust the yoke on, but i figured it out. Overall a great and comfortable pack.
http://www.gregorypacks.com/files/pack_fit.pdf
After a Couple Work Outs
Familiarity:

I've used it once or twice and have initial impressions
I got this on sale even though I didn't really need it but I just loved all the features and I love everything about it! All the features are great, all the pockets, sleeping bag compartment, moving waist and shoulder straps, moss green is killer and fits well in the woods! Love it but I cant wait to get into a actual trek with it! I will be getting out with it within the end of next month so ill update then. So far my only complaint is I like my waist to be pretty good and tight and the plastic in the cushioning causes mild irritation that feels mildly like pain but that us just with weights and not actual pack weight. I have a 18" torso length and read to go with the small and I think I would go with the medium because feel but again ill update later. I love it a lot so far and will update when I know more!
LOOK NO FURTHER
Familiarity:

I've used it several times
This pack is everything you could ever need. It cinches down so as not to be huge and bulky when you don't need it to be, while you can loosen the straps and fit in it anything you could need. I have taken this pack on many weekend long trips and will be taking it with me on my nomadic journey around the world. I had originally purchased an Osprey pack, but immediately didn't feel the support I felt with my friend's Baltoro 75. I then found this one (the gold looking color online is totally inaccurate, it is a friggin' cool moss green and brown color) on steepandcheap.com and had to get it. The hip belts feel like pillows, even when carrying weight. It's just a great over-all pack with everything you could need. Cool, useful pockets as well.
Very comforable and well balanced for 1-3 night trips. Sturdy with solid zippers and multiple pockets/straps to expand what you can carry. Only minor improvement suggestion is to have the waist belt strap easier to loosen - otherwise this backpack is worth every penny!!
I just received this pack today. I'm new...
I just received this pack today. I'm new to backpacking and bought it for a trip next month. Are you really supposed to be able to fit your bag in the sleeping bag compartment? That's probably a stupid question, but I have a Sierra Designs Buddy Rad down bag that I bought several years ago, and I don't see how it's going to fit in that compartment, even when in the compression sack that came with the bag.
It's sort of an acquired knack, but it will fit once you get the gist of it. Your new pack will also loosen up and break in a bit after using it for a little while. Is the sack that came with your sleeping bag actually a compression sack with straps, or is it just a regular stuff sack? That will make a big difference. Make sure all your load compression straps on the pack are loose, then shove one end of the sleeping bag in first and swing the other in while you push from that outside end. Do it at least a few times, then park it there for a few days. Do that and things should get easier once everything is loosened up.You'll be surprised.
Deb,

If you are having trouble fitting your sleeping bag into the compartment, then you can remove the material that separates the main compartment from the sleeping bag compartment. I own the Gregory Baltoro 75L, and never leave the separator in. In my opinion, removing that material gives you more room to work with.
the sleeping bag compartment is really just another pocket. it's not about "this is where your sleeping bag should always go," but more about in most situations, the designers felt that was the best place for a bag to go for optimal weight distribution. ideally, you bag should fit in there, if it doesn't totally fit, it's still ok. also, different bags and packs are designed for different applications. a sleeping bag made for high altitude mountaineering wont fit well in bag designed for fast and light summer trips.
Measuring Your Torso Length at Home
Easy and helpful guide to measuring yourself for the right size backpack...