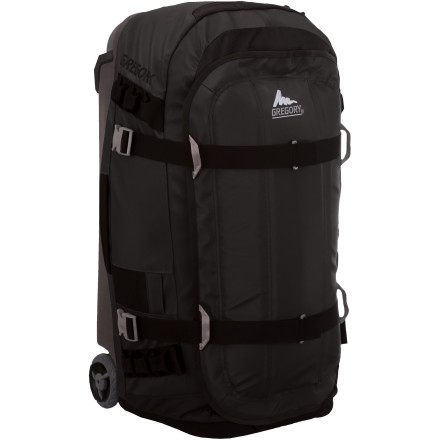 Community Images
There's no sense in making a business trip to the Rockies if you can't bring along all of your outdoor toys as well. Gregory knows this story all too well, and designed its Alpaca 28 Rolling Gear Bag to safeguard your company's presentation materials as well as your fishing gear, hiking kit, and trail-running ensemble.
Wide aluminum handle easily snaps up into place and allows offset carry and natural walking stride
Chassis constructed from 6061 aluminum bars, glass filled nylon plastic, and a HDPE framesheet to provide bomber protection against underpaid, under-qualified baggage attendants
External compression straps let you minimize empty space inside your bag so that your precious cargo doesn't flop around in flight
Convertible carry strap quickly attaches to top and bottom loops
Keeper strap lets you attach a briefcase or other carry-on so you stay organized during check-in
Oversize wheels (four-inch diameter) roll like champs over and around the strewn carnage of other peoples' spilled luggage
Unanswered Question
I live in the city and frequently take...
I live in the city and frequently take public transportation and walk to and from the airport. I've already gone through several large suitcases because the wheels keep breaking or tearing off the suitcase. Can these wheels withstand a mile walk?
These bury, no frills gear haulers are ready for whatever adventure you can throw at them. Constructed from ultra durable TPU fabric that is both abrasion and water resistant so all your gear, clothes and souvenirs will stay safe inside.
hey there- i LOVE this bag and it looks a...
hey there- i LOVE this bag and it looks a lot better in person. is the 28 too large to fit in an overhead bin (ie carryon space) in a plane. the bag i currently take the the airport is quite large (26inches) and i get away with it all of the time. can i do the same with this gregory or will i be stuck checking the darn thing?
The 28 is definitely too large to carry on- try the 22" size. It packs much bigger than most 22's, and you can squeeze it through carry-on no prob.