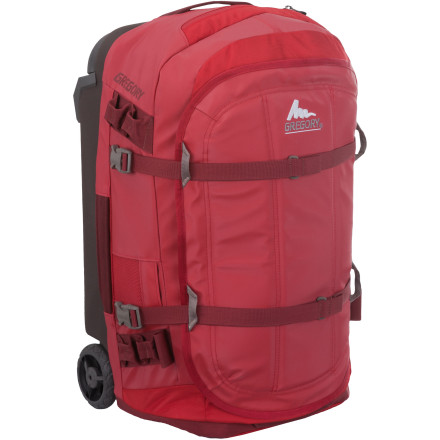 Videos
Description
The easy way to roll.
Getting to the adventure can be an adventure in and of itself, which is why Gregory built its Alpaca 22 Carry On Bag. Designed to be rugged and strong for the long haul, the Alpaca organizes and hauls up to 55 liters of gear for your next weekend getaway.
Wide aluminum handle easily snaps up into place and allows offset carry and natural walking stride
Chassis constructed from 6061 aluminum bars, glass filled nylon plastic, and a HDPE framesheet to provide bomber protection against underpaid, under-qualified baggage attendants
External compression straps let you minimize empty space inside your bag so that your precious cargo doesn't flop around in flight
Convertible carry strap quickly attaches to top and bottom loops
Keeper strap lets you attach a briefcase or other carry-on to keep your potential junk show tight and organized during check-in
Oversize wheels (four-inch diameter) roll like champs over and around the carnage of other peoples' spilled luggage
Not legal carry on size....
Familiarity:

I've put it through the wringer
I've had this bag since it first came out and travel quite a bit. It's great as a wheeled great hauler, but not so much as a wheeled carry on. You can get it to fit in most overhead bins if you place it sideways, hence taking up the space of several bags. So yes, technically it will fit, but at the expense of someone else possibly having to gate check their bag. It will occasionally fit the correct way in an overhead bin, but not very often. Also, it will NOT fit in the little cubes designed to see if your bag is legal....not even close. So if you are asked to verify the size of your bag by airport personnel, you are going to be forced to gate check your bag. It is a great gear bag that I use for checked gear on trips...it's bulletproof and you can pack a ton of gear safely in it. Just don't purchase if you truly are looking for a carry on.....
Gregory Alpaca 22 Carry On Bag
These bury, no frills gear haulers are ready for whatever adventure you can throw at them. Constructed from ultra durable TPU fabric that is both abrasion and water resistant so all your gear, clothes and souvenirs will stay safe inside.
Nope.
Familiarity:

I've put it through the wringer
This bag is not carry-on sized. It's ALMOST. I've had it fit, I've had it not fit. You cannot rely upon being able to carry it. It's rugged and a decent bag, but you need to check it. If you want to buy a bag you need to check, get a bigger one. Not recommended.
Agreed, doesn't exactly fit overhead
Gender:

Male

Familiarity:

I've put it through the wringer
The base of the bag is rigid, therefore if you attempt to place in overhead bin on airplane wheels first it will not allow the bag to go in far enough, you'll have to place the bag in long ways or turn the bag upside down. Only one external very small pocket on top barely big enough for your ticket, passport, wallet. You'll have to remove all three to get to one. Great material and construction. If the bag was a bit smaller and the base wasn't as large , and if it had enough easy access pockets it would be a good bag. In short, don't waste your money unless you plan on checking the bag.
Nice bag, but doesn't fit overhead
I spent some time researching for a new carry on before getting this one. I travel monthly and being able to carry a bag on board is critical. This bag is very well built and I am happy with the overall construction, but the base is too long, and on some planes, the base is an obstacle preventing the overhead from closing. So far, it fit on one 737 Jet blue without problems; had some difficulty on two other Jet blue flights and would not fit on three Southwest flights using Boeing 737s. 737 is a popular aircraft, so you may have to take your chances and get your bag pulled for regular check in. This is not a bag that can be consistently carried on.