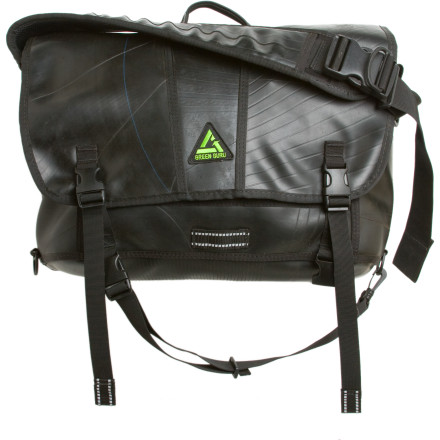 Detail Images
Green Guru Gear used repurposed vulcanized rubber inner tubes from truck tires to create the Vulcar Truck Tube Messenger Bag. The result is a bag that not only looks ultra-cool as you tote it around town, but it keeps more stuff out of our landfills.

Recycled PETE lining and webbing, as well as a road bike tube haul handle, round out the eco-friendly material list
Interior laptop organizer holds your computer in place against padded back panel
Gusseted closure keeps rain out
Two separate water bottle holders in the interior keep liquids in their place
Large zippered panel organizer sorts out your smaller items
Hook-and-loop and side release buckle lock down the flap
Once more, this was a purchase before real cyclist started carrying the product. But I would encourage the purchase due to realcyclist's high standards.

This is not a weenie messenger bag by any stretch.
The rubber tire tubes are an amazing protectant.
It is very durable and scratch resistant.
The strap is sweet. It isnt a padded addition that slides around. It is nicely padded with a fairly breathable mesh. Not to mention it is nice and wide, helping keep the pack in place while shredding the mean streets.
The interior is well thought out, too.

There aren't 18 unusable pockets....
There is a nice zip pocket on the the facing exterior, under the flap.
The interior proper has a long zip pocket (where I keep my timbuk2 tool shed).
There are a couple slotted pockets below that pocket for smaller items.
On either end of the interior are two open pockets topped with a little elastic.
I like to use those for cycling cap/gloves, flask, water bottle, sunglasses case, mini pump/inflator. Finally, as is common, a velcro pocket for laptop, etc(i shove my ipad back there or a rain jacket.

Anyway, it is a great frikkin pack not overthought, tough, and functional.