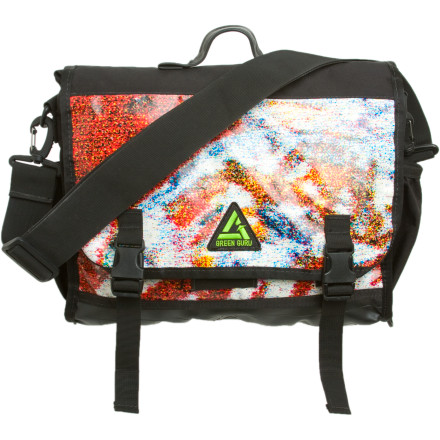 Detail Images
Single strap bags have been around since the Ancient Egypt—maybe longer, we really have no idea. But we do know the Green Guru Billa Billboard Messenger Bag is just as functional, and it's not made from animal hides. Constructed from vinyl billboards and innertubes that would have normally ended up in a landfill, the Billa is as uniques as the design it displays. Because the Billa is made from old vinyl billboards, you can rest assured you won't see Sally or Jeff walking down the street with the same bag—because unless you're sexy twins in a gum commercial, it's just not cool. Completely waterproof with an innertube reinforced bottom, the Billa carries everything you need and secure it nicely using a buckle and hook-and-loop closure. Looks like your style just got some function.
Aerospace mesh back panel won't cause you to break out in a sweat
Two-inch wide removable swivel strap for solid, tangle-free carrying
Durable 300 denier PETE material keeps the bag from wearing prematurely
Constructed from recycled billboard material; actual prints will vary

What do you think about this product?
Have questions about this product?
Unanswered Question
Our grandson rides his bike to school. ...
Our grandson rides his bike to school. He totes his guitar every day. Does anyone know of a bike saddlebag that will hold a guitar safely?