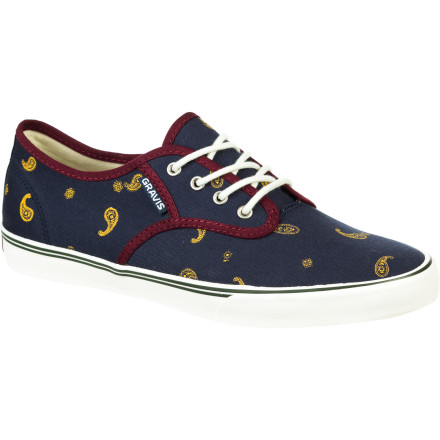 Detail Images
The Gravis Slymz Shoes trim the fat to deliver versatile, slimmed-down style. The canvas upper and classic vulc sole offer a timeless look that goes just about anywhere. The premium textile lining means you can comfortably rock 'em all summer without socks—just make sure to air them out.
Probably the best shoes I've ever had the pleasure of wearing on my feet. They aren't as blue as in the picture, it's more of a green/turquoise. Jokes on them, I love Turquoise.
It's a simple shoe, no doubt about it.

But sometimes you need simple. Bottom line: I can beat these up and keep coming back for more; they may not really be my style but when you have a long day of work who cares?

If you dig the low shape and the minimal details, grab it and enjoy!
I picked these because they were minimal, but the top of the shoe was too tight on the top of my foot and rubbed, even though there was plenty of room in the toes. Maybe my foot is just oddly shaped.
Great shoe for cruising around town on your brand new fixie, unless you have massive studs on your pedal, then they will dig through and tear up the sole like mine did! Other than shredding the rubber these are great for shredding the streets in any way shape or form, except any sort of precipitation. I have the size 10.5 and they are a little slim at first, with in a few days they feel like they are molded for your foot!
These shoes look pretty rad and they're are also thin. They fit a little bit tight with socks on but fit perfectly without socks so maybe size up half a size? I would have given them a 5/5 but they did not come with any white laces or black replacement laces.
Summer's here, get this shoe~
Perfect summer shoe, Lower profile than most shoes like it. Rad herringbone weave. Good colors.