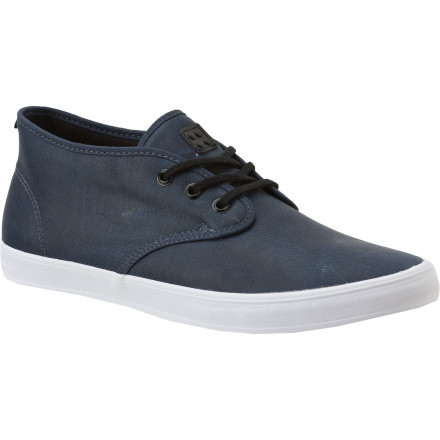 Detail Images
Just what the shoe-doctor ordered. The Gravis Quarters LX Skate Shoe combines mid-top protection with the low-profile silhouette and lacing of a low top. We call it the best of both worlds. You can call it the Quarters LX from Gravis.
Cloud 9 polyurethane footbed delivers full-length shock-absorption for all-day comfort
Mid height offers support and ankle protection
Lightweight waxed canvas upper offers coverage while reducing the bulk characteristic of most mids
Long vamp with a pointier toe keeps the Quarters LX agile and improves flicking
High-traction, abrasion-resistant vulcanized outsole is flexy for board feel but won't wear quickly
Look good, but rip really quickly
They're the best looking shoe out there. But they last for about two weeks before they start falling apart. I only skated them a few times and with the first few tricks i had a hole.
Sorta pissed with this company.
This is the second pair of gravis I have purchased in the last two months. Really dig how these shows look but they have proven to be just horribly manufactured. The first pair ripped about 2 days out of the box. This pair lasted about 2 weeks before the canvas started to seperate from the soul of the shoe. Really not too happy with the quality or durabillity of these shoes especially for skating.
Kevin Terpening skates the Quarters
All around great shoe. Looks really good, cool style. Insole is so-so, so I threw in some better ones. Definitely does not hold up to well to skating, but not too bad. Lots of wear on the inner heal. Still happy with the shoe.
Beat up and still looking good.
Not the best shoe if you want something to stay fresh for a long time. The wax coating starts to break in the first day, but it gives it a pretty unique look. Because of the wax they are tough and are great for the day to day.
It's not a low it's not a high it's a kick ass mid.
Gravis Quarters Shoe With Vulcanized Sole For Better Grip | Wax Coated Canvas Upper | Canvas lining. A perfect summer staple.
Dylan rocks the Quarters....
You should too.