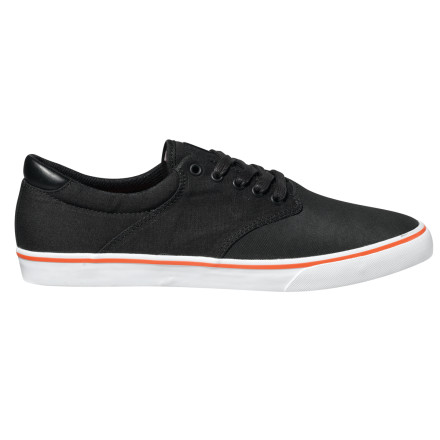 When you and your neighborhood buddies are going for the world record for most riding lawnmowers jumped on a skateboard, pull on the Gravis Filter Lx Tec Tuff Skate Shoe for high-flying badassery. High-traction vulcanized rubber helps you stick the landing, and a Tec Tuff vamp adds durability so you can continue your lucrative career as a stuntman.
I really like the look of these shoes and their slim profile. They fit pretty true to size (I ordered a 10 and they fit just like Fallen or Supra would fit me). The annoying part of this shoe is that they seem to break even faster than canvas..I skated these for 2 days and I had a hole all the way to my sock on my front foot. I guess if you really need some canvas shoes then I would recommend these as long as you have some shoe goo on hand(already patched them after the first week =/). Otherwise, if you aren't too serious about skating and want a decent looking slim shoe, I would recommend this shoe to you.
Pretty nice shoes. Not uncomfortable, but not the best arch support. Come with both white and black laces. Look way sicker in person. Fair price for some great shoes
Title says it all! Skates better than canvas, similar to suede, but lasts longer than both. Swoop em for skating or just, living.