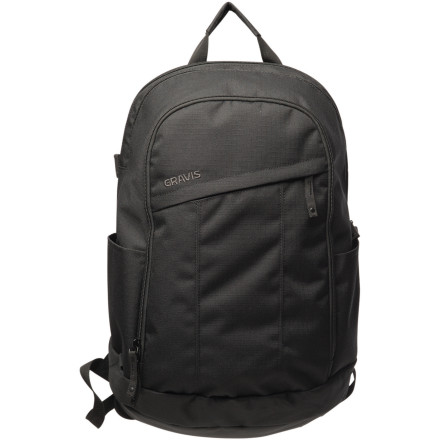 Detail Images

Community Images
The Gravis Battery pack is a new addition to Gravis' line of street style laptop backpacks. This pack features an external access laptop compartment that is able to fit up to a 17 inch laptop. A spacious main compartment has plenty of room for whatever you want to bring along, and the front zippered pocket and discreet side stash pocket are great for items you need quick access to.
Meh...
Familiarity:

I've put it through the wringer
I was expecting a spacious laptop pocket that could actually fit my 17 in laptop. It didn't, the rounded edges didn't let it go in all the way. It could only fit in the second interior pocket. Not only that, the laptop pocket was only lightly padded and the big interior pocket that my laptop could fit in obviously wasn't padded at all. overall, big fail as a bag meant for school by those that need to lug their laptops. :(
I love that I can fit my laptop, notebooks, and lunch in this pack with room to spare. It also sits right against my back which is nice so when it gets heavy it doesn't weigh down on my lower back. Keeps a pretty slim profile, and seems pretty sturdy!
Is the laptop pocket padded?
Is the laptop pocket padded?
Purchased this pack off Whiskeymilitia.com for only ~$19 which is a great deal for any laptop pack. I purchased the military color and it looks nice, the other reviews are correct in saying, "a nice profile". There's plenty of space on the inside and enough compartments for all kinds of stuff. I especially like the fleece lined zipper pocket in the main compartment; it can fit much more than just a cell phone so it makes a nice stash pocket for valuables. My 17-inch HP laptop fits nicely in the compartment even with the extra inch on the bottom of my laptop from the 12-cell battery. My only issue is there isn't much of a place to store pens and pencils; the pack does have interior pockets for this purpose but they're way too deep so I find myself digging around in there to grab what I need. Also, I'd advise whoever purchases this to take it easy on the zippers, some of them don't feel very sturdy but I haven't had any problems yet. Certainly a nice upgrade from an ugly, clumsy Targus laptop backpack I first used when I got to college. The only thing I liked about the Targus more is it had two insulated beverage pockets (Gravis has two smaller, uninsulated ones) and one insulated compartment that could fit an entire lunch; all these extra features would probably explain why the Targus is twice as big and ugly than my new Gravis. Oh, I should also mention your laptop will likey be in pieces if you take a spill while riding a skateboard or bike. In fact, there really isn't any padding at all so I wouldn't recommmend this for those who plan on eating sh*t on their way to class while wearing this pack.
Sleek profile, lots of space
This bag is easy on they eyes, but has tons of space. The main pocket has a lot of little pockets in it for storing electronics/smaller items, as well as a lined/insulated pocket for a phone. The laptop compartment is giant, and seems to be pretty well padded. The pockets on the sides for waterbottles have elastic in them, but no drawstrings to adjust with. This bag is perfect for around town or in and out of class.
This backpack is extremely well made and has a killer ride on your back. The material it's made from is durable and the stitching is top notch. There are plenty of options in the pocket department, it could have used a few more pouches in the pockets though. The laptop pocket is right in the back, so if you don't like your laptop on your back, you might not like this backpack. Also, the pocket is a little smaller than advertised. I have about a 17 inch laptop and it just barely fits; I have to fiddle it in and flip out a few edges.
Overall this is a solid pack. I'm really impressed with Gravis as I have never owned a product from them before. If you see this thing on Whiskey, grab it, it's well worth the money.
Internal Organization options
This bag is perfect for everyday life, Laptop pocket fits the macs. Wicking mesh straps and insane colors. The Blue has a bike crank on it, geared towards the fixie culture (no pun intended).
Lower profile for the caliber, like a LCP ruger (google it!)
Perfect Profile, Killer colors!
This bag is perfect for everyday life, Laptop pocket fits the macs. Wicking mesh straps and insane colors. The Blue has a bike crank on it, geared towards the fixie culture (no pun intended).
Lower profile for the caliber, like a LCP ruger (google it!)