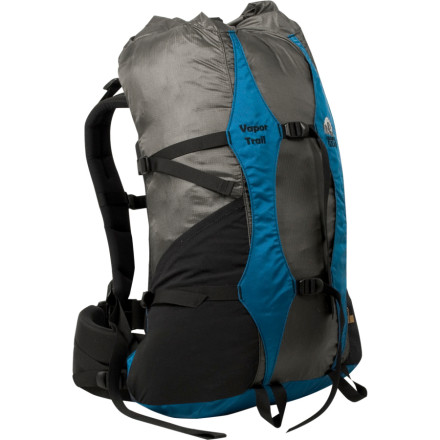 Detail Images
What do you think about this product?
Have questions about this product?
I purchased the men's Vapor Trail (long) about a month ago and have since used it on a week long trip, an overnight trip and an all day evacuation, all at 9-13,000' in Colorado. I have found the Vapor Trail to be extremely comfortable past the suggested weight ratings and with the men's long I found the space to be more than enough. The women I know who own the Ki (female equivalent) have struggled a bit with the space when loading up with 8-9 days of food, but seem to make it work satisfactorily. If I had a critique of this bag it's that it's too much. I've spent the last few years slowly replacing my gear with lighter pieces, hoping to get a minimalist pack that weighed around a pound. Unfortunately, this pack clocks in at 2lbs 5oz (manufacturer's stated weight). That said, if they had to go heavier (and they didn't) they spent the weight on the right pieces, with what feels like memory foam on the hips and shoulder straps making this pack very comfortable. My last and only other pack (a 75L Osprey) weighs 6.5lbs and cost me $480. While that pack probably carries 50+lb loads more comfortably than the Vapor Trail, I would actually say the Vapor Trail is more comfortable below 50lbs (and at 1/3 the cost!) The bottom line is I work with a lot of folks new to the backpacking scene and I encourage them all to get this pack, but then I let them know that if they decide to do that, we should talk and analyze their systems as this is not the pack to have if you haven't committed to going lightweight.