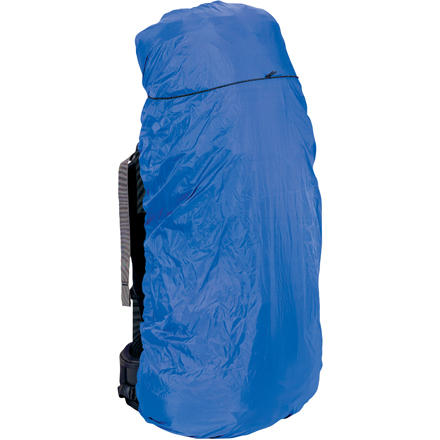 When the rain comes down in sheets, cover your backpack with the Granite Gear Storm Cell Pack Fly. Use this Granite Gear rain fly's bungee and cord lock to secure it onto your pack, and enjoy having dry gear. Once the storm passes, shake the Storm Cell out and stash it in its sewn-on stuff sack.
Unanswered Question
I have a Jandd Goliath Pack (Large) it's...
I have a Jandd Goliath Pack (Large) it's 7119 ci/117 ltr(thats without the storm flaps extended!!!) Looking for a rain cover...any ideas?
How big is M, L,XL. What should I get for...
How big is M, L,XL. What should I get for a 65L pack?
Hey there, Here's the sizing from Granite Gears site...

A 65L pack falls into the top end of the medium size... I personally would get a large for a 65L pack so that you have some room to stretch the pack fly around any extra gear you might have lashed to the outside or to completely enclose the backpack, like putting it in a bag, so that when you store it outside your tent, its completely covered...
There's no such thing as a waterproof pack cover, so there's no reason to expect that this one will keep your pack fully dry in a downpour. But it does keep the pack dry in light, short rains, and merely damp when the rain is heavier or longer.

But the major problem with this pack cover is that there is no drainage in the bottom of the pack cover, which means that the water just pools in the bottom of the pack cover, soaking whatever is at the bottom of your pack, and adding weight on your back.

Not recommended. Look for one that has a small hole in the bottom of the pack cover to release any water that finds its way inside.
I have a Jansport Klamath 75 backpack,...
I have a Jansport Klamath 75 backpack, what would be the right size? Do these fit on all backpacks?
Go for the large! These will fit on most backpacks pretty well, unless you do something weird like attach several weird shaped objects the outside of your bag.
Fits my Kelty Coyote 4500 to a T. Built in storage sack is a great idea!
Does everything it says it will do. I like that it has an attached stuff sack so it is quick and easy to pack and get it out. This guy fits really well to my pack. I have a Medium and with my Gregory Z55 after cinching it down with the cord, it fits real snug and I know it will not blow off in a storm. Great fly! Buy this guy!!
I used this cover for a week on the Appalachian Trail during some cruddy weather. The medium size fit my 40L pack just fine, including an externally strapped tent and sleeping pad. The fabric feels sturdy and the attached stuff sack is a nice touch - nothing to get lost! Never had an issue with my pack getting wet, even after setting it on some soggy ground for a while.