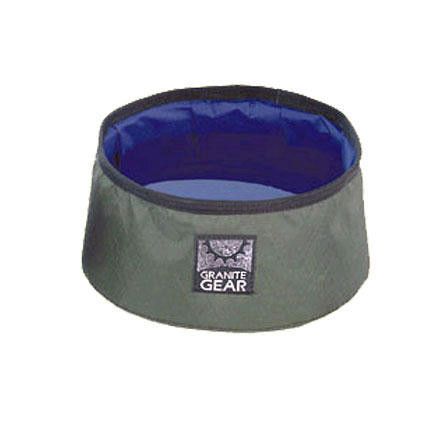 Community Images
The Granite Gear Slurpin Bowl was designed to look and perform like traditional dog bowls. Their circular shape tapers inward stabilizing the outer walls when the bowl is filled with water. Your dog needs hydration too. And these bowls are lightweight and stable. The waterproof Slurpin Bowl is durable and won't break down over time. So don't hit the trail without one. *Assorted colors.
Granite gear slurpin water bowl
Familiarity:

I've used it several times
Light weight. Durable. Holds water. Everything Floyd the cattle dog needs.
Great portable water bowl
This is a great portable water bowl. I purchased the Medium and it is more than enough water for my 60ish pound lab/pit mix. Holds water extremely well, lightweight and portable.



If I had to give one critique it would be when you're out with a limited water supply. If you were out with only one or two dogs you'd be using a lot of water to fill up the bowl. If you had to pack up (on a hike or something similar) and move you'd need another way to store that water for reuse later or you would have to dump it out, essentially wasting your limited supply.



I'm not going to dock it a star however. Even with the medium size and a small amount of water, I can get the bowl to maintain it's rigidity long enough for my dog to drink.
Does exactly what it should.
It packs well and holds water well... What else do you need?
Granite Gear Slurpin Water Bowl.
i had the ruffwear bowl for my two previous dogs a chocolate lab and a german shorthair. this bowl is big. i have an american bulldog now and his head would not fit in the ruffwear bowl. this bowl is wonderful.
I like this bowl and haven't had any real problems but they really should change the sizing options to large, huge, and massive. The small holds 2 liters for crying out loud. I have a 70 lb dog and the small is huge for him.
I tried to use this for a water bowl for my dog on the trail. It is too big and you waste a lot of water. You have to put too much water in for them to be able to drink. Then they don't drink it all and you have to dump it. I got a smaller one from Ruffwear.
Unanswered Question
What size is the small? Will you be getting...
What size is the small? Will you be getting more medium sized bowls soon?
This was a replacement same bowl as we lost the previous one on a hiking trip. This bowl rocks it does not leak our large dog loves this medium size bowl, packs nicely and is light in weight. I have tried numerous other brands and they don't even compare to this one as they broke, leaked and overall were messy. I wouldn't of bought a second one if this didn't work well the first time so yes I believe in this product.
After a long run with my lab, I gave him his new bowl. When he buried his face in his new water bowl, the top did fold in slightly. Simply put, the bowl supports where there is water. He makes just as much of a mess when drinking out of his aluminum bowl at home. Not much of a drawback! The medium is a perfect size for my lab and my golden. Holds plenty of water for both dogs. Bowl has a sewn loop on the bottom edge to clip on my pack, or to hang dry. This is a must have for any dog lover!
A little too floppy when not full
Don't go with the big size unless you have an absolutely massive dog (or dogs). The large holds about three liters or water, and holds its shape well when full. It also packs super small. The only real drawback is the soft rim–which needs to be stiffer to hold its shape well when the bowl just has a little food or water left. I found it be too floppy in general and traded for something stiffer.
Packs really small - holds a whole bunch of water. I bought the Large because I've always got two Large dogs. Should have got the Medium, it just takes way too much water to fill. After a long desert run, my dogs are totally in to this thing.