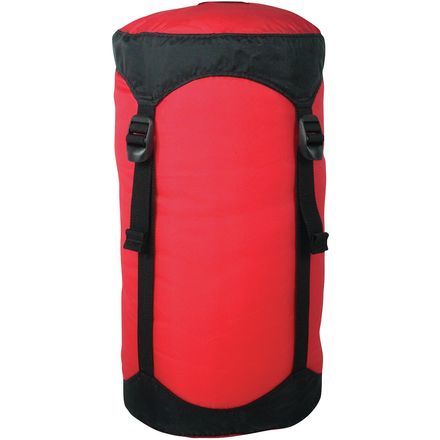 Colors

Detail Images

Community Images
Description
Sometimes the solution is to stuff it.
On your next expedition or weekend backpacking trip, maximize the space in your pack when you use the Granite Gear Round Rock Solid Compression Sack to shrink your sleeping bag or heavy jacket. With a full range of sizes to choose from, you can stuff everything from your base-camp tent to a bulky fleece pullover in one of the assorted color sacks. Put your gear in the lightweight sack, secure the lid, and tighten the slide-lock compression straps for a solid fit that doesn't bulge. Tough nylon lasts a lifetime of abusive outdoor adventures.
Unanswered Question
I have a Latitude Slumberjack 100% polyester 0 degree sleeping bag. The size is long and its dimensions are 68in by 86 in. Insulation is also slumberloft. I was wondering what size stuff sack would be great for only stuffing this sleeping bag? Thanks!
great stuff sack
Familiarity:

I've used it several times
Durable, easy to manipulate the size, and holds my sleeping bag well. I could use a few more for my clothes, etc.


How do I determine which compression bag I need from the liter listing??? The other Granite bags I have have a small tab indicating 'M' or 'L' on them. I need a couple black 'XL' for bed rolls and don't know how many liters an 'XL' would be ?????

Sheldon,



For the other Granite Gear bags you had, do you know what model they are? Unfortunately this bag isn't sized from a S-XL just in liters. Do you know the names and sizes/overall dimensions of the bed rolls you're needing a compression bag for?



Shoot me an email anytime you have questions!



Jared D.

Expert Gearhead

801.736.4336

jdowns@backcountry.com
Unanswered Question
so it looks like I would get 6 bags and could they be 16L ?


What size sack do I need for a http://www.thenorthface.com/catalog/sc-gear/womens-superlight.html ?
Hey MSinMS,



Go with the 16 Liter size.
What size compression sack should I use...
What size compression sack should I use for my Big Agnes Beeler Gulch 5 degree bag? It is a synthetic bag. It also a traditional bag. Not the big Agnes sleep system type of bag with the pad sleeve.
What size compression bag for a Marmot CWM...
What size compression bag for a Marmot CWM MemBrain 800 Fill Down sleeping bag (Long). I tried a 35L sack but it was a long hard wrestle! Is 50L too much?
Jim,

While a 45L stuff sack would probably work for you, the 50 in a Granite Gear Round Rock Solid Compression Sack could be great too. The Round Rock Solid sacks have a compressing lid that will allow you to compress the contents down no matter whether it is a tight or loose fit (within reason). The versatility of these bags is their greatest feature, because as long as you are within a decent range, you can use the compression lid to size down the load.
Compression Sack Size for following...
Compression Sack Size for following specs:

MARMOT 20*F Sorcerer

?Sleeping bag shape: Mummy

?Sleeping bag style: Synthetic

?Insulation: Polyester fiber batting

?Temp rating: 11-20 degrees

?Shell material: Polyester

?Lining material: Polyester

?Girth (shoulder/hip/foot): 60/57/39"

?Fits to: 5'6"

?Length: 75"

?Stuff size: 14x8-1/2"

?Weight: 3 lb. 2 oz.


Best Answer
Hey,



That's a wealth of information, but I'm showing the stuff size for the Sorcerer at 18x8.5", so let's use that to start. That would put you in a 16L Rock Solid. The rule is to get as close to the original stuff size for the bag as possible, then, especially with synthetic fills, consider more compression as a gift. Too small to begin with, and stuffing your bag becomes a constant drag.
I have a sleeping bag with dimensions 38"...
I have a sleeping bag with dimensions 38" X 81". What size compression sack would i need to fit it. Thanks
Hey Lawrence,



We unfortunately need a little more information than the unrolled dimensions to get a real clue on what size stuff sack you need for your sleeping bag. What we really need to know is the stuff size of your bag. Most likely you are going to want the 9L or 11L bag but that's really going to depend on a lot of factors like whether you bag is down or synthetic. Is your bag a 30 degree bag? Or is it a sub-zero bag? If its down, whats the fill power? If you could let us know the make and model of your bag we could probably narrow that down for you and let you know exactly what compression bag to get.
I am looking for a compression sack for a...
I am looking for a compression sack for a sleeping I just purchased that I will be taking with me on a trek into the Himalayas this coming fall.



I am not sure what size of a compression sack I would need.

Some information about the sleeping bag I just purchased is as follows:

Packed volume 10.1 L

Length 168 cm

Fill = 575 fill-power duck down + Hyperloft Eco

Does this mean I would need an 11 L Granite Gear Round Rock Solid Compression Sack?

Any information you could share with me would be great. Thanks!

Charlene


Hey Charlene,



The average stuff-sack that comes with most sleeping bags is right in the ballpark of 7 x 17 inches. You could probably get away with going with the 9L compression sack but I think you are probably right, the 11L will probably work best for your bag.
Best Answer
Hey too Charlene,



Rule of thumb: start with the stuff sack size that comes with your bag to get your compression sack sizing. So with a 10.1L, yes, you'll want the 11L Rock Solid. Great comp sacks...a real staple around here. Hope this helps.
Awesome Compression Sack
Familiarity:

I've put it through the wringer
This thing is great! I've had it for a few years ago... use it primarily for compressing my old school Campmor 20º down bag. The XS is perfect for this, getting it down to a package only a bit taller then a Nalgene (is that an international unit yet?), though it is obviously a bit thicker then the Nalgene.

My friends are often blown away when I pull a full sleeping bag out of such a small bag. Super durable as well, I crank it all the way down, and it is yet to show any real signs of wear. Wish it was waterproof, but I guess you can't have everything.


So far, this is the sturdiest stuff sack I've been able to find. I hope to get many years of use from it.
the 9L and 11L are 15in and 17in respectively....
the 9L and 11L are 15in and 17in respectively. But how small do they actually compress? What is the size you can get them down too?
Best Answer
That's subjective and depends on what it is you're trying to compress, ie: down, synthetic bag, tent, heavy clothing, wool socks...

Rule of thumb though: if the gear in it cooperates in some perfect world scenario, plan on having a cylindrical wad about 1/3 the size you started with.
What size would be good for the marmot...
What size would be good for the marmot limelight 2p tent (body, footprint, fly)? The packed dimensions of the tent is 7x21, so minus the poles I dont know what size compression sack to use.
Best Answer
The Medium on this one,too. aka 16L, aka the red one on its side in the picture. As much as you might want to go smaller, this one will be less of a fight, and you'll run out of compressabilty on the tent before you run out of strap to compress it with.
was asked to get a 15 lb compression bag....
was asked to get a 15 lb compression bag. Yours are listed as 11L, 16L, etc. Does the L equal Lb? If not, which is closest to 15 Lb. He already has a 20 Lb bag
The L stands for Liters - how much it will hold. You typically want to size bags by volume, not weight. I'd recommend checking the dimensions in the tech specs box (above and on the left of the page) to figure out what size you'd want.
I haven't gotten a chance to "get out" with these sacks but since I got them a few weeks ago, I have stuffed and compressed everything imaginable. They seem very strong and well put together, you can reef of them and not worry about tearing something. All in all, I'll be buying more. I was also able to get my Mountain Hardwear Lightpath 3 (body, fly, footprint) in this thing and squish it down to nothing.

In the picture is the XL with 3 sleeping bags.. Sierra Designs Arrow Rock 30, and 2 SD Big Dog 35's. It took some effort but I think it did a great job.
These are like little miracles. I am traveling with my pack as my luggage on two weeks in Central America and it is amazing HOW much room I have saved with these packs I even have room to spare. Though they are difficult and/or darn near impossible to compress to a 1/3 of the size of their original size, packed, they still compress easily to 1/2 of the size.
It seems pretty sturdy. I got a 16L to store my 10 year old synthetic bag that is neither light nor small/compressible.

It goes in extremely tight and with compression I thought maybe I would pop the seems but its holding just fine.

Compression in that one only goes down perhaps 1/4 but that obviously depends on the bag.

Id buy one again. Great price, decent product
Densify your body tortilla
This is a must for anyone lookin to pack their sleeping bag in the smallest nook of their pack. I have the M 11L and it's perfect for a 650 down Regular size sleeping bag. I'm naturally tough on gear and after cranking down on these compression straps and pounding this thing into the small voids of my pack, its still beggin for more