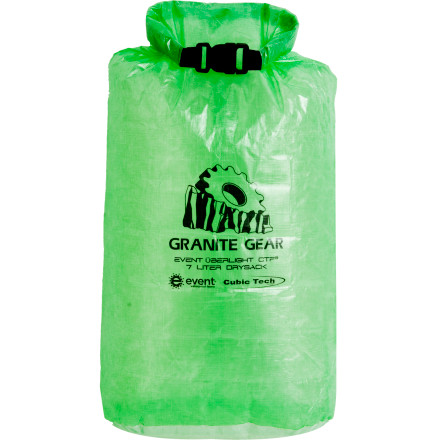 Description
We like it because it?s amazingly light and tough, and it gives a chance to whip out the ol? umlaut.
The word ???ber? gets bandied about a lot these days, but in the case of the Granite Gear ??berlight dry sack, it?s totally warranted. Clocking in at between 0.53 and 0.74 ounces (depending on size), or less than half the weight of sil nylon, the ??berlight would practically float away if it weren?t loaded with your gear. But of course, it?s not just about weight, but about performance; the CTF3 material used in these sacs is three times stronger than sil nylon; between it and the roll top, your gear will stay dry in wet conditions. This ??berlight sac?s eVent air-purging bottom makes it easy to stuff a lot of gear into it, while the transparent material makes it easy to figure out what?s where.
Tried one then bought one more
Familiarity:

I've used it several times
I bought a small (7L) one of these and used it for compact storage of a lightweight down jacket on a recent 2 week Arctic hike. I thought it worked great so I bought another for my girlfriend's jacket. Very lightweight, compresses/vents well.

Works better for making a small package of things like down jackets/soft clothes than non-venting cuban drysacks I have. They include a bit of patch material with each bag.

4 stars only as I have not had it long enough to comment on its long-term durability (but I don't foresee any issues from my use so far) nor have I tested it in really wet conditions.

But I would not buy this bag if substantial compression/venting was not THE feature you were looking for - for example, for storing food, I prefer my non-venting Hyperlight Mountain Gear cuben dry sacks as I think they are of thicker/more durable fabric and would handle abrasion better.


GOAT IS GOOD
Familiarity:

I've used it several times
I purchased several Cuban fiber storage and dry bags from other manufacturers and they can?t be beat for the light weight and function. The offering from Granite Gear has a couple advantages?colors?not a big deal but all the other cuben fiber stuff I have is either gray or muted green. On extended trips with lots of gear, having other colors will be nice to be able to quickly locate the right bag. Another benefit to the granite gear is the cyclinder shape?all my other cuben fiber dry bags are pillow case construction. I used the 18L granite gear for a UL sleeping bag, camp shoes (crocs), sleeping pad, pad/chair conversion thing, silk bag liner and a couple clothing items and attached it to the handlebar of my mountain bike for a bikepack trip. Real World Test--after almost 70 miles off road, it held up great. I?ll be buying other colors and sizes. Final advantage?availability?most of the other dry bag makers with this material are boutique/build to order. Fine for when you plan your adventures months in advance, and I like supporting the little guy, but? If you?re counting grams, cuben fiber is where its at.


Light, see through and tough!
Familiarity:

I've put it through the wringer
Sweet dry sack! Does everything I need it to in the backcountry. Best part about it is you can see exactly where you store your gear, in addition you can push all the leftover air out of the bottom of the bag.