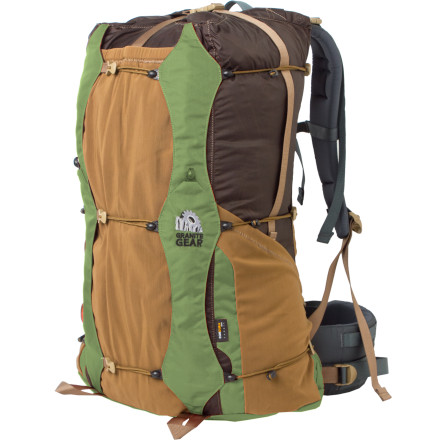 Detail Images

Community Images
Description
Blaze the trails with the Blaze A.C. 60.
The Granite Gear Blaze A.C. 60 Backpack is great for longer out-and-backs and overnighters, or as a weekend pack for elite minimalists. Simple but never simplistic, the Blaze A.C. features everything you need to escape society, and nothing you don't.
Torso length adjustment can be made quickly for a customized fit
Line-Loc cord allows for three-way compression, can be used to attach gear externally, and is easily replaceable
Stretch mesh side pockets with drawcord cinching conveniently store any size water bottle
Tall center front pockets store a light shelter or keep damp clothing away from your gear in the main compartment
Molded channels in back panel allow for cross-ventilation, and the lightweight foam helps to move moisture
Best pack I've used
Familiarity:

I've put it through the wringer
I used this pack on my hike of the Colorado Trail and absolutely loved it. The design works well for carrying 6 days of food and a big tent but also collapses down for light weekend trips. The hip belt is super sturdy and the backpanel frame is very comfortable. If you plan on carrying between 20 and 40 pounds, get this pack.
Nice but not in the rain...
Familiarity:

I've put it through the wringer
The Blaze AC 60 is a nice size for my 5 ft frame. It's lightweight and comfortable: no shoulder or hip pain after 11 hrs hiking! Simply amazing. It's easy to pack but it's hard to find stuff in it quickly - yeah, where's my rain gear? We were section hiking the AT in Maine, i.e. roots, rocks and bogs, and ever changing weather... And I didn't have a packpack cover. At the end of our first hike, a storm came just one mile and 40 minutes away (slow hiker here) from the road where we were being picked up so we just forged ahead through torrential rain. The backpack and everything in it got soaking wet, and I mean soaking, dripping wet; anything that could absorb water did and, naturally, the pack became a lot heavier. Ugh. Fine. Everything dried up the next day anyway. We were caught in the rain again a few days later and I thought I was prepared as I had put everything in plastic bags inside the backpack. Hah! The picture below shows the puddles on the bags inside the Blaze. I will take this backpack on my next hike WITH a good cover, which I hope Granite Gear has in store for me :)
Great pack with so much potential
Familiarity:

I've used it several times
I live in Australia which is a harsh country, and just about everything in the bush and the weather wants to kill you so good gear is a must because your life depends on it. I researched this pack in detail in that I do a lot of hiking and hunting, and like a lot of hunters are moving away from military packs to ultralight. This pack is great and a 2-3 day bag, I have to admit this pack is usually filled to max but it seems to carry everything well. I am 6 foot and athletic and a medium just fits me. I found that every filled to the max the pack was still comfortable and I often forgot I was wearing it. I really love the external pockets and lashing straps for tent and sleeping mat. In summary this is a great bag, I took a risk in buying from the US because there are returns from Australia and am very happy with it. I don't think there is any other bags out there that competes with this except some Gossamer Gear products.
Fit matters!
Familiarity:

I've used it once or twice and have initial impressions
The build of this bag is really nice. It seems like it would have been a very durable bag, especially for the weight. The expandable top and cinch closure were both really nice. I liked not having a lid in the way. The bag was big enough that I could fit all my gear in the bag (sleeping bag packed loose) and then store a bear canister (BV500) vertically by just using the excess roll-top material.



At first I thought the pack fit exceptionally well. A majority of the weight sat on my hips and the shoulder straps were nicely padded. However, after about 5 miles w/ 20# I started to notice some of the strap discomfort others have noted. The tops of my shoulders and my hips still felt great, but the straps dug into my ribs near my armpits. Not so much I got bruises, sores, or anything like that, but it was uncomfortable. I think this was largely due to the way that the shoulder straps are shaped. My chest and shoulders are fairly broad (6', 185#) and these straps are fairly narrow and fall straight down (as opposed to contoured straps on most other bags). Not sure if that was the cause, but it was a comfort problem I've never had with other bags (e.g., exos 48).



If you have a slighter build or even a normal build, then my guess is that this could very well be a great bag. Unfortunately I couldn't try it on before buying. Even then, I still might have picked it up because the comfort issues weren't apparent right away or without weight.



While this review seems negative, I really did like the bag. It just didn't fit as well as others. It only costs $6.99 to return to backcountry so if you're interested, then I would recommend giving this bag a try. Worst case scenario, you're out a few bucks. Best case scenario, you have a lightweight bag that will last a really long time.
No frills great pack.
Familiarity:

I've used it several times
I you like pockets, zippers, removable fanny pack lids, this is not the pack for you. If you like a sold no frills tough as nails comfortable pack that will not fail, this is the pack you've been looking for. I'm 215, 5'11'' and the medium fits me perfect. The huge side mesh pockets are perfect for easy access to water bottles. It swallows the Bear Vault 450 with tons of room leftover. I recently carried the AC 60 Blaze on a 5 day trip with room to spare. I could probably live out of this thing for a month there's so much room. Great pack!
This is my favorite pack ever and my current go-to pack for everything beyond day trips. Its just the basics... but it does all the basics perfectly. Cavernous main compartment that can swallow nearly anything, lightweight but extremely supportive suspension system... I'll be using this for a while.
Great pack
Familiarity:

I've put it through the wringer
I got this pack for a NoBo AT thru hike in 2012. Was solid even before I trimmed down my gear and refined my food supply strategy (started with a 45lb pack incl. 8 days food) and absolutely heavenly afterwards. Broke a toe and had to get off the trail (Thanks Obama...), but all in all have put ~1000 miles on it. I don't abuse my gear, but certainly don't baby it either, and it's held up well. There's a small hole in the stretchy mesh of the back external pocket but the integrity of the fabric doesn't seem to be compromised beyond that. The other materials are absolutely bomber. The pack distributes weight evenly and carries extremely well. I'm a skinny guy and a lot of packs tend to really irritate my hip bones, so I appreciate the beefy hip belt; no hip pain even after 25 mile days carrying 20-30 lbs (there was some when I was carrying 45 lbs). The pack is highly compressible as well. I was initially worried about the durability of the compression straps (strings is more like it) but they've held up without issue.



One potential drawback is that if you're using the optional top lid, you won't be able to utilize the max capacity of the roll-top closure as the lid attaches directly to the load lifters. Hasn't been an issue on any of my trips, but something to keep in mind if you're planning to stuff this pack to the brim and also want to use the lid.



If you travel light, this thing can go the distance. Highly recommend it for anything from overnighters to week-plus-long adventures.
Sooo comfortable... but be careful.
Familiarity:

I've used it several times
After a long and careful evaluation I choose the Blaze for my backpacking needs. I picked one up from Backcountry.com a few weeks ago. I did 8 and 10 mile test hikes with about 15 lb. of gear. It was extremely comfortable, I mean extremely. I didn't even remember I was wearing a pack which is probably about the highest endorsement I could give for comfort. This past weekend I headed out to the Needles in southern Utah for 3 days. Nothing too strenuous, 5, 9 and 6 miles each day. Even with a ridiculous amount of water that we needed haul, the bag was still just so comfortable. It swallowed all my gear easily.



I have a Dana Design wet rib which I used on this trip to great effect. It is basically a small pouch and water bottle holder that attaches to the shoulder strap webbing and hangs around the waste. Great access to water, camera, munchies, etc. since the Blaze itself is pretty Spartan.



After unpacking upon my return, I noticed that each stretch area (two sides and back) had small holes. I didn't think I was particularly rough with our packs. It was stored in another duffle for air transit. A few times we needed to remove our packs and toss them up to the next level and then scramble up after them. Also given all the rock walls it was hard not for it to occasionally scrape against the sandstone.



One other note. The top has a tall collar, but it is not all usable. I tried to stack up all the empty water bottles. They fit inside the collar, but the cross cinch straps do not reach when the collar is fully extended.

Comfort - A+

Durability - handle with care.
Tough, Functional,Comfortable
Gender:

Male

Familiarity:

I've put it through the wringer
I hiked the entire Appalachian Trail with this pack this summer. Really light weight, comfortable, distributes weight extremely well when packed correctly. Really love the functional simple design.
Simplicity meets functionality
Gender:

Male

Familiarity:

I've used it several times
The Blaze A.C 60 is by far the best pack I've had the opportunity of wearing! The weight is minimal and the bag has everything you need for an ultralight hike. The lack of numerous pockets allows you to maximize the space in the bag and keeps you from having to deal with various zippers and clips. The waist belt is firm and provides structure to the bag so that part of the weight of the bag is displaced to your hips. When strapped on, this bag feels like it has molded into your back! GREAT BUY!!!
Just got back from my first trip with the BLAZE and this pack is BOMB. 5 days 265 miles later on the SHT; Duluth to Canada, this pack was unbelievable. The funny thing is Two Harbors is where Granite Gear is made just 25 minutes north east of Duluth and I have never tried any of their packs before. Being a local I see them around, and finally tried it for a fast pack. What I liked about it is it is light and incredibly simple. The shoulders and waist belt are really comfortable. The waistbelt is thicker and has more padding than the Vapor which I like. The pack has no frills and the simple top load is very very pragmatic which I like. The only thing I really did not like about this pack is the back plate, because the shoulder straps are attached to it and I could not remove it, but it did not weigh all that much so I was not to concerned. The material and construction were dynamite. Really I can't say enough. The pack seated nicely with about 32 lbs of gear and food to begin with, and we ended with a pack weight of about 22 lbs losing 10 lbs in food over the 5 days. The shoulder pads never wore on my shoulders and the belt stayed pretty cool around the waist (two of my concerns always). The hydration sleeve worked well and adapted to a couple of different field bladders we were testing. I was really impressed with the volume of this pack. It is about a 55-57 liter pack in the regular and the volume felt like there was a lot of room left after I was all packed. I am 5'10" 165 and I fit perfectly in the medium belt and regular torso, keeping in mind that torso sizes vary considerably person to person.
I hated returning this. construction better than you would expect at that weight, and the compression system is genius. I was looking for something a bit bigger than my old osprey talon 44. This seemed perfect, except for the lack of an alternative access to the black hole of a main compartment, and no hip pocket. I didn't realize how much I'd miss those little items. couldn't be more than an extra hundred grams, and if they were there this would be 6 stars.
Co-founder of Granite Gear Dan Cruikshank gives the first walk through of the 2011 Granite Gear Blaze 60.

This pack is amazing. Extremely light weight, good material, and highly adjustable. However, if you are planning on using it for day hikes or hikes with minimal gear it may be too big for some...
My brother just got one of these and it is a sweet pack for the most part. He got his gear with out water or food down to like 20 something lbs. The 1st trip we went on was a 3 nighter in Utah's coyote gulch. The pack was sufficient but 3-4 nights was about its max as he was spent on room. With that said we took more food than we could eat. There was one issue on the durability however. He had to slide down some sand stone and because of the beers in his overflow the rock burned a hole in the stretchy fabric that it's made out of. So in my opinion a sweet pack with a simple design flaw of the vulnerable overflow material extending a little too far down the body of the pack in the event that you do slide on rock. (which is fairly common a thing out there)
I tried 3 other bags in its class (Boreas Buttermilk, Osprey Pack Exos 58, and Mountain Hardware Thruway 50) before deciding on this kick-a$$ bag. Sure this is one Spartan bag and I'd love to have some simple convenience features like hip-belt pocket, and maybe a stow on the go feature that Osprey packs do, but you know where this bag (to me) excels in one thing that matters the most to me? The suspension! The most customizable, comfortable set of support, ventilation, and straps I've had the luxury of imposing on my back. I remember reading Backpacker magazine saying it has a "class leading hip belt," and it really does by a mile. I also love the bomber Cordura, and also the line-loc cord and how easy it is to loosen and tighten it to compress the bag quickly and evenly. One minor gripe? It's kinda ugly....but it's growing on me because it fits so well.
This pack is incredible. All areas of the pack are crazy adjustable and it bottomlessly swallows gear. I can easily fit my entire luxury kit and a Bear Vault BV500 (stuffed with smaller gear, stove, food, etc.) inside the main pack, with all my essential easy-access gear stowed in the outer pockets. If I want to go light, the pack cinches down through nine different compression straps on the main pack bag. Weight transfer is amazing in light of the adjustability and the ventilated back panel keeps you nice and cool. Also, the torso adjustment feature on the frame sheet is ridiculously simple, but effective. All-in-all I cannot recommend it enough. Glad to see BC finally got the men's version back in stock.