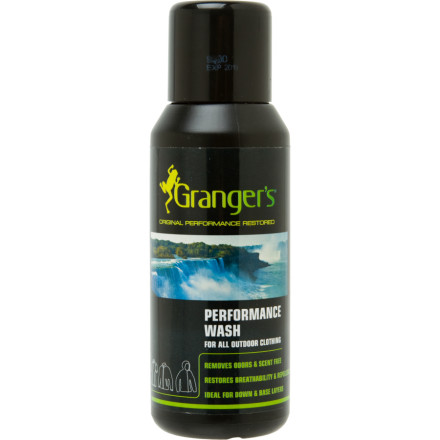 Detail Images
Thinking about washing your down jacket with regular detergent? Frustrated that your baselayers still stink even after a regular wash? Think again—that grocery-store detergent you see advertised on race cars can damage your (expensive) gear's protective features without putting a dent in the stank. Use Granger's Performance Wash and get the dirt and grime out of your favorite outdoor clothing without ruining the waterproof finish. This scent-free wash is safe to use on down and baselayers and actually improves fabric breathability and water repellency with each use.
What do you think about this product?
Have questions about this product?
wish I found this sooner!
Familiarity:

I've used it several times
I am surprised at how well this stuff works. I buy some of my gear used on ebay and what-not and sometimes I get stuff that smells like it sat in a basement for years. I tried nikwax tech wash without very good results in trying to get rid of the smells and then saw this stuff recco'd on the arcteryx website and bought it here on sale. it is so much better than the nikwax I usually purchase, so glad I found it and will never use anything else ever again. I did buy this with the waterproofer in a kit which works 100% better than the wash in stuff.
Granger's works the stink out of technical fabrics, bottom line.

It might not be cheap and there isn't a ton of it in each bottle, but you get what you pay for. Drop a cap or two of Grangers in the washing machine with your standard detergent and a few synthetic baselayers or a technical jacket and thirty minutes later out pops your outdoor gear, stink free.

Maybe it's made from the hopes and dreams of tech-fabric engineers, or maybe it's just made of liquid magic... either way Granger's does the trick. I bought an armful of bottles and use it a few times throughout the ski and trail running seasons. Go merino and you won't have to worry about washing synthetic fabrics, but merino is expensive, so for the meantime grab a couple bottles of the good stuff.
I have 3 items of "rainproof" gear I wish...
I have 3 items of "rainproof" gear I wish to wash. The first item has been washed at least once and since has not been water "resistant".The second is a overall pair of fishing pants and the third item is a gortex jacket that no longer is "waterproof". Cabella recommended the Granger Performance wash, but the directions are very poor. Can any one help?
this really isnt an answer to your question, but i like the sprays instead of the washes. no instructions are needed. you just spray it on after every few washes. i use nikwax brand myself. i am sure there are other brands that work fine too. no experience with grangers specifically, but the washes i have used just didnt seem to work as well as the spray.
hey don't know if you got an answer the sprays won't help your problem as well as the wash will, it is a two part deal wash first with the cleaner plus an extra rinse then wash with the wash in water proofing also with an extra rinse, after the waterproofing wash you need to run the clothes through the dryer as the waterproofing is heat activated the directions for tempature and time should be on the bottle i have found the grangers to last a lot longer then nikwax but the nikwax is more enviromentally safe.... regular detergent will remove the waterproof properties of most fabric because they are designed to open up the fibers and loosen up the dirt hence they will not be very waterproof any more.....