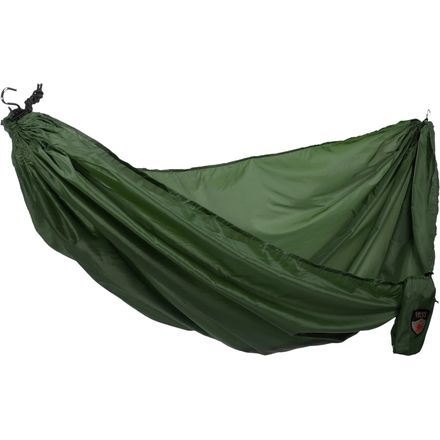 Detail Images

Community Images
Description
Stay off the dewy, bug-infested ground as you sleep off another long day of hiking.
For a lightweight sleeping option in tree-abundant areas, the 12-ounce Grand Trunk Ultralight Hammock takes the prize for simplicity. The no-fuss, quick set-up design includes an S-hook on each end of the hammock for lightning-fast assembly in the day's fading light.
Lightweight polyester fabric holds up to 200lbs
Attached stuff sack ensures quick packing and hassle-free storage
At over nine feet in length, the hammock is made to fit all sizes
Compatible with a sleeping pad for ultimate, off-the-ground comfort along the trail
Awesome for starters
Familiarity:

I've put it through the wringer
This was my first hammock. I still use is from time to time. Its great because its fairly inexpensive and very, very durable. It isn't the most packable thing in the market though. I have it, two carabiners, and some cord to hang it up all packed in the built in stuff sack. It is about the size of a small burrito from Chipotle.
The only other issue I had with it to start was having to lay in it diagonally, instead of straight from the two hanging points. Its like a balancing act when first trying to use it, But it still gets used EVERY time I go out.
Never leave home without it
After a long day alpine climbing along the Liberty bell group in Washington state my first task back at camp was a nap. I tied to a tree and the back of my van.
A valuable addition to any daypack
Familiarity:

I've put it through the wringer
On a last minute hike up to Sundial Peak outside of Salt Lake City I picked up this hammock. I was initially concerned with it's light demeanor but don't you worry this is built for adventure.



It's simple hook system on each end makes set up a breeze when combined with two pieces of cordage and the built in stuff sack makes it a compact size perfect for the corner of your pack. I am 6ft and 225lbs, its comfortable and durable beyond my expectation.



On an alpine mission in the North Cascades of Washington state my friend forgot her tent. I put an ultralight shelter above it and she snuggled in for a restful night.



This hammock is a reminder that sometimes simple design is the best design.
Held Up
Familiarity:

I've put it through the wringer
My initial concern with purchasing this hammock was the durability. After a few campouts and day hang out trips I am extremely happy for not springing for a more expensive hammock. I have taken great care to make sure not to place the hammock in a scenario where it may have abrasion leading to retirement as that seems to the major complaint with this hammock. In other words if you are careful, the only reason to consider a more expensive hammock would be if you desire to have a wider footprint. (hanging straps are not included)
lazyness
Familiarity:

I've used it several times
this is a great hammock for the backyard and having lazy days.
its lightweight and sets up well if you are into taking it into the woods.
comfy for lazy days or on the trail.
Familiarity:

I've used it several times
the hammock is very light weight you wouldnt believe it will hold your weight but it does.the size is so compact and ultralight i barely know its in my pack. the material is very durable but that doesnt you should tested by laying with a open knife on your back. keys are probabaly as far as it goes. i am 5'11" 190lbs and the lenghtand widght of this hammack is fine more then enough. head room
Great value
Familiarity:

I've used it several times
Very comfy and light weight
Going on 2 years
Familiarity:

I've used it several times
Going on 2 years with this hammock, its been through many long nights of camping, backpacking, and a week long Yosemite trip! This thing is awesome, lightweight and overall great on the wallet too.
You get what what you pay for
Pros-lightweight, inexpensive. Cons-poorly made, unconfortable
Awesome light hammock!
Familiarity:

I've used it once or twice and have initial impressions
I've used this hammock for no more than 2 hours and I've already spilled beer on it and poked it numerous times with a pointy stick. No visible damage. I weigh 160 and it supports me with no sign of breakage whatsoever. This thing seems pretty durable to me and for the price I am really quite happy with it! Do I plan on hiking the AT with it? No, but I may fall asleep in it this evening.
Want to try hammock camping? Sure!
Gender:

Female

Familiarity:

I've used it several times
I picked this up, mostly to spite my buddies who were preaching ENO. I didn't want to buy a pricy hammock and hate it on the trail.

Its very packable, but I try to keep the S hooks out away from the hammock when packed. I have used it less than 10 nights total, and I have already developed a rip or two (and I was trying to be careful!). Its also super light, which is nice. It rained for 3 days on my last trip, but my hammock dried out quick under the rainfly.

My first hike out was...chilly. I only brought a fleece blanket, which was silly on my part, knowing that it would be in the mid 60's that evening. I never thought about how much the air inside my old tent insulated me. My feet froze! My next trip out (night temps in the low 50's), I had my sleeping bag and a therm-a-rest pad that I had cut down to fit inside my bag. Worked like a charm! They are not kidding when they say that you need extra insulation beneath you in a hammock, don't learn the hard way!

Now I am a stomach sleeper, but I slept on my side for most of my nights in this thing. The therm-a-rest pad acted as a good base if I rolled around at all inside my sleeping bag (I'm somewhat small)and I didn't have to grab the edges of the hammock to make sure I wasn't going to spill out. Without a 'base', I rolled around a lot more, and woke up fully each time to think about the move.

Great perk, my back was saved from sleeping on the flat ground. Even after packing through the hills, my back was nice and fresh. My ground sleeping companions weren't as lucky.

Overall. I like this hammock a lot. I wish it did not rip so easily, but it was a great first hiking hammock for me!


Hope your experience is better than mine
Familiarity:

I've used it once or twice and have initial impressions
Got this hammock and went for a nap,

not realizing it's a piece of ...

(But it's made by Grand Trunk?!)

Split and let me down with a thunk!

The whole neighborhood heard "OH SNAP!"



I was only in it for about a half hour, I weigh less than the max it's supposed to be able to hold, but it split almost in 2 (across my Grand Trunk, if you know what I mean). Hopefully it was a fluke and their other products are better than that.
This hammock is in it for the long haul.
Familiarity:

I've put it through the wringer
7 years of hard use.



I got this hammock while in high school and so was as hard on it as any teen can be. Always stored with the biners inside the stuff sack; this thing has held three people more times than I can count. Don't let the thin fabric fool you: it can stand up to a beating. This long later, it has one hole -- in the stuff sack: my dog thought I was carrying a toy and bit through it. The threads are kind of pulling away from each other -- thinning? -- but it doesn't seem to be affecting the integrity of the fabric. Nothing is fraying and none of the threads have actually broken. I removed the s-hooks that came with this and replaced them immediately with biners, and have more recently taken out the ropes in the end channels and threaded the biners directly through the channel.
Light weight
Familiarity:

I've used it once or twice and have initial impressions
Light weight hammock for backpacking or keeping it in the car for a nice picnic in the park/Mountains if you want to lounge. It is pretty thin, but I haven't had any issues with it yet. The straps are not included. Great price!
Almost perfect.
Familiarity:

I've used it several times
I have only used my GT a few times now, and as far as comfort goes, it gets 100%.



I missed the review that mentioned the hanging straps weren't included in this purchase.. and was incredibly disappointed that I wasn't able to test it out right after receiving it. I still haven't purchased decent straps - I'm working with a bit of nylon rope from the junk drawer that's holding up well so far.
It is Pretty light
Familiarity:

I've used it once or twice and have initial impressions
I bought the Royal Blue one because of the price. I haven't slept in it yet, but I did set it up and layed in it. It seems a little bigger than a ENO single but not as big as a double. I think it is a good size and am anxious to take it camping and see how it does. So far I'm giving it 4 Stars. That might change if I find it to not be very durable like these other fine folks are claiming.
This product is very inexpensive, but the quality matches the price. Cheap.
It's only 20 bucks
Familiarity:

I've used it once or twice and have initial impressions
its cheap and light those are my favorite things about it, on that note its pretty cheap material I haven't used too many time but i can see this thing already coming apart... but it was only $20. BIG THING doesn't come with strings or anything to attach to tree so you gotta get that on your own