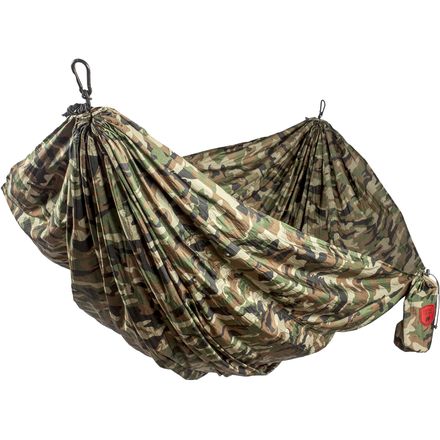 Colors

Detail Images

Community Images
Description
Welcome to relaxation.
Whether you string it up in the backyard or between two palm trees along the beach, the Grand Trunk Double Parachute Hammock is surely the most spacious, lightweight hammock you've ever encountered. At just over a pound, this nylon dream machine packs into its attached stuff sack when you're on the move, and the included hanging hardware makes for easy setup when it's time to relax. High-strength parachute fabric and triple stitching give this Grand Trunk a weight capacity of up to 400 pounds—just right for two.
Absolutely love it
Familiarity:

I've used it several times
Bought this about a month ago and just love it. It's comfy for camping as well as just hanging out. Feels durable and the straps it brings work great! Would recommend for anyone looking for a cheap and fun buy!
Like it
Familiarity:

I've used it several times
We've used this quite a bit, easy to put up and small enough to pack. My only thing is that it could be thicker, with 2 people you want don't want to feel like you could break it. Other than that it is perfect! And for sleeping outside in it, make sure you bring a blanket or sleeping bag.
Excellent addition to backing trips
Familiarity:

I've put it through the wringer
After a long day of hiking this hammock is the perfect thing to plop down in. Its lighter and smaller than any chair and can be used to sit in or lay in. Its well worth the whole 28 oz to bring along backpacking!
awesome
Familiarity:

I've put it through the wringer
Light, tough, comfy. Cool designs. Best. Hammock. Ever.

PS - learn to tie a trucker's hitch ... Best. Hammock. Knot. Ever.
I Love This Hammock
Familiarity:

I've put it through the wringer
I've used hammocks a lot for camping. I love this hammock for its simplicity and lightweight design. Sets up in 5 minutes and you're relaxing already! I have doubles and singles, and while singles are just a bit smaller and easier to pack in a pack, the double is well worth the slightly larger size. Much more comfortable.
Great hammock!
Familiarity:

I've used it once or twice and have initial impressions
Bought this during a backcountry sale for about $50. Great hammock for the price. I got a single hammock for my bother later (same brand) and after comparing the two, the double is the way to go. I'm a short female so maybe for bigger males this wouldn't work but I can put my headlamp in the pouch and sling it over me to cover myself while I sleep. Really easy set up, the ropes they give work great until you want to upgrade to tree slings. What I really liked about this compared to a Eno hammock was the pattern. During a full moon the fish (on the blue hammock) light up. Can roll up smaller than the bag, the weight is so much easier than taking a tent but it is about twice the size of the single. I have slept in a Eno hammock and I haven't noticed any difference. Since this was my first hammock, I really liked that it came with ropes so I was ready to go right after buying it. Overall, worth the money but I wouldn't pay more than $50-75 for it.
get one!
Familiarity:

I've used it once or twice and have initial impressions
I'd been thinking of getting a hammock for some time and a family camping trip in the Adirondacks was the perfect excuse. I bought some extra long tree-friendly straps with it and it was the most popular piece of gear we brought. It is amazingly easy to set up and feels sturdy.It was in constant use. We didn't sleep in it overnight but everyone got at least a good nap or a swing with a book. It was used by pairs of adults, pairs of kids, and a few solos. It is comfortable in any combination and almost any direction. We plan to buy another as a wedding gift for some friends.
upgrade your life!
Familiarity:

I've used it several times
Best decision ever. The tie die hammock was a birthday present to myself.

Set up is extremely easy, which is fortunate because I didn't practice before bringing my new hammock on a tentless backpacking trip. The hammock arrives in its attached stuffsack with everything you need-- parachute cords and carabiners. My biggest issue has been finding trees that aren't too wide to wrap the cord around (Sequoia livin...it's hard but someone has to do it!)

Having the double is perfect because I can wrap the extra fabric around myself like a cocoon and keep the bugs/bats/sharks out. I've slept in it overnight, and the extra fabric also makes me feel like I'm emerging as a beautiful butterfly when I wake up in the morning. I agonized over getting a single or double because of the extra weight, but so glad I went for this one. It's also plenty spacious for lounging with friends.

Strong, sturdy, easy, comfy. Do it!
So worth it!
Familiarity:

I've used it once or twice and have initial impressions
I finally got a chance to use my Grand Trunk hammock this weekend and I cannot say enough good things about it. So comfortable, sturdy, and easy to hang. I probably will replace the carabiners at some point, and I switched the included cords with the tree hanging kit, but other than that, I'm thrilled. Some of the best sleep of my life.

Grand trunk double
Gender:

Male

Familiarity:

I've used it several times
This hammock is prefect for me. I do a lot of research on any product that I buy to make sure that it will meet all of my needs and wants. I looked at many reviews and found this one to have the most positive reviews. I use it for backpacking (I sleep in it by myself) and at my house under the trees (with my wife/and by myself) here in Florida. I like that the construction feels and looks like it will last us a long time. It comes with a stuff stack that fits the whole hammock. The Carabineers are heavy, but easy to replace with lighter ones for backpacking. I am very happy with my purchase.
Grand trunk double
Familiarity:

I've used it once or twice and have initial impressions
This hammock is perfect for the couple that hikes together in north east US. It's great for couples because although my boyfriend has his own hammock, if it gets cold I can always invite him into mine. And when it isn't so cold That I want another warm body in it, the extra fabric can cocoon me and safe guard against the elements or bugs!
Just buy it already
Familiarity:

I've used it several times
I picked up the Koi print and it looks much better in person. Love this hammock. Like others have mentioned, the added room in a double size is great even when you're hanging out by yourself. It's like napping in a cocoon. So easy to wrap yourself up in the fabric and fall asleep. If you're using it camping, I would suggest a sleeping pad or blanket liner because the wind cuts right through this. Also, it's basically a must to get the "Grand Trunk TreeSling Adjustable Hanging Kit " for the added length and tree protectors. Very annoying setting this up with just the provided rope (not very long). Plus, save the trees!!
As to the weight this hammock can hold, I am very confident with the fabric. No fears of that ripping while two of us are relaxing. The carabiners are a bit heavy though, and I am in the process of picking up some lighter options for packing this into the woods. All in all, great price for an awesome product. Definitely would recommend this brand over others out there.
AWESOME AWESOME
Familiarity:

I've used it several times
This hammock is awesome. Slept a whole night in it and woke up with no aches!
Love the Comfort!
Familiarity:

I've used it several times
We used our hammock at our lake house and hung it between two trees facing the water. I was skeptical about the 400 pound weight limit at first and I wouldn't let more than one of my kids on it at a time... I quickly learned that the straps are just as important as the actual hammock. It held us beautifully and safely as we watched the sun set. I think I would definitely need a sleeping bag in the fall/cooler months as I was pretty cold in it after dark.I really liked the 'cocoon' feeling and the gentle sway from the breeze. I ended up buying two more for my nieces for they're birthdays. Now we can all "hang out" by the water.
Great Hammock!
Familiarity:

I've put it through the wringer
This hammock is great! It is just as good as any other the other hammocks that I have tried. If you get the Treesling adjustable kit to go with it, it is super easy to set up! I take this thing everywhere with me and has lasted me a long time!
Great Hammock - no complaints!
Familiarity:

I've put it through the wringer
Very pleased overall with this hammock. It comes with everything you need to get going, but I'd recommend replacing the carabiners and getting a longer cord, otherwise you'll have trouble hanging this on thick trees or places where trees are far apart.

Comfort wise the parachute nylon is stretchy and comfortable. I like that you can carry it in the bag, and that it's sewn to the hammock itself. Can be helpful for storing valuables.


It sets up nicely and is very comfortable. I was quite pleased with its durability when my 4 and 7 year old grandchildren climbed in with me and began using it and me as a trampoline.
Decent
Familiarity:

I've used it once or twice and have initial impressions
Decent, squeezes the body so a bit difficult to relax but other than that it looks great. I'd go with the single person next time.
Great Wedding Gift
Familiarity:

I gave it as a gift but have feedback to share
Bought this for two friends who take a lot a bike camping trips! This is going to be perfect for when they are relaxing after a sweet day of riding! Nothing like being suspended in the air relaxing by a fire with your significant other. :) <3 It was a success of a wedding gift they are more than stoked to get out and use it!

Chillax
Familiarity:

I've put it through the wringer
This is a great hammock to throw up if you're looking to relax with your better half. It also works just as well solo, but its just not as fun that way. However, it can be a little chilly though if there is a breeze or any sort of weather out. So you'll want to plan for insulation if your planning on using the hammock in any adverse weather conditions.