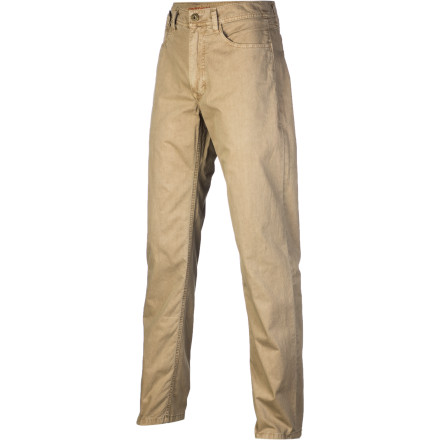 Detail Images
While many brands attempt to differentiate by adding more bells and whistles to their pant designs, the designers at Gramicci have opted not to reinvent the wheel, and the Men's Schell Creek Pant is a perfect example of how to stand out by keeping it simple. Chances are, your body will agree, and you'll find yourself reaching for the Schell Creek on multiple days of the week.

The lightweight cotton twill fabric is washed and dyed for a decidedly vintage look and soft feel while the semi-slim urban cut supplies a flattering yet casual fit. Add in function-driven details like the buttoned coin pocket and a buttoned belt loop that allows you to attach a key ring, and you've found your everyday pants that are equally suited to work and play.
Lightweight Weave Bedford Twill Cotton
G-natural age molecular wash
Semi-slim urban fit
Front and rear drop pockets with a buttoned coin pocket
Rear buttoned belt loop
Fit Great, Looked Great, Bad Quality
These pants fit me great, and they felt great. However the material they are made of is weak. After casual use the material wore through near the back pockets. I patched those and continued wearing until I squatted down to pick up a large box and an 8 inch rip through the material (not the seam) occurred in the seat of the pants.
Great fit and feel, terrible quality
Gender:

Male

Familiarity:

I've used it several times

Fit:

True to size
I absolutely loved these pants for the first three wearings. Perfect fit, amazing feel, they are pretty much everything I want in a "rugged" casual pant. Unfortunately, they started to disintegrate almost immediately.



First, the inside button on the primary closure popped off. Then the cosmetic button that holds the right-side belt loop on came off, rendering the main right-side belt loop useless. Then, when bending over to pick something up off the floor (not doing anything athletic), they ripped in the back. Not along a seam, they ripped straight through the material on one side in the back. Just taking them off to inspect the rip opened the hole further, and then pulling lightly on the fabric enlarged it again. The weave seems to have the structural integrity of tissue paper, I've never seen anything like it.



These were washed in cold water on the Gentle/Delicate cycle, dried partially on low heat, and hung damp to dry. No fabric softener of any kind. I did everything you're supposed to do to preserve "technical" clothing. And yet, they just fell apart. Very disappointing.



I remember Gramicci as a tough, climbing-oriented brand that made rugged products... I still have a shirt from them that is close to 15 years old that is wearing like iron. What happened to Gramicci?



I purchased these through SAC and it's well outside the 30 day window. Checked Gramicci's website hoping they would have a customer-friendly warranty like some other technical brands - no such luck. Sad lesson learned.
Don't recommend buying these
Familiarity:

I've used it once or twice and have initial impressions

Fit:

True to size
Received two pair as a gift. Was really excited about the look, feel and fit. Unfortunately one pair tore (about three inches) at the waist band during the second wear and the other pair separated around the back pocket during the third wear. Customer during received during exchange process was Excellent!!
Really, really poor quality
Familiarity:

I've used it once or twice and have initial impressions

Fit:

True to size
These are the shoddiest pants I have ever owned which is a total shame since they ended up fitting me really well.



Then first pair I got about 2 months ago developed several holes after washing them for the first time. (SaC/Backcountry.com wont give me a refund for them since its outside of the 30 day window)



Shortly after buying my first pair, I bought a second thinking that they fit really well and the first pair must have just been a fluke. The first time I wore this second pair, I bent down to pick up my dog and the seat of the pants ripped 6".



In short, I love everything about these pants except for the fact that they are made out of tissue paper.
Do the sizes go like 30/30, 32/32...or can...
Do the sizes go like 30/30, 32/32...or can you get 32/30?
Since they don't specify inseam, assume 32". Typically short is 30" reg is 32" and long is 34".

So these, depending on waist size, will be XX/32
All the inseams are 33"

Which is lazy. Not every guy has that size, so the burden is on us, the consumer. We either pay to have the pants hemmed (when other mfg. include size choices instead), or they don't fit.



I liked Gramicci in the past, but they need to offer inseam choices to stay competitive.