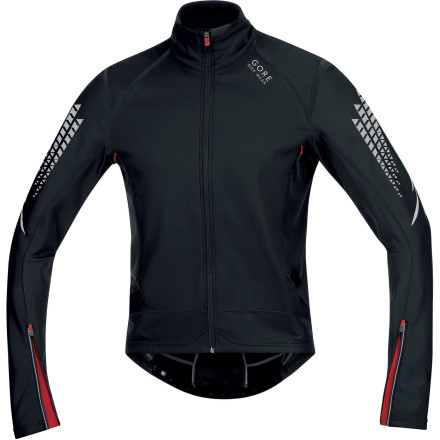 Detail Images
Description
Wind and rain protection, with soft shell comfort.
This much is true: For ultimate wet- and cold-weather protection in the worst conditions, a hard-shell jacket is your best bet. Yet hard-shell jackets, no matter how refined the cut, will flap in the wind, and the crinkly feeling associated with wearing one just doesn't appeal to many. If you find yourself in that category, consider the Gore Bike Wear Xenon 2.0 SO Jacket--it offers the comfort of a soft shell as well as wind and rain protection that's sufficient for all but the coldest, wettest days.
The Xenon 2.0 SO Jacket is constructed of WindStopper Soft Shell fabric. WindStopper Soft Shell is soft, stretchy, breathable, and body-contouring. It fits and breathes like a comfortable mid-layer, yet it offers a level of water and wind resistance that approaches the protection afforded by a hard-shell jacket. Gore Bike Wear gave the Xenon Jacket its Slim Fit, which means that it contours the body closely to ensure aerodynamics and proper moisture management. Additionally, the elbows are pre-shaped so that there's no restrictive tugging when you reach for the handlebars. The jacket has a long back flap for full coverage and to protect the seat of your pants from road spray. It also has a shaped collar to ensure neck comfort. The zipper is supplied with an underflap and garage to keep it tucked away nicely when the jacket is fully zipped. If you find yourself overheating during hard efforts, you can ventilate through two side zips.
The Xenon Jacket has ultrasonically welded seams for minimal friction. There are three traditional patch pockets, as well as a fourth zip pocket for stowing your valuables. The sleeves have forearm zips and mesh inserts for ventilation and to make the jacket easier to put on and take off. A partially elastic gripper at the waist keeps the jacket from riding up. Fall rides often happen under low-light conditions, so Gore Bike Wear put a reflective logo on the front and back of the jacket, along with added reflective print on the sleeves and back.
The Gore Bike Wear Xenon 2.0 SO Jacket comes in sizes Small through XX-Large and in five color schemes: Black, Apple Green/black, Neon Yellow/black, White/black, and White/red.
Great Jacket and a good fit.
Familiarity:

I've used it several times

Fit:

True to size
Really nice jacket that does keep the wind out. Not much more needed underneath maybe just a base layer or a t shirt is all that is needed.

Well fitted and slim design with long sleeves. Very warm for cold mornings and cooler fall rides. My only gripe is that the white jacket and the material it is made from does tend to pick up dirt pretty easily.
Great Jacket!
Familiarity:

I've used it once or twice and have initial impressions

Fit:

Runs small
I used this jacket for the first time yesterday. went out at 32 degrees, came back in with the group about 60 degrees. Extremely comfortable throughout the temp range! The Hi-Vis yellow is a plus for the road! People with the bike club liked the Hi-Vis. I had to change sizing to a XXL because the sleeves were too snug. I couldn't have put a liner under the jacket with a XL. I am 6'3 and weigh approx 195. Heartily recommend!
Good Technical and Aesthetic Fit
Familiarity:

I've used it several times
Fit Size: 6'-2", 175lbs, 19.5 in pit-to-pit and the Large fits well both across the chest and in the body lenght. The venting allows this to be a very versatile jacket, from 25F - 55F. I find it a bit warm above 55F. Great awareness from Vehicles with the neon yellow and blue combination
Best jacket I own
Familiarity:

I've put it through the wringer
This jacket is warm, windproof throughout, and has zippers for venting when you need that. Fit is tight, streamlined, just about perfect. The jacket is not water "proof" but will shrug off light drizzle or rain. The only negative thing I can say about this jacket is that it may not be the best for lots of layering since the fit is pretty snug. However, there is plenty of space to layer this with a wool base layer, and by varying the base layer this jacket can cover 20 to 50 degrees easily. I have similar jackets from Assos and Craft, and this is the one I reach for when it's cold.
Fantastic Jacket
Familiarity:

I've put it through the wringer
I've worn this in the 20s up to the 50s and in rain, snow, and dry conditions and have to say that it holds up to everything as long as you wear the appropriate base layer. While it isn't waterproof, I road it in the pouring rain yesterday and for a good while the rain just beaded off, eventually I got soaked, but hey, thats what I get for riding in the rain. This jacket pairs excellently with a long sleeve or short sleeve merino wool undershirt. I wouldn't bother wearing a jersey under this, its just too bulky. I typically rock long sleeve when its below 40, and short sleeve when its above 40. The pit and wrist zips are fantastic too, they really help and are easy to access while riding.



As other reviewers have noted, the fit is very snug. So, if you are a larger rider or need to shed some pounds, I wouldn't bother with this jacket, or perhaps size up.



My only issue so far is that after just 2 months the reflective coating is starting to flake off, and no I haven't washed it yet. Seems a bit cheap to me. Otherwise, this jacket is money well spent.
Very nice Jacket
Gender:

Male

Familiarity:

I've put it through the wringer
I love this jacket. I've tried Assos and Craft products in the past, and this Gore Jacket is the best I've used. The Windstopper material coverage is nearly the entirety of the jacket, so this thing is very windproof, with a nice fleece on the inside.



The fit is very snug, so about the only criticism I can make is that it's just too tight to put lots of layers underneath, but, on the other hand, you don't really need to. I've used this in windy conditions at 30F and I was perfectly warm with a heavy wool base layer underneath.



If you want a looser fitting jacket of similar quality, I'd suggest the Gore Fusion Tool jacket, which is basically the MTB version of the Xenon. The Fusion Tool is a "Slim Fit" as opposed to the Race Fit of the Xenon. Depending on your build it may be a better choice than the Xenon, and certainly allows more layering. (I'm 6' and 179 lbs, and large is a perfect it in both jackets.)



I have both jackets and don't feel a need for anything more.
hello, I write to him from Spain, I wanted...
hello, I write to him from Spain, I wanted to buy the jacket Gore Bike Wear Xenon 2.0 SO Jacket in yellow, my doubt is the height, my measurements are this



breast: 105 centimeters

waist: 97 cantimetros

hip: 99 centimeters

sleeve: 67 centimeters



TO what HEIGHT DOES IT CORRESPOND IN THE USA?????????

NORMALLY I USE THE HEIGHT L
Your height doesn't matter in bike jackets. What is most important is chest measurement, and then look at waist measurement (and sleeve measurement, if given by manufacturer).



Use the size chart above (click where it says "size"), and generally order a size larger (as Gore, and many others tend to run 'small'), this will allow room for layering, especially in winter: base layer, thermal jersey, and then your jacket.



Your height would come more into play in figuring which tights to wear; then you would want to consider inseam and waist measurements.



Hope this Helps
Very nice fit and construction
Familiarity:

I've used it once or twice and have initial impressions
Me: chest 38, waist 31, 6'2", 160 lbs. M is a perfect fit, maybe a tad short in front but OK once on the bike. Construction is superb, fabric is comfortable worn right onto skin.
Twenty Thumbs up
Familiarity:

I've put it through the wringer
I ride with this jacket on the trails in temps in the mid twenties, hence 20 thumbs up. I only have one layer underneath, a Craft Active Extreme Crew Long Sleeve Men's Base Layer. On the road I've ridden the jacket down to 31 deg and 20 mph winds, with only the aforementioned base layer. I'm 190 with weightlifters upper body and the XL fits fine. I've also had the jacket on during temps up to 58 deg on the road and it vents well, and the sweat on my back with the Craft base layer is minimal. The zippered side and sleeve vents are also a big help. Once above 40 deg, I have to unzip the sleeves to keep my gloves from starting to absorb sweat. The zippered rear pocket is a huge bonus for my cash and iPhone. The Jacket does not flap and the wind stop does stop the wind from cutting through. I own another riding jacket and use it in a 3 layer system........it's in the back of the closet now. The jacket is very easy to wash and air dries quickly on a hangar.
Comparing Xenon 2.0 with Power 2.0 How...
Comparing Xenon 2.0 with Power 2.0



How would you compare the Xenon 2.0 with the Power 2.0? I want to use it for touring in cold conditions (40's, possibly 30s). I already have a top of the line Elite 2.1 Showers Pass rain jacket so I am not necessarily looking for all-in one protection in this jacket, as I imagine I could wear the Elite 2.1 Showers Pass rain jacket on top if it rains.


Best Answer
I did a compare on the Gore site for you, this is the basics:



The "Xenon 2.0, & the newer Xenon 2.0 Active jackets are both listed by Gore as having a 'Race-Fit'.

The 'Active' version is Gore's lightest weight material, and most packable. This particular version was awarded by 'Bike' mag. in 2012.

The original Xenon 2.0 has the most, and best tech. features of the 3 jackets you're inquiring about.



The most they say about the 'Power' jacket is that it has a fleece-lined collar...and is classified as best for Road/General use.



Both Xenon's are rated by Gore for Road/Racing use.



I have the ladies' Xenon 2.0 AS jacket & Gores' ALP-X GT jacket...love the GT for rain/wind protection. The ladies' Xenon 2.0 could have been better. This men's version has more tech. features...sounds like an improved version! Love the reflective highlights on the Xenon line (including the shorts/jersey).



I will say that my Gore jackets are NOT warm in and of themselves...my Xenon AS is definitely NOT for winter use, but a windbreaker, only (I wear Giordana's FRC for winter rides, and top off with the ALP-X GT 2.0 if it's extremely sloppy/wet/cold mix, for added protection; & the ladies' ALP-X 2.0 GT pants over the tights, when needed).



Suggest going to: Goreapparel.com to do a compare...then you can come back to Backcountry to purchase!



Hope this helps!




Can this jacket be packed small enough to...
Can this jacket be packed small enough to put in a jersey pocket?
Best Answer
Absolutely not - it is more of a "jacket" and not a thin rain shell.
Pretty much only the jackets that are made from Gores' "Pac-lite", or "Active" materials are the only ones really 'packable'...look for either of those two words on the item(s)in question to help you know which is/is not packable.



Hope this is still a help, too!
Great cold weather riding jacket
A very well thought out jacket. 5' 4" and the small fits well. It really keeps the cold out, the high collar is comfortable but doesn't let in any cold wind. I have no problems with just a base layer and this jacket down to 32 F.
I used it once so far. The first ride was 4 hours with temperature from 20F to 30F and strong wind up to 20mph. I wore a craft base layer an this jacket. It was just perfect not cold and not too warm. I had Gore Tool jacket before so this one made better with more attention to details.

I'm 6 feet tall and weight 180# - Large is perfect for me.
Tight Fit, Warm, Versatile
Xenon is designed to fit tight and really work for the performance rider. With a cohesive look throughout the family, the Xenon Collection gives everything a high end rider would want at a price most can afford.
Very nice jacket.
Gender:

Male

Familiarity:

I've used it several times
I read the reviews on wiggle.com. They were almost too good to be believed, so I bought it. Those reviews were spot on: it's a very nice jacket with the quality-construction I've come to expect of Gore. It's expensive, but it's worth every penny. Very warm, even at 32 F/0 C. It's too warm for anything above 65 F, but you can wear it at that temperature as a long sleeve jersey (with nothing underneath) and just open the chest and arm vents.



It's snug, but the size chart is accurate. I especially like that the arms are longer than usual, so they don't ride up when you're in position on the bike. The fourth "secure" pocket (has a zipper) is a nice touch. I don't have to worry about my keys, phone, wallet falling out.



Buy it.
What is different about the Gore Xenon 2.0...
What is different about the Gore Xenon 2.0 SO jacket versus the original one? I like the solid red color of the original
I own the red/white above and liked it so much I ordered the older all red one you are comparing to. In terms of construction, materials, features (the great collar, the zipped vents on arms and sides), they are exactly the same. I believe the 'Xenon' reflective insignia on the arms are a bit different in design, but other than very minor cosmetic changes, the jacket should function exactly the same and give the same great warmth. I didn't keep the all red jacket as it looked too similar to my other all red jackets. :-)

HTH.