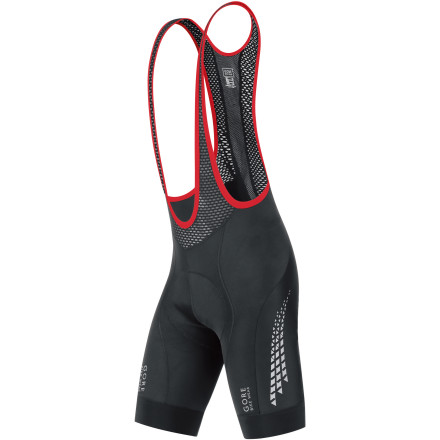 Detail Images

Community Images
Realize your ambitious mileage goals for this season with the help of the GORE BIKE WEAR Men's Xenon 2.0 Bib Short. This bib is made for long-distance rides thanks to its advanced chamois, ergonomic fit, and supportive fabric.
Xenon 2.0 chamois features high-density foam and a design that eliminates pressure points that cause numbness and poor circulation—you'll be set for long distances

Insert's high elasticity and ergonomic 3-D cut allow complete freedom of movement

Short's high elastane content offers a compressive, supportive fit

Abrasion-resistant panels in the seat and inner leg areas add durability

Full mesh bibs allow for cooling ventilation

Shifted seams reduce the possibility of chafing on long rides

Hem with wide gripper elastic holds the short in place with smooth, even pressure

Reflective hits on the front, back, and sides enhance your visibility on dark roads

Not as comfortable as I had hoped
Familiarity:

I've used it several times
The fit and construction of these bibs is very good for me, I bought a Large and I am 6' 162 lbs. However, the chamois is simple not comfortable on long rides, strange considering that is the target market for this bib. Everyone is different in terms of comfort, but as an older rider with a shinny butt, I would advise those with a similar body to shop elsewhere
Great Bib
Familiarity:

I've put it through the wringer

Fit:

Runs small
This is a great bib. They wear well and are well ventilated. I have spent an entire summer beating them up on both road and trail and they have stood up to the challenge and kept my bum nice and comfy. As a traditional size medium I do find they are a touch small.
Xenon 1 version
Familiarity:

I've put it through the wringer

Fit:

True to size
I've owned my xenon ver1 bibs for several seasons now and love them. I've always had to combat chaffing and pressure, and these bibs are top notch. I tried higher models of many big name bib makers and nothing had the quality and comfort anywhere close to these.

The padding hasn't showed signs of compressing not have any of the smoothly sewn seams become even the tiniest bit threadbare.

If gore keeps up this level of quality, they will have a lifetime customer right here!

I got the large and am 5'10" ~200lbs.


My Favorite Bib Shorts
Familiarity:

I've put it through the wringer
The chamois on these is just outstanding - great for long rides (60 +)much more so than any of my PI or Castelli equipment using their best chamois. They fit well and don't sag any which prevents getting caught on the nose of the saddle when transitioning from standing to sitting. I wish they made a set with white uppers so they could be used with my white jerseys - they show through a bit too much to use with them.
Will you be getting more of the Black Xenon...
Will you be getting more of the Black Xenon 2.0 bibs in XL?
We have three of the XL in black coming in on the next order which should be delivered sometime around the beginning of December.
Silicon 'leg-grippers' on hem
On the ladies site for the Xenon bottoms, it says that there is no silicone on the hem, and that the chamois is removable...both are wrong. Just a F.Y.I. for those who may not know (or for their lady friends who may still be wondering). Great shorts/bibs. Legs stay in place perfectly. Chamois: near perfect (ladies' could have a better contour like Giordana has, but comfy).
Liked Gore jackets but the bibs not so much
I like Gore's jackets very much, but I didn't dig these bibs. The stitching on my bibs was shoddy; there were stitches that didn't line up and pulls in the flatlock stitching. I'm 5'5.5" and 135-140lbs: the Small I ordered fit snugly, but was very long in the legs. Most importantly, for longer rides (40+ miles) The chamois doesn't protect from sit bone ache the way my favorite bibs do. If I can't go 50 miles in comfort, it's not worth the price for me. Also, while I wouldn't describe the bib straps as scratchy, they are very thin and tight which can cause some discomfort. I remedied this by putting chamois butter on my shoulders.
Have taken these bibs out for a few rides since I got them and really like them. Things I like:

1. Great chamois, good coverage and comfort where you want it without being overly bulky.
2. Grippers. The bottom cut of the short is precise and holds tight around my legs comfortably. There is a touch of silicone hits for extra friction if paired with warmers.
3. Style is nice. Black shorts without being boring.

I'm in between a Medium and Large - 6ft, 155-160, 33in inseam. Depends on how you like your shorts I guess.
For several seasons, my Gore Power bibs have been the de facto standard for fit and comfort against which I measure everything else I wear for riding. The Xenon 2.0 surpasses that standard in every way. The straps are slightly wider and softer to eliminate chafing, while remaining exceptionally lightweight as they disappear against your shoulders. The leg ending features a thick band of tight lycra along with subtle silicone grippers on the inside - both of which combine for a perfectly secure leg fit. And the insert - again, better in every way. Multiple densities for perfect support, carbon fiber threading helps keep the insert dry and adds antimicrobial protection, and the insert's deep channel allows for even better ventilation. Truly a top-shelf short worthy of sitting on the top shelf.

* I fit a Gore Medium across the chart, and the Xenon doesn't surprise
So nice I bought another pair
These are so nice I bought another pair. I did not find the bib straps scratchy at all like another reviewer did. The chamois is excellent - much more padding than the Garneau's that my team uses, which is better than the Squadra's we used to use. The wide leg band is very comfortable and it is one piece of material which is a better design than the Garneau's (which uses two pieces folded over which loses its integrity over time and washes). The mesh in the bib straps makes this very cool to ride in (very hot and humid where I live) and I could notice the difference from the Garneau's immediately.

I'd buy more if I didn't have to wear team clothing some of the time.
Awesome fit-great Chamois!
This fits awesome. The Chamois is extremely nice...very good quality. The bib straps are a little scratchy...more to follow after first wash and ride. It would be nice if it came with a bag like Xenon Sonic.

After a six hour ride, my nipples were raw. The chamois is awesome, straps are terrible. The red fabric is scratchy and not slick at all. This needs a complete redesign and is not on par with the design quality of the bib.