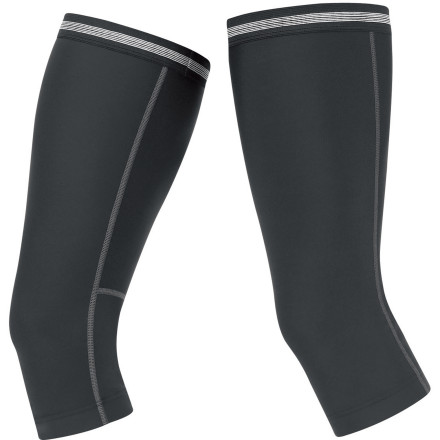 Detail Images
Though some people might think knee warmers are an accessory item easily done without, we would argue that they may just be the most helpful trans-seasonal item that you could wear. The Gore Bike Wear Power Thermo Knee Warmers are hearty enough to get you through an unexpectedly cold and wet post-work ride in October and can be equally useful on an early morning group ride in June. The beauty of knee warmers is that they're easily removable and stashable as the warmth of midday nears.
As with all Gore warmers, these Power Thermo Knee Warmers provide the warmth you need, yet they also have a Wind Stopper soft shell that keeps out the wind and drizzle equally well. The mix of materials means that the fabric sitting next to your skin will be plush, warm, and moisture wicking while the outer layer of the knee warmers will be made from soft shell WindStopper material.
Though they'll repel water and wind as well as a heavy-duty WindStopper jacket, the Thermo Knee Warmers will conform to the shape of your knees because the soft shell works like a normal piece of lycra or any other soft fabric. To maintain a high performance fit, the gripper elastic at the top of the legs will hold them in place up high, while the elastic at the bottom edge will keep them from slipping up the leg and exposing the knee to the elements. Incidentally, the soft elastic will not snag your skin. And the flatlock seams will reduce pressure points so that you won't have the memory of these seams imprinted into your legs for hours after the ride is over.
The Gore Bike Wear Power Thermo Knee Warmers have an abundance of reflective elements on the sides of the legs so that you'll be visible in low level lighting situations. They come in Black and in sizes Small through XX-Large.