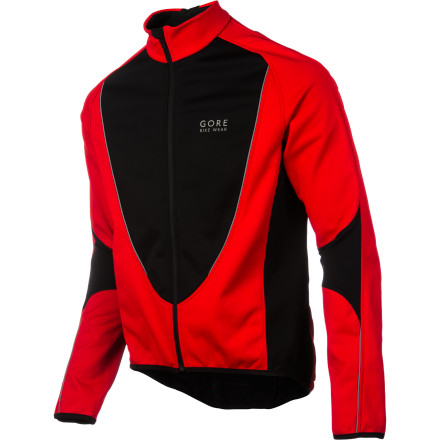 Detail Images
Cut through the wind on your next road ride in the stretchy and soft Gore Bike Wear Power SO Jacket. Perfect for dedicated two-wheeled endeavors, the Power SO shields you from nasty weather while keeping you warm and dry.
WindStopper softshell provides breathability with durable waterproof and windproof protection for optimal comfort

Cycling-specific cut with generous tail coverage provides protection from moisture invasion and road spray

Next-to-skin comfort works great with a base layer to keep your core warm and dry

Reflective elements for low-light safety

Unanswered Question
How does this compare to the Path jacket...
How does this compare to the Path jacket that's a highly regarded offering from Gore? I can't seem to differentiate between their jackets. There's so much offerings. I don't want to overpay for something I don't really need yet I don't want to buy something that isn't really what I'm looking for.

These are my requirements:

- Able to withstand 15F or lower
- Vents
- Cycling fit (or slim Italian fit)
- Insulated inside
- Windstopper (I'm guessing this is a common thing for Gore Winter jackets)

I think Robert Thomas here is a rep from Gore. Help me out dude. Email me at g32ecs@gmail.com
Unanswered Question
is this packable enough to take as a "just...
is this packable enough to take as a "just in case" windbreaker for descents or fast moving wether?
Unanswered Question
I live up north in Canada so we have lots...
I live up north in Canada so we have lots of cool biking weather. I have recently purchased a Tool jacket & was wondering which jacket you would recommend for slightly warmer days that has a similar fit.
Great Basic Cold-weather Jacket
I got this jacket about a week ago, and have used it for daily commuting and one longer ride over the weekend in 20-45 degree dry weather. I'm 5'10", 200 pounds with a 42-inch chest and a 36 inch waist, and the XL fits me wall, albeit a little long in the sleeves. The WindStopper Soft Shell does everything it advertises, plus it is moves quietly, unlike some shell material. When I start getting warm the jacket does feel a little damp inside. I have found myself wishing for pit zips and a chest pocket like those on the Gore Bike Wear ALP-X SO, Cosmo SO and Tool SO...
Exactly what I was looking for...
This jacket is a great all-around winter jacket for what I would call a "normal" winter climate. I'm a mid-Atlantic rider/racer, so winter training temperatures generally stay around the mid-30s. This past weekend the ride started around 35 and got up the the low 40s. I wore the jacket with only a "cold gear" thermal base layer underneath. (I also had a summer-weight short sleeve jersey, but just for the extra pockets.)

The Power SO jacket does have three normal pockets like most jerseys, which was a big appeal to me. I generally ride with snacks on the outside and a third bottle in the middle - this works well here. The pockets sit at the correct level and are easy to access. The majority of the fabric is windproof.

There are small, more breathable patches of thermal fabric on the upper back (between the shoulder blades) and on the front of the elbows for flexibility. The back breathes well, although I was surprised how much wind gets through the breathable elbow panels. Took some getting used to, but I do not mind it.

I am 5' 7.5" and under 150 pounds and purchased the size small. The jacket is fitted well, but not constricting whatsoever even with a thick baselayer and jersey underneath. The shoulders and sleeves provide space without flapping in the wind. I'm not too tall, so the sleeves are probably a half-inch too long for me. Not an issue. When standing, the jacket seems slightly long for me too, but on the bike as it's intended it fits much better - the back is longer to cover your entire jersey and a bit more. It's not too long to get in the way of the saddle, though. The front of the jacket has minimal bulging of fabric when in the drops, at least I haven't been bothered by it.

I got the jacket in black, which looks great and generic to match any riding gear. There are small reflective strips, but very subtle.

- - - -

Comparisons -

Castelli windproof jackets in size small are probably 1/2 size smaller than this Gore. The length was okay for me, but the fit overall was tighter. The Castelli I've used also had no breathable panels, so I would get very sweaty if I didn't open the jacket. I replaced my castelli because the zipper broke OFF.

I also tried a Capo Verona jacket in size small but returned it. First of all, it was too long for me in the torso (even longer than this Gore). Mostly, though, it was VERY snug in the shoulders/armpits and arms so wearing with anything more than a sleeveless base would be constricting. The arms were even longer than this Gore, too.